Business /
Illegally imported fabrics flood market: BTMA
---
SAM
Published:
2018-05-15 10:12:51 BdST
Illegally imported fabrics flood market: BTMA
---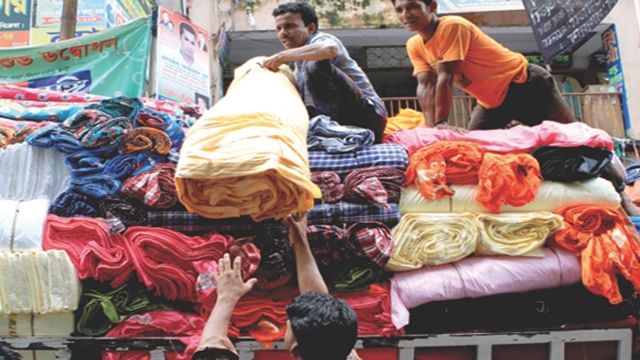 FT ONLINE
Local textile mills have been facing unfair price competition in the market by smuggled fabrics and by the continuous misuse of bonded ware facilities causing a deep crisis for them.
Acting president of Bangladesh Textile Mills Association (BTMA) Mohammad Ali Khokon made the allegations while talking to a group of reporters at its headquarters in the city on Saturday.
Its vice-president Hossain Mehmood and director Khorshed Alam were also present.
The BTMA has received such complaints from some 315 mills, including 15 big mills, Khokon said.
According to BTMA, Bangladesh has a capacity of producing 3,000 million meter woven fabrics annually which are further processed through in over 240 dyeing mills. There are also about 340,000 handlooms that can produce saris, lungis and other clothes.
BTMA-member mills meet only 40-45 per cent of the woven fabric requirements of export-oriented garment factories after meeting almost the 100 per cent of local demand, said BTMA director Khorshed Alam.
"However, ever since clothing fabrics have began to be imported illegally, and bonded warehouses are being misused, mills that produce fabrics for local consumption are struggling due to the loss in an unfair competitive environment," said Khokon.
"Most of the times, fabric and other clothing products are imported illegally. Thus they can be sold at a far cheaper price than locally produced ones. As a result, local textile millers are suffering huge financial losses," he added.
"Because millers are unable to compete, they are also left with a huge pile of unsold goods, which hampers production of new materials. Our mills are perfectly capable of producing fabrics for local markets, as well as foreign markets," said the acting president of BTMA.
The BTMA claimed fabrics and yarn worth Tk25,000 crore are stuck in inventories.
Primary data of BTMA show over 800,000 to 1 million pieces of clothing including sari, kameez, shirts and others are entering Bangladesh illegally through 17 border areas of Bangladesh annually. This is later brought into Dhaka through railways.
However, National Board of Revenue (NBR) data show no pieces of clothes and fabrics are imported commercially for local consumption. In reality, the market is saturated with imported clothing that are brought through the misuse of bonded warehouses and smuggling through the border.
"We are not against commercial import," said acting president of BTMA Khokon. "If clothing or fabrics are imported legally, importers would need to pay tax and that would balance the price competition."
He also urged the government to strengthen monitoring on the border areas to stop smuggling ahead of the Eid-ul-Fitr as sales go up during the days leading up to the festival.
They urged the government to launch drives to stop the sale of illegally imported yarn and fabrics and prevent misuse of bonded warehouse facility.
The trade body also demanded that sales of sarees, lungi and three-pieces at border hats be suspended until Eid-ul Azha.
Khokon also urged the NBR to ensure proper uses of bonded warehouse facilities so that local manufacturers can sell their fabrics to their optimum capacity.
Unauthorized use or reproduction of The Finance Today content for commercial purposes is strictly prohibited.