Politics /
Tipu succeeds in keeping market stable during corona
---
SAMI
Published:
2020-05-17 13:37:57 BdST
Tipu succeeds in keeping market stable during corona
---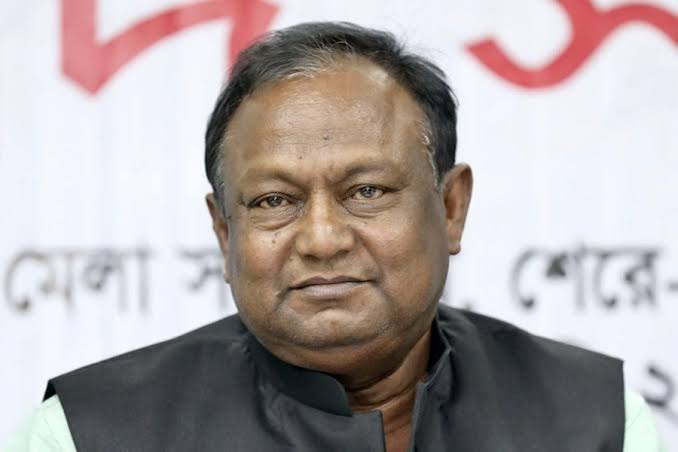 Commerce Minister Tipu Munshi has succeeded in ensuring an adequate supply of essential items and controlling prices despite corona pandemic and Ramadan.
He is at the helm of commerce ministry at a time when the country is fighting with corona and economic debacle.
It is a tough job for any commerce minister to ensure a stable supply of goods and control price spiral breaking the vicious cycle of hoarders in any country in the developing world.
But Tipu Munshi has done the impossible thing as per the instructions of Prime Minister Sheikh Hasina.
Born in Gopalganj in 1950, he along with his parents migrated to Rangpur. When he was an eleventh grader, he got affiliated with Chhatra League. He was one of the persons to have led mass movement demanding the release of Father of the Nation Bangabandhu Sheikh Mujibur Rahman in 1969.
His organisational performance led him to adorn the post of general secretary of Chhatra League of Joar Sahara.
As part of his leadership in Chhatra Sangram Parishad of the then Jinnah College and now Titumir College, he joined the liberation war in 1971.
Son of British soldier Ramjan Ali Munshi, Tipu mastered the art of warfare in the boyhood. He made the best use of warfare skill in 1971.
Setting rare precedence, he along with his father joined Bangladesh's liberation war.
Before the liberation war, he was vocal against Pakistani regime which did not give due recognition to Bangabandhu despite his party's polls victory.
Tipu Munshi is one of such brave individuals who renamed Jinnah College as Titumir College ignoring the dire consequence. He helmed Dhaka north city Chhatra League in 1973. After three years, he was affiliated with the Bangladesh Awami League.
Tipu Munshi took over as Gulshan thana Awami League president in 1992 and continued with the post for 24 years due to sincerity and popularity.
Groomed in grassroots politics, he was elevated to the central body of ruling Awami League. He was once vice-president of Rangpur district unit of the party. He contested the parliamentary polls in 2001 from Pirgachha-Kawnia constituency and was elected. He has been elected lawmaker for three consecutive terms.
He was a member of Parliamentary Standing Committee on Ministry of Commerce and Ministry of Jute and Textile in the 9th parliament. Later, he was chairman of Parliamentary Standing Committee on Ministry of Home Affairs and member of such committee on Ministry of Finance in the 10th parliament.
He was inducted in the Awami League's central committee in 2009. Successful handling of finance and planning secretary post of the party sharpened his political career further.
On January 7, 2019, Prime Minister Sheikh Hasina put him at the helm of the commerce ministry.
Since then he has been discharging his duties as commerce minister sincerely.
In 1985, Tipu Munshi started RMG business. He was elected BGMEA president twice in 1998 and 2005. He is now president of RMG alliances – Sammilita Parishad and Forum.
Tipu Munshi has contributed a lot to the expansion of the international market of Bangladeshi RMG products. He signed a deal with Eurasian Economic Union (EAEU), creating an export opportunity worth $5 billion.
Besides, he led the agreements with Argentina, Brazil, Uruguay and Paraguay, which are considered to be great destinations for Bangladeshi products.
Fifty-three years into independence, Bangladesh initially signed free trade agreement (FTA) with three countries during the term of Tipu Munshi.
As per the advice of Prime Minister Sheikh Hasina, the current commerce minister is skillfully controlling the market.
TCB sells all essential food items throughout the year so that poor and insolvent people can afford those.
Although developed countries are in a fix to ensure food supply, Bangladesh has tackled the situation in a befitting manner.
Experience in business and politics cast a positive impact on his life and enabled him to tackle any situation.
He has taken significant steps to keep pace in investment flow. In the days of general holidays, he maintained communications across the global policymakers through video conference. And the country's trade and commerce remains strong amid coronavirus pandemic.
Recently, Minister Tipu has made 'important discussions' with top policymakers of India and Uzbekistan through an online meeting.
Politician Tipu Munshi has been contributing to the country and the nation. He always practices the politics of mass. He donated his first salary from parliament for well being of a martyr family in Rangpur.
Besides, the education philanthropist also established a college and scholarship trust fund to promote literacy in his area. Tipu also established old homes for sheltering of old aged people.
As a seasoned businessman, Tipu Munshi has strong communication with the global economic arena. After joining in the cabinet, he contributed for expansion of the country's export markets as well as developing local market with his knowledge and wisdom in business.
Tipu Munshi continued his support to the people during the present coronavirus situation. He provided supports to 23,000 families from own funding while another 10,000 families will get the support before Eid.
Before being elected to as a lawmaker, he established Bangabandhu Memorial Hospital. He also contributed a significant role from behind to establish Begum Rokeya University in Rangpur.
He completed post-graduation from Dhaka University. None can raise questions on the personality and the political life of Tipu Munshi.
From top to bottom, Tipu Munshi, a young aide of Bangabandhu, is the example of an ideal politician. He never abused state power in personal interest.
Unauthorized use or reproduction of The Finance Today content for commercial purposes is strictly prohibited.