COP26: Young people urged to raise voice to save planet
---
Diplomatic correspondent
Published:
2021-06-26 22:44:25 BdST
COP26: Young people urged to raise voice to save planet
---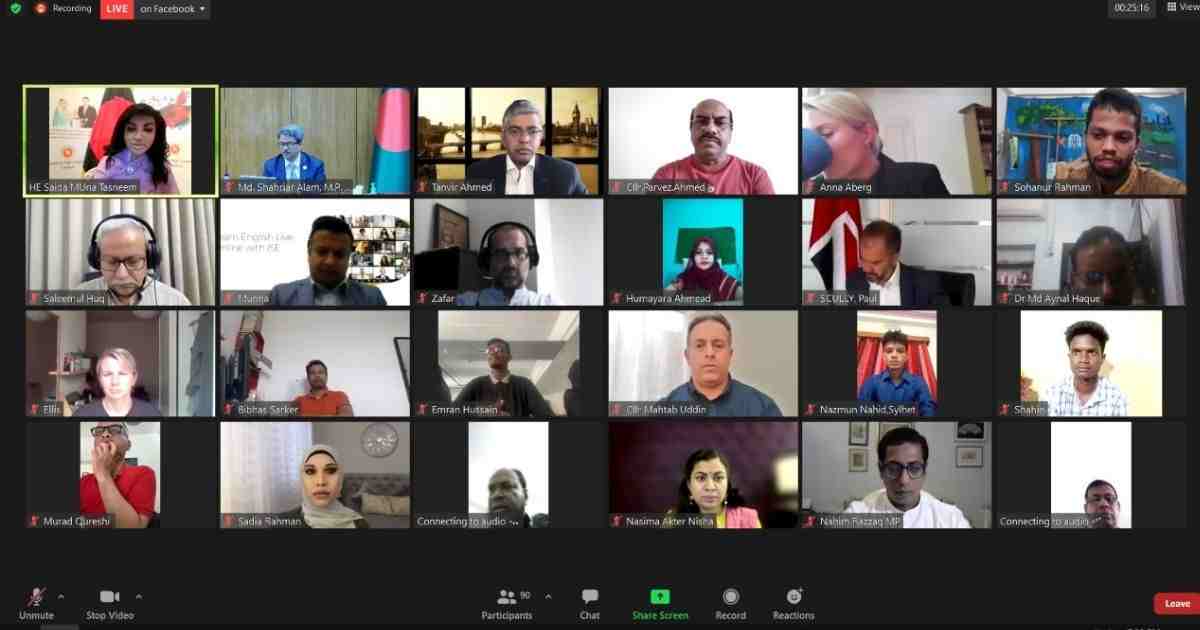 State Minister for Foreign Affairs M Shahriar Alam has called upon the young people and climate activists of Bangladesh and the UK to join hands and emerge as the greatest force for good for their respective countries in protecting the planet.
He urged them to raise their voices at the COP26 and beyond, and be an asset to their local communities in saving the planet, people and nature for succeeding generations. "There is no planet B or plan B."
The State Minister was addressing a youth climate dialogue titled "Bangladesh-UK Youth Voices on Climate Action: The Road to Glasgow" held virtually on Friday night.
Bangladesh High Commission in London, in collaboration with Tower Hamlets Council, organized the youth climate dialogue on the occasion of the 50th anniversaries of Bangladesh's Independence and Bangladesh-UK diplomatic relations.
The event coincided with and be a part of the London Climate Action Week 2021.
Minister for London, Paul Scully MP attended the event as the guest of honour which was co-chaired by High Commissioner of Bangladesh to Saida Muna Tasneem and Mayor of the Tower Hamlets Council John Biggs.
Rushanara Ali MP of the Tower Hamlets Borough and Nahim Razzaq MP also attended.
Councillor Asma Islam, Cabinet Member for Environment and Public Realm (Job Share) — Lead on Environment also spoke at the event.
Shahriar said under the extraordinary climate-stewardship of Prime Minister Sheikh Hasina, Bangladesh has emerged a global leader in adaptation, climate-resilience, and nature-based climate solutions.
"We are also submitting ambitious and quantified NDCs ahead of COP26 including a renewable energy target of 40% by 2041," he said.
Bangladesh Parliament was the first in South Asia to declare a "Planetary Emergency" and called on the world to work "on a war-footing'' to stop climate change.
Bangladesh government is spending on an average 2.5% of our GDP, US$5 billion each year in climate adaptation and resilience-building alongside the Bangladesh Delta Plan 2100, he added.
"Without waiting for external; financing our government implemented more than 800 climate action projects from PM Sheikh Hasina's self-financed 450 million US$ National Climate Change Trust Fund," said the State Minister.
He said Bangladesh looks forward to UK's robust and ambitious climate leadership at the COP26 and beyond specially in securing mitigation commitments by the G20 to curb global emissions substantially, arrest global temperatures at 1.5 degrees, secure maximal climate finance especially the promised 100 billion USD each year.
He said talked about unlocking international carbon markets for transactional climate cooperation and low-carbon technology transfer, and address the profound loss and damage for the climatically displaced millions.
High Commissioner Saida Muna Tasneem said the year 2021 is a significant year for global climate action which coincides with the Golden Jubilee of Independence of Bangladesh and 50 years of diplomatic relations between Bangladesh and the UK.
Bangladesh is currently the President of the Climate Vulnerable Forum under the Chairmanship of Prime Minister Sheikh Hasina.
Unauthorized use or reproduction of The Finance Today content for commercial purposes is strictly prohibited.