The ruling Awami League has provided food assistance to over 90.25 lakh families across the country amid the ongoing coronavirus pandemic.
Besides the food assistance, the party has distributed Taka 8.62 crore cash among the poor and destitute people amid the ongoing COVID-19 crisis, according to a web post of the Awami League.
On behalf of the party, the leaders of AL and its associate organisations, the AL lawmakers and public representatives distributed the relief goods among and provided the cash support for the poor and destitute people.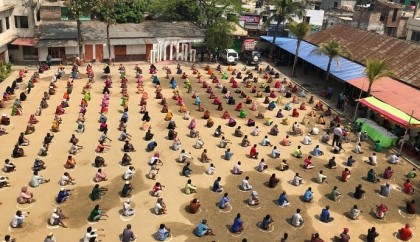 Since the beginning of general holidays, the AL provided food assistance to 8,20,526 families and distributed Taka 39 lakh among the poor and jobless people in Rangpur Division till April 30 last.
In Rajshahi Division, a total of 8,46,864 families received food aid and Taka 85.42 lakh was distributed there. Food items were distributed among 8,63,842 families and Taka 98.2 lakh was given to the poor people as cash assistance in Khulna Division.
Around 5,01,435 families got food assistance and Taka 96.56 lakh in cash was distributed in Barishal Division, while 31,53,338 families received food aid and Taka 3.72 crore was distributed in Dhaka division.
In Mymensingh division, 2,56,125 families received food assistance and Taka 21.4 lakh was distributed as cash assistance. About 3,00,787 families got food aid and Taka 24.4 lakh was distributed in Sylhet division.
In Chattogram division, 22,82,410 families received food assistance and Taka 1.25 crore was distributed among the poor and destitute people to help them cope with the ongoing coronavirus crisis.
In addition, personal protective equipment (PPE), masks, gloves, hand sanitizer, bleaching powder, spray machines and other safety gears were distributed.
The AL has been providing treatment facilities to commoners through mobile medical teams and telemedicine system, while free ambulance services were introduced in different areas of the country, the web post said.
At the same time, the leaders and activists of the AL and its associate bodies, including Krisak League and Chhatra League, have been taking part in
the paddy harvesting programme to help the farmers harvest their Boro paddy in the coronavirus crisis.
Alongside the Awami League, Swechchhasebak League, Juba League and other associate bodies are distributing iftar-sehiri items and vegetables and carrying out telemedicine and free ambulance services and other voluntary activities in different parts of the country.
The ruling party in its web post said none will remain hungry in the country during the crisis and different programmes to help the poor, destitute and jobless people in the ongoing crisis will continue until the situation gets normal.
Editor & Publisher : Md. Motiur Rahman
Pritam-Zaman Tower, Level 03, Suite No: 401/A, 37/2 Bir Protik Gazi Dastagir Road, Purana Palton, Dhaka-1000
Cell : (+88) 01706 666 716, (+88) 01711 145 898, Phone: +88 02-41051180-81