The Rapid Action Battalion (RAB) has arrested Helena Jahangir on Thursday midnight as huge amount of narcotics and gambling materials were found during hours-long raid in her Gulshan residence.
Lieutenant Colonel Khairul Islam, director of RAB Intelligence wing confirmed the matter to media after end of the raid.
RAB's Legal and Media Wing Director Commander Khondker Al Moyeen said Helena Jahangir's residence was raided on the basis of various charges.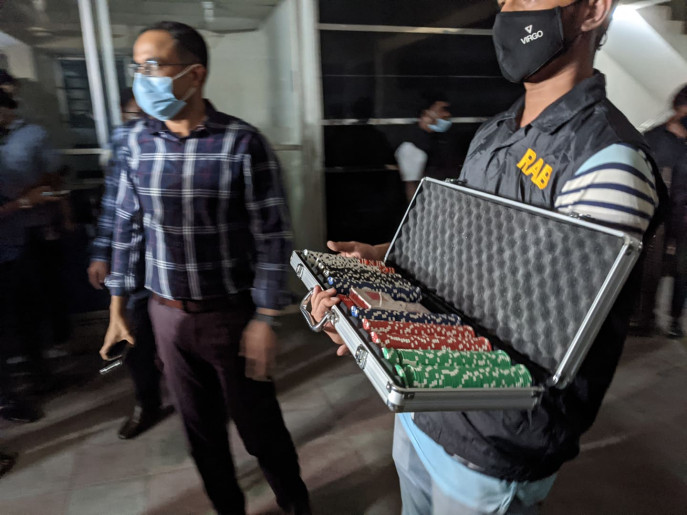 RAB found huge amount foreign liquor, other narcotics, casino/gambling materials and foreign currencies from the house of the politician, who recently lost the membership of an Awami League subcommittee.
She was arrested around 12:15 am on Saturday, and taken to the RAB Headquarters for interrogation.
Earlier at 9pm, a team of RAB started the raid at her house in Gulshan-2 area along with female members of the elite force.
Helena's name recently surfaced on social media as the president of an organisation called "Bangladesh Awami Chakrijibi League".
Later on 25 July, she was relieved of her membership in Awami League's subcommittee on Women's Affairs for her involvement with the "unauthorised" organisation that had no official connection with the ruling party.
Meher Afroz Chumki, the ruling party's women affairs secretary, issued a press release confirming that Helena was removed from the position as her recent activities spread through social media were not in accordance with the organisation's policy.
A day after her relieving from the sub-committee, Helena Jahangir appeared on Facebook live and burst into tears. She also denied all the allegations brought against her.
Helena Jahangir, is a director of the Federation of Bangladesh Chambers of Commerce and Industries (FBCCI) and also the founder and CEO of Joyjatra Television, became the member of Awami League's Women Affairs sub-committee on January 17 this year.
Earlier in December 2020, she became Cumilla North District Awami League's advisory committee member. She collected the party nomination form in late Abdul Matin Khasru's seat following his death, but did not receive the party nomination.
Helena Jahangir has come under strong criticism following her announcement through Facebook to make leaders. She announced to appoint presidents and general secretaries at upazila, district and abroad under the banner of an organisation called "Bangladesh Awami Chakurijibi League."
Helena was the self-proclaimed central president of the organization and one Engineer Saiful Islam Emon is said to be the central publicity secretary.
Editor & Publisher : Md. Motiur Rahman
Pritam-Zaman Tower, Level 03, Suite No: 401/A, 37/2 Bir Protik Gazi Dastagir Road, Purana Palton, Dhaka-1000
Cell : (+88) 01706 666 716, (+88) 01711 145 898, Phone: +88 02-41051180-81