FT ONLINE
Polls have opened across Turkey in a snap vote as President Recep Tayyip Erdogan faces his biggest electoral threat in 15 years of rule.
Erdogan has dominated Turkish politics since his rise as prime minister in 2003 and has transformed the nation. He implemented policies that encouraged sustained economic growth and development, he challenged Turkey's secular foundations by bringing Islamic conservatism to public life and he gutted public institutions by having tens of thousands of people -- many his critics -- arrested following a failed military coup in 2016.
Voting starts at 8:00 am (0500 GMT) and ends at 5:00 pm (1400 GMT). Nearly 60 million people, out of a total population of 81 million are eligible to vote in both presidential and parliamentary elections Sunday. But regardless of who wins, the country will be radically changed.
Polls opened amid high security. In Istanbul alone, more than 38,000 police officers are expected to be on duty.
Fears have been raised about possible voter intimidation, especially in south-eastern areas where Kurdish votes are key to the result.
Electoral fraud is another potential risk, especially as a new law allows ballot papers to be counted even if they do not have the election board's stamp to mark them as genuine.
Alcohol sales will be banned on Sunday - which is normal for Turkey on polling days.
Two votes are being held on Sunday - one to choose Turkey's next president, and another to pick members of parliament.
Six candidates are vying for the presidency, and if one of them wins more than 50% of the vote they will be elected outright.
If nobody hits that threshold, the top two will face off in a second-round vote on 8 July.
In the parliamentary election, the president's AK Party (AKP) will face a tough battle to keep its majority in the 600-seat assembly.
The contest pits a government-led coalition against an alliance of opposition parties.
On the parliamentary front, the three main opposition parties have formed a coalition for better odds against the Erdogan-headed AKP-MHP alliance. The pro-Kurdish HDP will run alone, and if it gains 10% of the vote, it can gain seats in parliament and threaten Erdogan's majority.
Erdogan narrowly won a referendum last year to convert the country's parliamentary system to a powerful executive presidency. Whoever wins will be given sweeping new powers, as the role of prime minister is dissolved and the president gains the authority to issue laws by decree.
The presidency was once a largely ceremonial role, but in April 2017, 51% of Turkish voters endorsed a new constitution that grants the president new powers.
These include:
1. Directly appointing top public officials, including ministers and vice-presidents
2. The power to intervene in the country's legal system
3. The power to impose a state of emergency
The job of prime minister will also be scrapped.
Critics have accused Mr Erdogan of trying to usher in one-man rule, and his rival candidates have said they would not bring in the changes.
Erdogan, who has sailed through several elections to remain in power, called the elections 18 months early, as he faces battles on several fronts.
Normally splintered, the opposition is largely united against Erdogan for the first time in years, and by offering a wide range of presidential candidates, they could split the vote enough ways to leave the frontrunner with less than 50% of the ballots to win outright.
If no one gains a clear majority, Turkey will hold a run-off presidential vote on July 8, a potentially dangerous scenario for Erdogan, who has typically run against lackluster candidates and prevailed in the first round.
If a runoff round is held, Erdogan is most likely to face off with Muharrem Ince, the candidate for the main opposition Republican People's Party (CHP).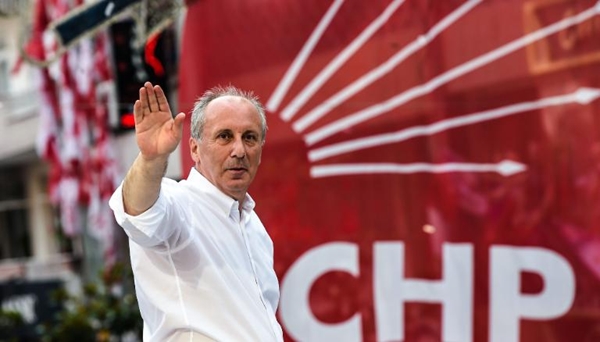 Ince, a former high school physics teacher, brings a charisma that the CHP has sorely lacked in previous elections. On Wednesday, he held what appeared to be the biggest rally in the campaign period yet, drawing hundreds of thousands of supporters in the secularist CHP stronghold of Izmir, on the Aegean coast.
He is 10 years younger than Erdogan and has tried to portray the President as an aging leader with no fresh ideas.
Like most opposition candidates, Ince has vowed to restore the country's parliamentary system. But there are doubts over whether a new president with sweeping powers will be quick to give them up, particularly if their party does not also hold a majority in parliament.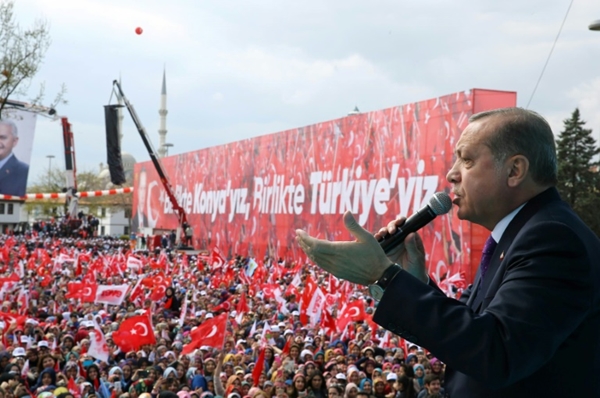 At his own rally, President Erdogan - who was prime minister for 11 years before becoming president in 2014 - used a violent metaphor to summarise his hoped-for result, asking supporters, "Are we going to give them an Ottoman slap [a technique for knocking someone out] tomorrow?"
He accused Mr Ince - a former teacher and MP of 16 years - of lacking the skills to lead.
"It's one thing to be a physics teacher, it's another thing to run a country," Mr Erdogan said. "Being president needs experience."
He told supporters he planned to push through more major infrastructure projects to boost the economy.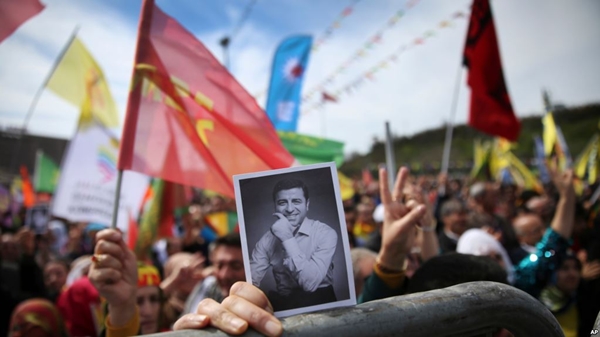 Another Presidential candidate Mr. Selahattin Demirtas, leader of the pro-Kurdish Peoples Democratic Party (HDP), who is now in jail on terrorism-related charges that he denies. If the HDP exceeds the 10 per cent threshold of votes needed to enter parliament, it will be harder for the AKP to get a majority.
In a final appeal for votes in a video clip from his high security prison, Demirtas said: "If the HDP fails to get into parliament, all Turkey will lose. Backing the HDP means supporting democracy."
What are the main election issues?
The biggest is the economy. The Turkish lira has tanked and inflation stands at around 11% - so ordinary people are feeling the squeeze.
Terrorism is another vexed issue, as Turkey faces attacks from Kurdish militants and the jihadists of the Islamic State group.
However, the country tends to vote along its big divides: one between Kurds and nationalists, and another between religious and secular people.
Crackdown
Turkey has been under emergency rule - which restricts some personal freedoms and allows the government to bypass parliament with emergency decrees - for nearly two years following an abortive military coup in July 2016.
Erdogan blamed the coup on his former ally, US-based Muslim cleric Fethullah Gulen, and has waged a sweeping crackdown on the preacher's followers in Turkey. The United Nations say some 160,000 people have been detained and nearly as many more, including teachers, judges and soldiers, sacked.
The president's critics, including the European Union which Turkey still nominally aspires to join, say Erdogan has used the crackdown to stifle dissent. Few newspapers or other media now openly criticise the government and he has received far more election coverage than other presidential candidates.
Erdogan, who defends his tough measures as essential for national security, told his supporters at rallies on Saturday that if re-elected he would press ahead with more of the big infrastructure projects that have helped turn Turkey into one of the world's fastest-growing economies during his time in office.
"If he wins, I think the obstacles before us will disappear and we will have control," said Nesrin Cuha, 37, a call centre worker, who wore a headscarf. Religiously observant Muslims form the bedrock of Erdogan's support.
"The opposition will not be a nuisance anymore with the new presidential system," said another Erdogan supporter, retired sailor Engin Ozmen, 60.