FT ONLINE
The leader of the Aum Shinrikyo doomsday cult which carried out a deadly nerve gas attack on the Tokyo underground in 1995 has been executed.
Japan media are reporting that six other Aum Shinrikyo members have also been executed.
The sarin attack, Japan's worst terror incident, killed 13 people and injured thousands more.
Another six members of the cult are still awaiting execution.
Shoko Asahara's execution, at a Tokyo detention house on Friday morning, was confirmed by Chief Cabinet Secretary Yoshihide Suga.
Japanese media reports said six followers were executed shortly after.
The executions had been postponed until all those convicted had completed their final appeals. That happened in January.
Asahara was also accused of several other murders and an earlier sarin gas attack in 1994 which killed eight and left 600 injured.
What was the Tokyo attack?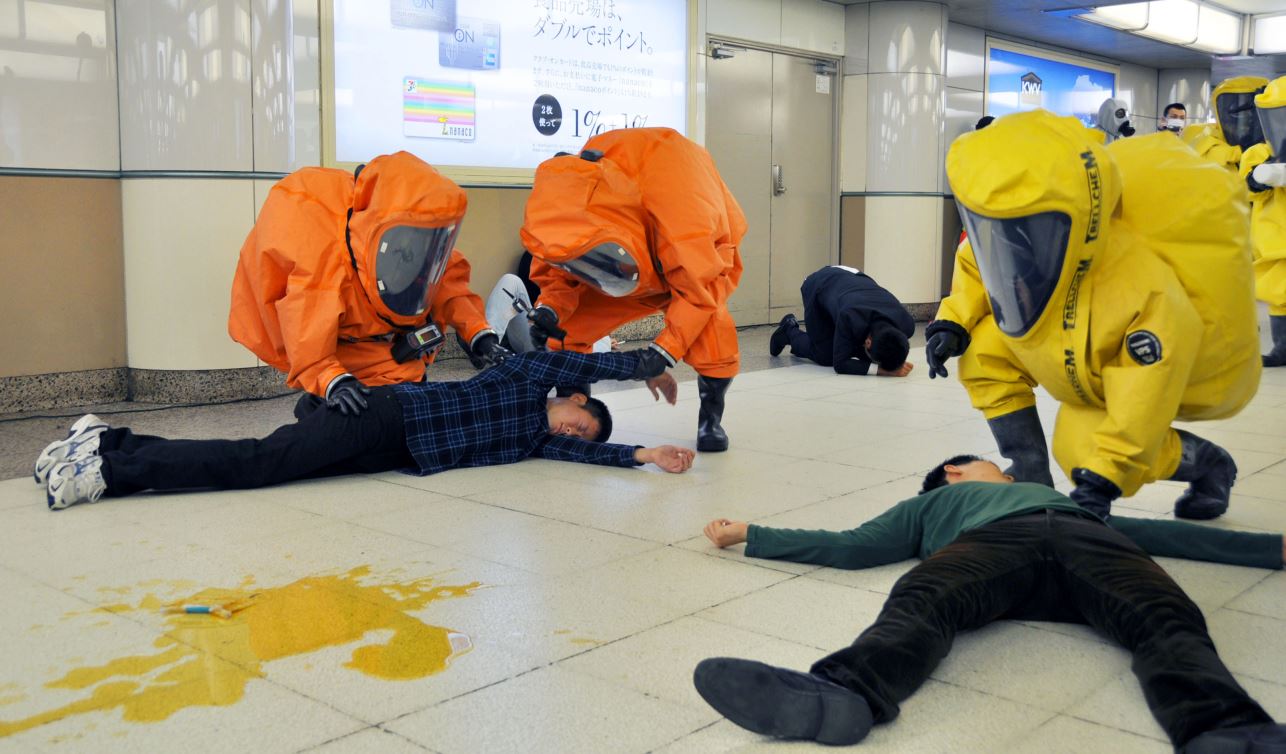 On 20 March 1995, cult members released the sarin on the subway in the Japanese capital. They left punctured bags filled with liquid nerve agent on train lines going through Tokyo's political district.
Witnesses described noticing the leaking packages and soon afterwards feeling stinging fumes hitting their eyes.
The toxin struck victims down in a matter of seconds, leaving them choking and vomiting, some blinded and paralysed. Thirteen people died.
In the following months, members of the cult carried out several failed attempts at releasing hydrogen cyanide in various stations.
The attack shocked Japan, a country that prided itself on low crime rates and social cohesion.
Scores of Aum members have faced trial over the attack - 13 were sentenced to death, including Asahara. Another six are serving life sentences.
What is the Aum Shinrikyo cult?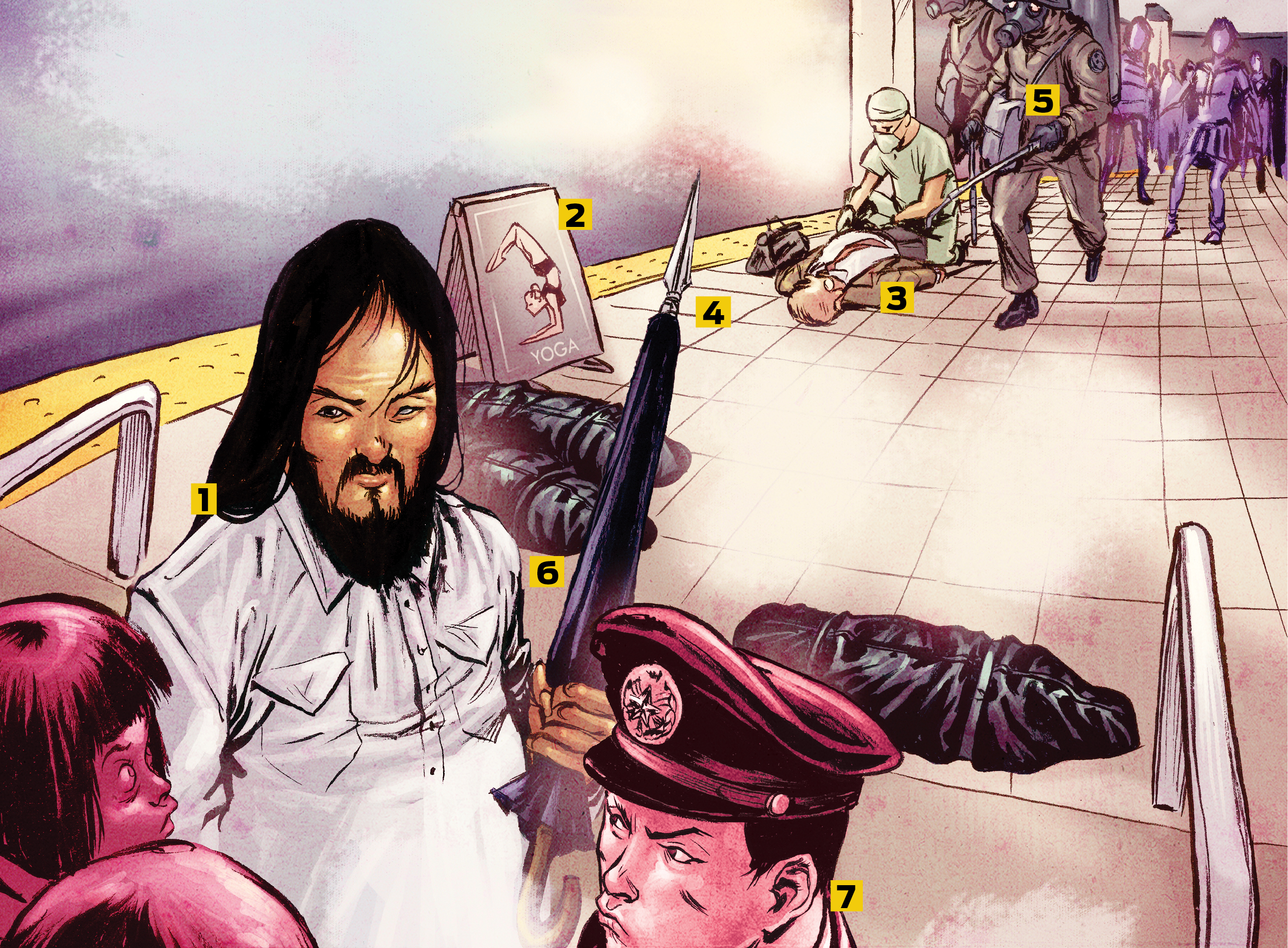 The cult, whose name means "supreme truth", began in the 1980s as a spiritual group mixing Hindu and Buddhist beliefs, later working in elements of apocalyptic Christian prophesies.
The group's founder, Shoko Asahara, also known as Chizuo Matsumoto, declared himself to be both Christ and the first "enlightened one" since Buddha.
Aum Shinrikyo gained official status as a religious organisation in Japan in 1989 and picked up a sizeable global following. At its peak, Asahara had tens of thousands of followers worldwide.
The group gradually became a paranoid doomsday cult, convinced the world was about to end in a global war and that only they would survive.
The cult went underground after the 1995 attack, but did not disappear, eventually renaming itself Aleph or Hikari no Wa.
Aum Shinrikyo is designated a terrorist organisation in the US and many other countries, but Aleph and Hikari no Wa are both legal in Japan, although designated as "dangerous religions" subject to surveillance.
It still has followers both in Japan and also worldwide, in particular in some countries of the former Soviet Union.
In 2016, police in Russia conducted a number of raids on suspected cult members in Moscow and St Petersburg.
Why has the execution been so delayed?
In Japan, death sentences are not carried out until the verdict against all accused and accomplices are final, with no pending appeals left against any of the group.
The trials against the cult members only wrapped up in January this year after the supreme court upheld the verdict against one member sentenced to life in prison.
Since an effective moratorium ended in 2010, Japan has executed as many as eight people a year.
The death penalty is only used for serious cases of murder and is carried out by hanging.
Editor & Publisher : Md. Motiur Rahman
Pritam-Zaman Tower, Level 03, Suite No: 401/A, 37/2 Bir Protik Gazi Dastagir Road, Purana Palton, Dhaka-1000
Cell : (+88) 01706 666 716, (+88) 01711 145 898, Phone: +88 02-41051180-81