STAFF REPORTER
Metro Transport IT Solutions LTD has created a mobile APP called Metro CNG which is an Android App to use Ride Share". By using this app, anyone can call for a ride whether they are looking for an auto rickshaw (which is known as CNG in Dhaka City), motorcycle, Rent – a – car or even a taxi. This will be a "one stop service" to call any form of transportation.
This new android mobile app "Metro CNG" was launched with a massive marketing campaign through a press conference at the VIP lounge of National Press Club.
The conference was presented by the company's press advisor Mr. Mustafa Kamal Akanda. The press briefing was read by the company's admin officer Mr. Mia Moin. Barrister Shahriar Rakib Hasan Khan from Sheikh & Associates, was the chief guest.
Chairman & CEO of Metro Transport IT Solutions Ltd; Khondaker Abu Jafar (Rimon) said "we started the journey of Metro CNG a few years back when we realized that some international app company is taking our money from here to abroad. That's why we created Metro CNG so that now we can bring those money from abroad to here."
"Through this one app our passengers can search and call either CNG (Auto rickshaw), motorcycle, rent-a –car or even a taxi service. And this is the safest app in Bangladesh because we are first app to implement emergency 999 button in order to call police/fire service/ambulance. This app should be helpful for both the passenger or the driver. We are glad to contribute in support of our Honorable Prime Minister Sheikh Hasina in her mission to build the Digital Bangladesh", he added.
Metro CNG's managing director Saidur Rahman Motin said, "In near future we will bring remittance from abroad by launching our app in other countries."
"We already established an office in New York, and negotiations are ongoing in Kolkata. Metro CNG is the first app for rent-a-car in Bangladesh also. Soon we are looking forward to support the rest of the country by this app for rental services", he added.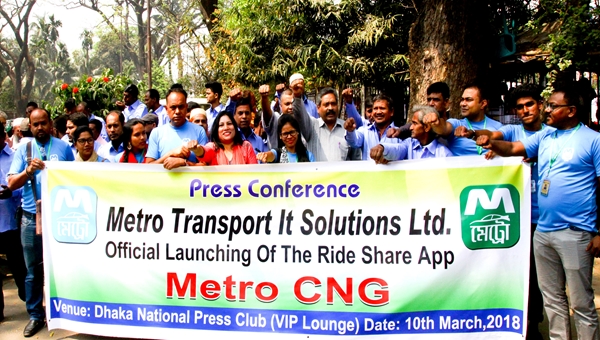 Chief guest Barrister Shahriar Rakib Hasan Khan of The Sheikh & Associates, as a Chief legal advisor of "METRO CNG" said, "I came to know the safety feature of Metro CNG app when it's chairman Khondaker Abu Jafar Rimon and the Managing Director Saidur Rahman approached to me. I was really impressed by their efforts. According to the 2017 primary app mandate, an app should have 11 conditions. Metro CNG not only met all the conditions but they have excelled them. We are really proud to launch a world-class app right here in Bangladesh."
Shakhawat Hossain Dulal, member secretary of the Dhaka & Chittagong CNG (auto rickshaw) combined Union said in his speech, "For a long time the owners the CNGs are charging more than 900 taka a day for rent, but no one ever done anything to help them. Metro CNG is the first company to aid the drivers by using modern technology. We are hopeful that Metro CNG will go a long way and we will support them in any way possible"
Omar Faruk Chawdhury, Joint convener of the Dhaka & Chittagong CNG (auto rickshaw) combined Union said in his speech, "we have been working with Metro CNG for last five months and they have the mentality to help the CNG drivers by putting app technology in place."
Editor & Publisher : Md. Motiur Rahman
Pritam-Zaman Tower, Level 03, Suite No: 401/A, 37/2 Bir Protik Gazi Dastagir Road, Purana Palton, Dhaka-1000
Cell : (+88) 01706 666 716, (+88) 01711 145 898, Phone: +88 02-41051180-81