Enhancing youth employment through skills development
---
SAM
Published:
2018-04-15 10:06:54 BdST
Enhancing youth employment through skills development
---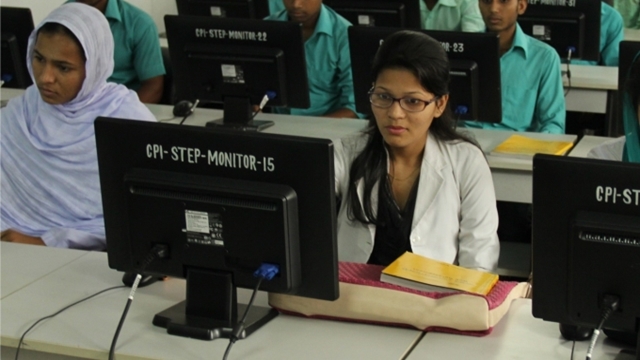 A little over two decades back, a report titled 'Human Development in South Asia' strongly suggested that given the burgeoning growth of unskilled labour force with low productivity and in indecent jobs, Bangladesh would do well by welcoming technical education. And to this effect, the same report argued, it would be in the interest of the country that technical training facilities be set up even at the upazila level.
The critics, who viewed university education as more valuable than technical ones, however, took the suggestions with some grain of salt. Successive governments since then hardly took that suggestion into serious consideration.
After a prolonged period of hypes, signs of hope seem to be gleaming on the horizon. The utility of the spread of technical education - skills development so to say - seems to have drawn some attention from policymakers of Bangladesh.
More importantly, a number of private sector initiatives have done fairly well in providing training to the unskilled workers and unemployed young men and women across the country. These days, on both sides of the city roads, we come across signboards of technical centres signalling the increasing supply chain of technical education.
The distinct departure from the past is quite understandable. While in the past, it was only the government with some vocational institutes that provided skills training. Now besides the government, private sector is also providing skills training, which needs to be appreciated.
This aspect of complementing each other between the government and the private sector initiatives has possibly reaped some dividends.
As mentioned by the education minister, his government has taken up the issue of skills training very seriously so much so that the share of students in technical education has risen from a feeble one per cent to 14 per cent of all students in recent times. About 14,000 technical centres/institutes are spread all over the country to give skills training. The minister made these remarks while inaugurating the BRAC Institute of Skills Development (BRAC-ISD) recently in Dhaka.
Asif Saleh (Senior Director), in his welcome speech, succinctly provided the skills context in Bangladesh by drawing upon some published national statistics. The labour force in Bangladesh is expected to grow to 76 million by 2025. Two million people enter the labour market each year with most ending up in informal jobs. Sixty per cent of Bangladesh's labour force is under 30 years of age, standing on the shore of an uncertain future. Two out of five young people are either unemployed or without education and training. Seventy-five per cent of the employers emphatically pointed to the scarcity of skilled workers; about four per cent people are currently under-employed. Only one-third of the women enter the labour market.
He also referred to the challenges that Bangladesh is faced with - one-third of Bangladesh's population is 10-24 years old; 41 per cent of young people in the 15 to 24 years age group are not in employment, education or training. It is therefore in the interest of the country that the 'demographic dividend' be capitalised through skills-based training programmes.
A research done for Skills Training for Advanced Resources show that income of the trained labour increases by eight times from pre-training condition and every USD 1.0 invested in such programmes fetches $3.0. The cost-benefit ratio in this case is 1:3.
The Institute that was inaugurated by the minister aims to establish a 'Centre of Excellence' dedicated to skills development, with an eye on scaling up and working to enrich the human capital of Bangladesh through competence-based training and decent employment. It also aims to empower individuals through skills development and decent employment - thereby building a competent workforce to lead the nation forward.
The institute focuses on providing skills development training required for construction sector, information technology, ready-made garments, hospital and tourism and transport equipment along with soft skills training.
Although there are many such institutes/centres in the country, this one possibly stands with some differences. For example, it is industry demand-driven and competency-based skills training facilitated by highly modern workshops; offers hands-on learning approach based on one-on-one training conducted by certified trainers; access to loans to avail training; assessment and accreditation of skills, career counselling, industrial attachment and job placement etc.
It was reported that about four-fifths of its trainees secured jobs after graduation, 40 per cent of the learners are women and two per cent are people with disabilities. So far, the Institute has served 30,000 people, from whom roughly 60 per cent are women and a tenth is learners with disabilities.
Executive Director of BRAC Muhammad Musa made few important observations from which we shall pick two. First, he is of the view that technical institutes such as this should not be construed as institute per se, but also the breeding grounds of hopes and aspirations of young generation - grounds where dreams of young people to lead a happy and prosperous life are being realised. Second, unlike in general education, technical training programmes require a faster change in curriculum to cater to the needs of the growing trade and business. In other words, what is thought to be the most high quality and highly rewarding training in trade today could become obsolete within the span of few years. This calls for constant market research, feedback and revision of training module.
While four-fifth of employment generated belongs to the informal sectors with low productivity and indecent work environments, there is an urgent need to expand employment in the formal sector. In Bangladesh, 75 per cent of employers think that the major barrier to employment is the lack of required training on the part of concerned personnal in different sectors.
It is, therefore, extremely necessary that allout efforts be geared towards expanding the access to technical training. Remember, a person with an MA degree from a reputed university of Bangladesh in New York City or in Doha earns the same or less than a skilled college dropout from a remote area, provided the latter has received some training.
The societal values, till today, are not ready to rate technical education over general education. Let us change our mindset sooner lest we miss the train carrying young men and women with demographic dividend.
- Abdul Bayes (former Professor of Economics at Jahangirnagar University)
Unauthorized use or reproduction of The Finance Today content for commercial purposes is strictly prohibited.