Boro acreage falls to three-year low
---
Siyam Hoque
Published:
2020-05-16 07:37:41 BdST
Boro acreage falls to three-year low
---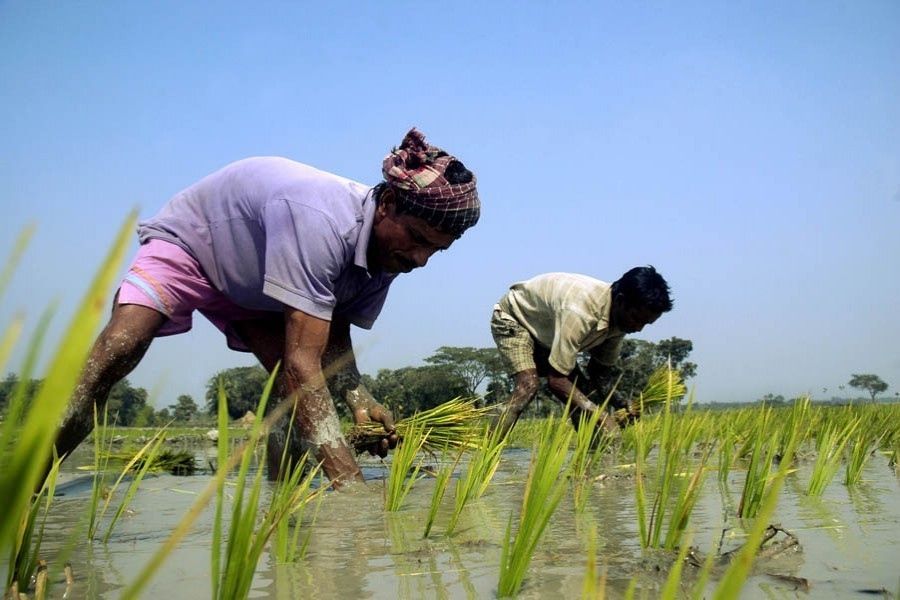 NEWS DESK

The government expects to achieve 20.04 million tonnes of Boro production target, although acreage of this major crop fell to a three-year low this year.
The government officials are still optimistic to achieve this year's Boro output target following rise in productivity, while experts are doubtful due to the fall in total cultivation area.
The government has set the target of growing 20.04 million tonnes of rice on 4.86 million hectares of land in this Boro season.
But Boro cultivation area has declined to 4.75 million hectares this year, which was 4.9 million hectares last year, according to primary data of the Department of Agriculture Extension (DAE).
The country produced an all-time-high 20.03 million tonnes of Boro rice last year, the Bangladesh Bureau of Statistics (BBS) data showed.
BBS and DAE data showed acreage was 4.86 million tonnes and production was 19.5 million tonnes in 2018 Boro season.
"Boro cultivation area has declined this season. Many farmers, upset with low paddy and rice prices, switched to other crops like corn, vegetables and tobacco etc," said an official of the Agrarian Research Foundation, Bangladesh (ARF).
He noted that farmers got Tk 380-650 for per maund of paddy in last Boro and Aman seasons against their production cost of Tk 750-960 a maund based on area and crop varieties.
It is a matter of concern, as Boro season fulfils 55-56 per cent of the country's rice demand.
He opined that achieving the target will be tough this season, as per hectare yield should have to be above 4.21 tonnes.
It might not be possible, as production of hybrid varieties has not increased this year. Besides, many farmers witnessed a blast in their fields in Rangpur and Rajshahi regions in March-April period, he added.
Agri-economist Prof Golam Hafeez Kennedy said the country will need maximum 20.0 million tonnes of rice for next seven months before beginning of Aman harvest.
Boro and Aus rice will feed people until then, as these two could make more than 22.5 million tones.
If Boro production will remain within 19.5 million tonnes in this season, it will be a handsome output.
He opined that the government agencies concerned should avoid any kind of exaggeration over rice output.
Authentic data on rice production is needed for timely and effective implementation of food policies during and after the pandemic period.
He further said rice export should be stopped for an indefinite period following the pandemic.
Rice import policy should also be reviewed after July, with the end of primary trading of Boro crop by farmers, he added.
Presently, importers have to pay 55 per cent duty to import rice.
DAE deputy director (monitoring and evaluation unit) Md Mizanur Rahman said total acreage declined to some extent. But per hectare yield has increased thanks to favourable weather and rise in use of modern seed varieties.
He also said post-harvest loss is also going to decline amid rise in number of modern machinery. More than 2,000 units of combined harvesters are being used for harvesting paddy this year.
"So, we are expecting that the target of getting 20.04 million tonnes of rice from this Boro season can be achieved."
He added that harvest of 48 per cent Boro crop has been completed so far across the country.
Agriculture Minister Dr Mohammad Abdur Razzaque in a press briefing on Thursday said farmers are getting reasonable prices for their crop in this Boro season.
They are getting Tk 650-750 a maund for new paddy (wet), and Tk 750-900 for dry paddy.
The minister also said the government is giving Tk 195 billion loans to farmers at 4.0 per cent interest. Incentives amounting to Tk 90 billion have been provided to them in the form of fertiliser and electricity rebate.
Besides, the government has taken policies to keep farmers in cultivation to ensure sound agriculture productivity, he added.
Meanwhile, rice prices, which increased significantly in March due to panic buying ahead of the lockdown, declined to some extent in last one and half weeks amid start of Boro harvest in full swing.
All kinds of rice prices showed a decline of Tk 2.0-3.0 per kg in the city markets during the period. But coarse rice is still selling at Tk 42-44 a kg, medium rice Tk 48-52 a kg, finer rice at Tk 57-65 a kg, according to groceries.
The current rice prices are 8.0-10 per cent higher than those of a year back, according to the Trading Corporation of Bangladesh (TCB).
However, according to the Directorate General of Food (DGoF) data, public warehouses have a handsome stock of 1.05 million tonnes of the staple food.
The DGoF has already started purchasing 1.95 million tonnes of rice and paddy under its Boro procurement programme.
Rice production hit the record of 37.2 million tonnes in fiscal year 2018-19.
Rice prices shot up to US$ 450-560 a tonne in the global market, according to IndexMundi, a global commodity web-portal. It recorded 9.0-14 per cent hike in rice prices in last two months mainly due to the pandemic across the globe.
Unauthorized use or reproduction of The Finance Today content for commercial purposes is strictly prohibited.