Country attains food security
---
Anaet Shawon
Published:
2020-12-02 05:01:32 BdST
Awami League Election Pledge (Part-3)Country attains food security
---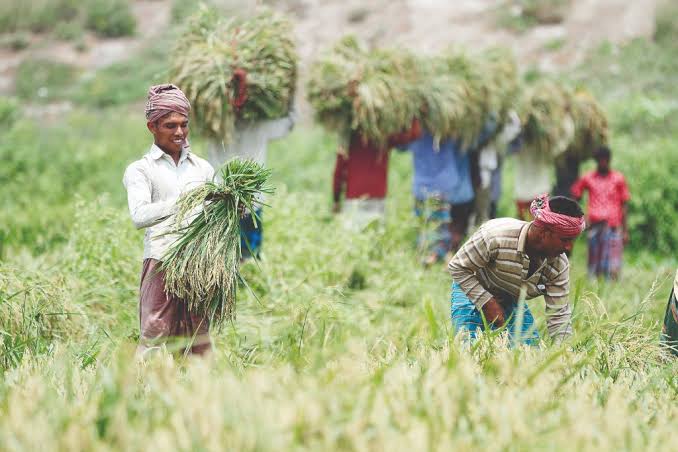 The Awami League-led government has been working relentlessly to boost the country's major agriculture sector for increasing food production by developing new varieties of crops.
After assuming office, the government has stressed the need for boosting the agriculture sector, which was one of the major pledges in its 2018 election manifesto.
Bold steps are underway to build up a modern agriculture system through agro-friendly efforts with the aim of ensuring food security, cutting post-harvest losses, reducing cultivation time and cost, facilitating domestic industrialisation and producing agricultural machinery.
The fisheries and livestock ministry has taken initiative to expedite its production to meet domestic demand and become self-reliant.
With the massive development of the information technology and communication, the government has been working hard to reap benefits from ICT in agricultural production and fair prices of agro-goods and livestock, building supply chains and creating diversification in agro-based job creation.
Awami League presidium member Faruk Khan said that all indexes show the country has become self-reliant and achieved security in food due to the government's time-befitting measures, including providing subsidies, loans and incentives, and making proper storage management.
"Mechanising agro-sector is underway as the government has increased budgetary allocation for providing machinery for farmers at a nominal price. The government continues providing agricultural subsidies," he said.
The government is eyeing to produce machineries at home, building capacity in technology use and maintenance, he added.
According to sources, the government has been giving priority to agriculture mechanization, aiming to reduce post-harvest losses of crops, including the main crop rice by up to 15 percent, save 50 percent time in cultivation and cut costs by 20 percent. While, only 1.5 percent in harvest and 5 percent in transplanting seedlings are mechanised.
To this effect, the government has taken the biggest-ever scheme involving Tk 3,000 crore for farm sector to provide farmers with subsidy in purchasing agricultural machinery, including combine harvester, rice transplanter, power thresher, drier, power weeder, power sprayer, potato digger and maize sheller, to reduce production cost and post-harvest losses.
This is the third project that the government has undertaken since 2009 to give subsidy to farmers to buy agricultural machinery to facilitate mechanised cultivation.
In a bid to cushion the impact of the Covid-19 pandemic, a Tk 9,500crore budget has also been allocated for farm subsidies in the 2020-21 fiscal year, up from Tk 9,001 crore in the outgoing fiscal year.
The government allocated Tk 15,441 crore for the agriculture sector -- an increase of Tk 2,643 in the revised budget for the current 2019-20 fiscal year.
Former Dhaka University Vice-Chancellor AAMS Arefin Siddique said the government was on track for the fulfillment of electoral pledges, but it has slowed down due to the coronavirus pandemic.
"The government has started mechanise the agro-sector but they have to focus on establishing a supply chain too by eradicating middlemen to ensure fair prices of agro products," he said.
Sources said the ministry of fisheries and livestock has been working to increase production in poultry farms to double by 2023.
In the meantime, production of Hilsha fishes has increased due to the government's timely measures, while the government has taken initiatives to boost fish production in hilly areas.
Apart from this, the government has taken a Tk 174crore project to increase production in haor areas. The ministry has taken an initiative to establish a research centre to develop fish production in haor areas.
The government has been working to disseminate improved aquaculture technologies through training and demonstration and enhance fisheries resources through enacting conservation and management measures.
The areas of agricultural land are diminishing gradually, but the country has become self-reliant in food production.
Agriculture Secretary Md Mesbahul Islam said that mechanisation in agriculture is a priority project of the government as now the agro-cultivation has been suffering from a labour crisis and it is being run by old methods.
"Measures have been taken to mechanise irrigation, plantation and harvest for reducing production costs, harvest losses alongside giving subsidies, incentives and building well-established supply chain," he said, adding that they have been working to introduce high-value agro-products and commercialising this sector.
"The government has taken quick measures at the Covid-19 period by giving Tk 200 crore for buying equipment for harvest. Over Tk 3,000 crore has been allocated in the budget for mechanisation of agriculture," he added.
Because of the time-befitting steps taken by the government, the country has presently ranked third in the world in freshwater fish production, fifth in mutton production, fourth in paddy output, seventh in mango production, third in vegetables production, third in export of leather and leather goods, and first in jute export.
Unauthorized use or reproduction of The Finance Today content for commercial purposes is strictly prohibited.