Bangladesh eyes on farming in ME, Africa thru OIC: Momen
---
Staff Correspondent
Published:
2021-01-20 15:42:41 BdST
Bangladesh eyes on farming in ME, Africa thru OIC: Momen
---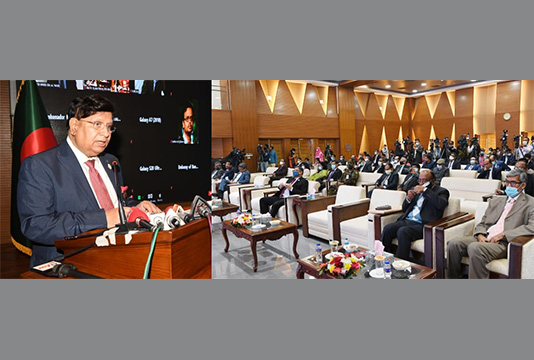 Foreign Minister Dr AK Abdul Momen said Bangladesh has started actively considering various farming options in Middle East (ME) and African countries utilizing different bilateral and multilateral channels, especially the platform of OIC.
"Bangladesh through the platform of Islamic Organization for Food Security (IOFS) can take some projects in African region for cultivating crops," he said.
The foreign minister was speaking at a function marking a lecture on "Contract Farming and Job Opportunity for Bangladesh Abroad" organized by Bangabandhu Research Centre for Foreign Policy and Diplomacy at Foreign Service Academy in the capital.
He also suggested that the Islamic Food Processing Association (IFPA), established in Uganda in 2011, could channelize intra-OIC investment in agro-food processing sector as well as creating a dedicated fund for agro-industrial development through Islamic Development Bank.
Noting that the OIC (organization of Islamic Cooperation) is a good platform to leverage Bangladesh access the heart of Africa, Dr Momen said it has been almost a decade that Bangladesh government commenced initiatives for leasing agricultural land in Africa while it first initiated 'Contract Farming' in limited scale with appointment of 11 Bangladeshi farmers in Zambia in 2016.
"We believe that sustainable agriculture does not only ensure the survival of our nation, it also opens the doors to prosperity, exchange and expansion of our national footprint across the globe," he said.
Momen mentioned that a fact-finding mission of foreign ministry led by the then foreign secretary visited Ivory Coast, Latvia, Senegal and Ghana in 2010 to explore possibilities of contract farming in African countries.
The fact-finding mission found that the production of rice, wheat, cotton, coffee etc. would be feasible and profitable for our investors in those countries, he added.
Bangladesh Ambassador in Kenya, he said, reported that Kenyan authorities were interested to provide about 1000 acres of land on lease to a financially competent Bangladeshi company for cotton cultivation.
Mentioning that in Sudan, there is an area of 20 million hectors of land of which 40 percent are agricultural land, Monmen said Bangladesh agricultural scientists may introduce suitable methods in Sudan as the Sudanese side has sought co-operation of Bangladesh for fabrication of fishing boats for catching fish in the Red Sea.
"I know that countries like Gambia, Sierra Leone, and the stretches of both the Maghreb and the Sub-Saharan Africa might be fertile areas to explore possibilities in this regard," he added.
The minister said agriculture has always been at the core of the Political-Economy manifesto of the Awami League Government led by the Prime Minister Sheikh Hasina, the able daughter of the Father of Nation Bangabandhu Sheikh Mujibur Rahman.
"One of the key priorities which propelled the Father of the Nation to conceptualize the vision of an independent Bangladesh was to ensure both the market and a fair price for the farming communities of Bangladesh," he recalled.
Momen said, the priority remained and evolved manifold into national level acceleration with the agricultural sector receiving the highest allocation from the fiscal and monetary packages.
Agricultural sector innovation, mechanism, extension and marketing received due import under the astute leadership of Prime Minister Sheikh Hasina, he added.
Expatriates' welfare and overseas employment minister Imran Ahmed, State minister for foreign affairs Md Shahriar Alam and foreign secretary Masud Bin Momen also spoke while Ambassador Golam Mosih gave the lecture.
Unauthorized use or reproduction of The Finance Today content for commercial purposes is strictly prohibited.