Bangladesh is agro-based economy, little more effort can boost production: PM
---
Staff Correspondent
Published:
2023-02-09 20:18:41 BdST
Bangladesh is agro-based economy, little more effort can boost production: PM
---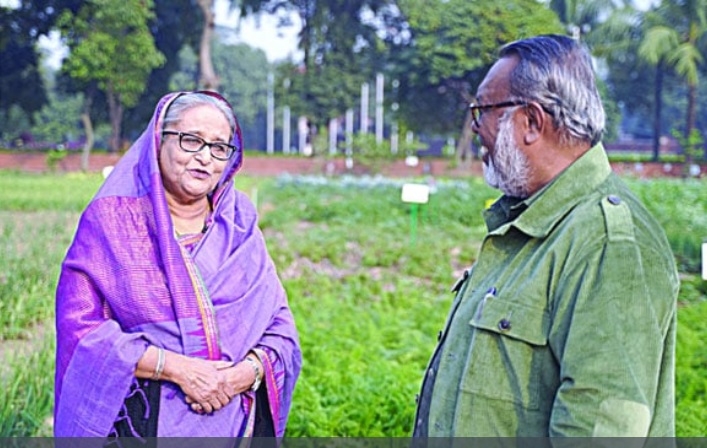 Bangladesh is determined to achieve food independence and sustainable development goal (SDG). Economic emancipation of rural populace coupled with food security, agricultural growth and development of farmers are building blocks for the country's future economic strength.
Prime Minister Sheikh Hasina perceived the necessities. But she was not confined to making policy and ordering people to implement the needful. Rather, she has undertaken the challenge herself and moved to utilise the soil of her official residence Ganabhaban for agricultural farming. She wants to know different ways of producing crops based on the regions.
The premier is inclined to gather practical knowledge. Considering the crucial challenge of food safety, she wants to closely watch the process with inquisitive mind and disclose the outcome for welfare of the countrymen. Despite head of state, she has stepped into agricultural farming. She is in touch with soil and crops.
Highlighting the issue, Prime Minister Sheikh Hasina shared various aspects of her agricultural works in an exclusive interview with Channel-i director, media personality and agriculture development activist Shykh Seraj.
She also allowed documentary film titled "Sheikh Hasinar Fosholi Uthon: Bangabhabane Banglar Mukh." Channel-i will telecast the documentary at its agricultural TV series "Hridoye Mati O Manush" at 9:30pm on Saturday (Feb 11).
During the interview, Prime Minister said "I received primary knowledge of agriculture from my father at childhood. He facilitated us (me and siblings) to practise agriculture. I got involved in politics afterwards, worked for poor and destitute in rural areas and knew their sufferings."
Terming Bangladesh's economy agro-centric, she said "Agriculture deserves much attention considering our agro-based economy and overpopulation. The soil of our country is so fertile that a little more effort can boost production."
About the documentary, Shykh Seraj said "Hon'ble Prime Minister earlier issued a directive not to keep a single inch of land uncultivated. She translated her word into work. She stressed research to mitigate impact of climate change and use of modern technologies to push smart agriculture forward. The Prime Minister has created a rare precedence in multipurpose agriculture which should be followed. People will be more attracted to agriculture by her farming. I am not sure as to whether any other premier in the world is engaged in agro farming in his/her residence."
The love for agriculture of Bangabandhu's daughter and Prime Minister Sheikh Hasina was the best resources for Bangladesh's tremendous economic development in the last 15 years, he said, adding that the same will pave the way for implementing future dream.
"As a development journalist, it is a milestone achievement for me to highlight the precedence created by the Prime Minister. I have completed four decades of my journalistic career this year. Besides, Hridoye Mati O Manush in Channel-i by me has stepped into the second decade. I am highly delighted to project the agro-farming in the residence of the premier to the countrymen."
Unauthorized use or reproduction of The Finance Today content for commercial purposes is strictly prohibited.