Onion farmers incur losses as imported crop floods market
---
SAMI
Published:
2020-03-17 12:51:43 BdST
Onion farmers incur losses as imported crop floods market
---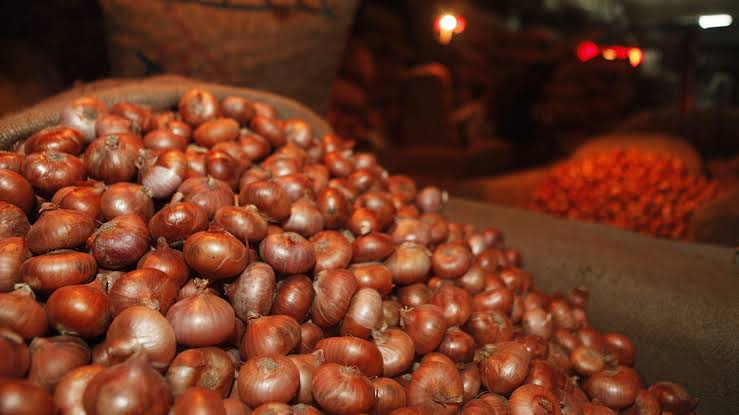 FT ONLINE
A sharp decline in onion prices has frustrated 1.2 million growers of the spice crop in the country although the price fall has given a sigh of relief for the consumers.
In the wake of the drastic price fall, onion growers are now struggling to get back even the amount they have invested to produce the spice, said farmers.
Onion prices suddenly increased in Bangladesh in October last year following a ban imposed by India on export of onion on September 29. Since then, the onion price hike continued in local market unabated and the price had reached as much as Tk 250-250 per kg in November. However, the price started to decline in Bangladesh after new crop hit the market in January and the price fell drastically after New Delhi announced lifting of export ban this month.
Market experts and traders attributed the fall to beginning of imports from India.
Prices of seasonal onion, known as haali, declined to Tk 18-26 per kg at farmers' level in the last seven days against production cost of Tk 22-26 a kg, according to the Department of Agricultural Extension (DAE) and the Department of Agricultural Marketing (DAM).
Retail prices of the produce was Tk 38-50 a kg in Dhaka on Monday----a 35-40 per cent decline recorded by the state-run Trading Corporation of Bangladesh (TCB) in the last couple of weeks.
Neighbouring India opened its onion market from Sunday and the spice from the country started entering Bangladesh through Bhomra and Hili borders, said market observers.
Traders at Shyambazar wholesale market in the capital said imports cost of Indian onion was Tk 21.0-21.5 per kg on Sunday.
The plunge in onion prices in Bangladesh is a relief for consumers who had been paying Tk 100-Tk 270 to buy one kg onion for the last four months---from November to February.
Meanwhile, cheap import cost led to glut of imported onions in Bangladesh's market. Cheap imported onion coupled with arrival of newly-harvested crop flooded the market in the last two months. The indiscriminate import from foreign countries, including India is set to hit hard the local farmers hard.
Badiul Alam Kanungo, a farmer at Chatmohar in Pabna, said that he has collected 60 maunds (40 kg = 1 maund) of onion from his two bighas of land in the last one-and-a-half-week.
Another 8-10 maunds could be harvested within the next few days, he said.
He said it costs him Tk 70,000-71,000 to grow onion on the two bighas of land.
The market prices of his 70 maunds of onion are now Tk 55,000-56,000 only, he mentioned. And the price is declining further, he lamented.
He further said seed prices increased to Tk 9000- 11,000 per kg this year against the previous price of Tk 1500-1600 a kg which fuelled up the production costs.
"I used 3.5 kg of onion seeds for making seedbeds for my two bighas of land which cost me Tk 21,000," he added.
According to the DAE, above 1.2 million farmers have cultivated onions on a record 0.24 million hectares of land this year.
DAE Deputy Director (monitoring and evaluation) Mizanur Rahman said they were expecting all-time high 2.37 million tonnes of onion this year which is almost 90 per cent of the total demand.
Assistant Director of DAM T M Rashed Khan said, the onion cost began to fall with the declaration by the Indian government last month that it would open its market for export from mid-March.
He said farmers spent Tk 22-26 for growing one kg onion this year which was Tk 12-Tk 18 a kg last year.
Rashed Khan said local onion prices declined to Tk 19- 26 a kg in the last seven days in Rajshahi, Faridpur, Rajbari, Pabna, Kushtia and Jashore districts from Tk 42-50 a kg a week back.
"As per our primary calculation, farmers should get at least Tk 25 (hybrid variety) to Tk 31 (indigenous) for per kg onion this year," he added.
Bangladesh Agricultural Farm Labourers' Federation Secretary Abdul Mazid, said onion farmers' production cost increased by 50-55 percent this year mainly due to hike in its seed prices.
He said the government should impose some restrictions on import immediately to safeguard local farmers' interest.
An official at the Bangladesh Tariff Commission said that the commission last year sent a proposal to the commerce ministry to impose duty on onion imports between January-April period to protect the local growers.
"We are also reviewing the matter. A report will be tabled to the commerce ministry in this regard," he said.
"According to section 18 (2) of the Customs Act 1969, the government can impose as high as 25 percent regulatory duty on onion imports" he said.
He also said they calculated onion production cost as Tk 17.38 per kg last year. However, he added that the production cost might have soared this year.
Bangladesh produced 1.9 million tonnes of onion in 2018-19 financial year. The annual demand is 2.4-2.5 million tonnes, according to the commerce ministry.
The shortfall is met through import mainly from India.
Unauthorized use or reproduction of The Finance Today content for commercial purposes is strictly prohibited.