Business /
Edible oil price in Bangladesh is lower than neighboring ones
---
Staff Correspondent
Published:
2022-06-02 07:42:33 BdST
Edible oil price in Bangladesh is lower than neighboring ones
---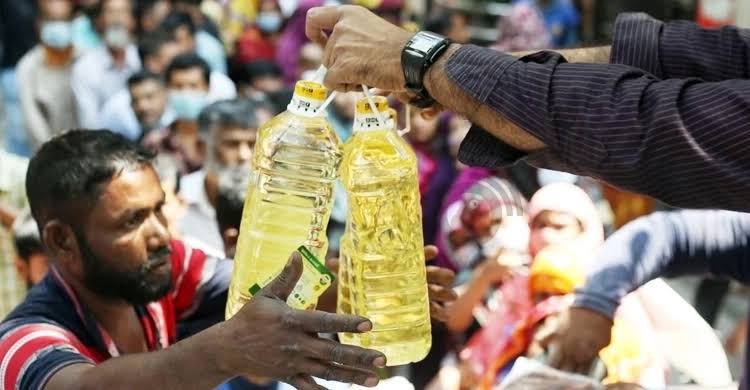 Despite the recent price hike of edible oil in Bangladesh, the prices of essential items in the country is comparatively lower than other Southeast Asian nations.
Very recently, the Bangladesh Vegetable Oil Refiners and Vanaspati Manufacturers Association (BVOVMA) increased the retail price of bottled soybean oil by a record Tk 38 per litter.
The commerce ministry approved the BVOVMA proposed rate submitted before the Eid holidays.
With the latest development, which came into effect on May 6, the maximum retail price of a litter of bottled soybean oil now stands at Tk 198 while loose soybean oil is being sold at Tk 180 per litter and palm oil price at Tk 172 per litter.
According to latest media report, cooking oil is more expensive in India, Pakistan and Nepal than Bangladesh.
In neighboring India, soybean oil cost varied from Tk 213.41-224.65 per litter. Prices of cooking oils including sunflower, peanut oil and canola have raised 50-70% over before Covid levels, escalated by the ongoing geopolitical tension.
In Pakistan, the newly formed government has abruptly increased the prices of edible oil and ghee by an unprecedented Rs 208 and Rs 213 to an all-time high of Rs 555 per kg and Rs 605 per litter.
According to the Pakistani media, the Utility Stores Corporation (USC) has confirmed the tremendous increase in cooking oil prices and added the new rates will be effective from Wednesday, June 1.
However, none of the concerned ministers comment on why the rates had been jacked up so mercilessly.
Meanwhile, people in Nepal have to spend around Tk 197.15-214.75 for a litter of bottled soybean oil.
Unauthorized use or reproduction of The Finance Today content for commercial purposes is strictly prohibited.