Banker Morshed victim of secret business of Sharun
---
Special Correspondent
Published:
2021-04-17 07:17:29 BdST
Banker Morshed victim of secret business of Sharun
---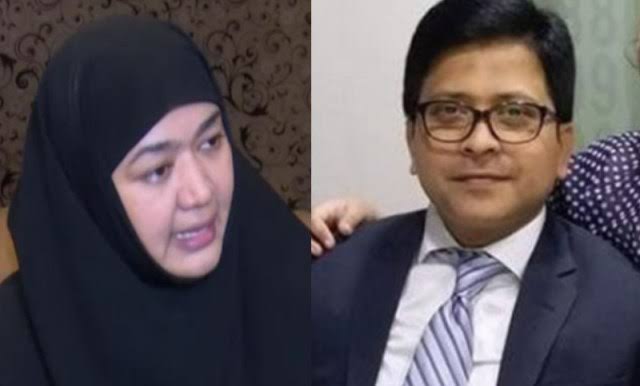 Manager of Agrabad branch of Bank Al Falah Ltd, Abdul Morshed Chowdhury & his wife Ishrat Jahan Chowdhury
Young banker and businessman Abdul Morshed Chowdhury became the victim of secret business of illegal money investment of Whip Shamsul Haque Chowdhury's son Nazmul Haque Chowdhury Sharun.
Sharun lends his ill-gotten money to businessmen through others and uses his political clout to realise huge amounts in capital and interests.
He also inflicts torture on businessmen if they fail to pay back money as per his demand.
The bank official failed to buy relief from Sharun even after paying around Tk 38 crore against a loan of Tk 25 crore. He had to choose the path of suicide failing to bear the political and administrative pressure for paying more, family members said.
During investigation, new information is coming out about the incident, which has now turned into the talk of the Chattogram city.
Demanding exemplary punishment of those incited him to take his own life, Morshed's wife Ishrat Jahan Chowdhury and mother Nur Nahar have sought justice from Prime Minister Sheikh Hasina.
Morshed, manager of Agrabad branch of Bank Al Falah Ltd, committed suicide hanging himself at their residence in the city's Hill View Residential Area on April 7 last.
It was learnt that Sharun gave rise to controversies over different issues earlier -- from posting pictures of shooting rehearsal on Facebook to threatening to slap a freedom fighter and Awami League leader older than his father. He was also involved in casino business. It seems Sharun is there where there are misdeeds.
There is no end to such controversies about him. This time he got involved in the debate over the suicide of the banker.
According to sources, Sharun and some of his friends are involved in various secret businesses like investment of illegal money.
Banker Morshed became the victim of keeping faith in them even after paying huge amount, including interest against the borrowed loan.
He did not take back the security cheques in good faith. The gang repeatedly demanded more and more money using those cheques. The accused continued to attack the victim's residence, file lawsuits, kidnap him and issue other threats for the money.
There was also political and administrative pressure. The banker, who was unable to bear those, committed suicide seeking relief.
The Detective Branch (DB) of police has been tasked to find out the truth behind the suicide of this young man who is terrified by constant threats.
Following investigation into the allegations made by his wife Ishrat, the names of some leaders of Bangladesh Chhatra League and Jubo League and two current and former directors of Chattogram Chamber of Commerce and Industry have been found at various stages. A former MP also took the initiative to mediate between the two sides.
The victim's elder brother filed a case with Panchlaish Police Station accusing four people in connection with the forced suicide.
The accused are Jubo League Organising Secretary Shahidul Haque Chowdhury Russell, two former directors of Chattogram Chamber -- Jabed Iqbal Chowdhury and his brother Parvez Iqbal Chowdhury-- and Naeem Uddin Shakib. Two of them are cousins of the victim.
Allegations of torture and provocation for suicide were brought against the accused in the case.
Officer-in-charge (OC) Abul Kashem Bhuiyan of Panchlaish Police Station said action will be taken after investigating the complaints.
Morshed's wife Ishrat also alleged that the accused took away passports of his family members earlier.
Sources said the two former directors of the Chattogram Chamber came to the residence of the young banker with Sharun in two vehicles on May 29, 2019.
Parvez Iqbal went upstairs with his gang and knocked the door of the house repeatedly.
They kicked the door and said they would bring Morshed keeping his wife confined.
Sharun and former BCL leader Arshadul Islam Bachchu remained seated inside a number plate-less vehicle beneath the building at that time.
Frightened Morshed fled with his wife and child and took shelter in a relative's house after the incident.
They sought assistance from the police and filed a general diary in this connection. But they did not get the support.
Ishrat alleged that the gang took her husband to MM Tower in Panchlaish in 2018. "They tortured my husband there at gunpoint. I was also tied up and forced to sign a stamp demanding an additional amount of Tk 12 crore," she said.
A case was filed in connection with the attack on their residence then. The accused also threatened to attack the residence again, kidnap their girl and kill Morshed, she added. "Shakib also took signature on 84 cheques on September 27, 2019 at gunpoint. They took six unwritten and signed non-judicial stamps from us," she said.
"We're now extremely helpless because of the financial and political influence of the accused. I'm worried about my own and daughter's lives," Ishrat told the media.
"Shakib filed eight cases against me and my husband. I was acquitted in all the cases as the allegations were false. The charges against my husband were also in the process to be quashed," she said.
Police knew everything and an agreement was also signed at the office of Deputy Commissioner (North) of Chattogram Metropolitan Police (CMP). Bachchu and others were present at the meeting.
In this regard, then CMP DC Bijoy Basak said bank official Morshed and his wife went to him seeking assistance after the incidents. Morshed, his relative Azam Khan, and his elder brother Ashraf sat in several meetings.
Morshed wanted assistance, saying, "If Parvez files cases, there'll be problems with my job," he quoted the bank official, adding that he tried to bring the two sides to an agreement. "The debt was being paid according to the agreement between the two parties."
The victim's wife alleged that nearly two years after the incident by when the principal and interests have been cleared, Jubo League leader Russell kept pressing over the telephone for more money. "Morshed committed suicide a day after Russell threatened him over phone on behalf of Parvez and Jabed. That's why Russell was charged in the case."
"I can't take it anymore. I really can't take it anymore. I'm dying once a day. I can't take the inhuman pressure of some people anymore. Please, everyone forgive me. Everyone please take care of my Jum (daughter). Allah Hafez," he wrote in the note.
In an audio clip, Russell was heard saying, "Bijoy (Police DC Bijoy Basak) works for the police. Today he is here, tomorrow he will be gone. But I'll stay in Chattogram. Doing these things with me would be dangerous."
Regarding the telephone threat, Russell said he agreed to mediate at the request of his childhood friend Jabed Iqbal.
Morshed kept telling the Jubo League leader about a customer while repeatedly assuring him that the debt would be paid within the promised time in the mobile phone conversation.
Asked about that particular customer and in which business so many crores of Taka were invested, Jubo League leader Russell could not give any proper answer.
About Sharun, Ishrat said her husband had no direct transaction with him.
Moshed earlier also raised questions about the involvement of Sharun with the incidents. Sharun then replied that he did not do transaction directly and invested the money through Parvez.
Asked how Sharun got involved in the process, DC Bijoy Basak said accepting cheques as security, Sharun invested money in the business through Parvez and pressured Parvez for his dues. Since Morshed is not a direct creditor, Sharun was not allowed to attend the meeting, the DC said.
Morshed's relative Azam Khan said before the death of Morshed, a transaction of Tk 2 crore was made. Morshed also confirmed the transfer of the money to the bank, he said.
He added that Parvez and Jabed could not be reached even after repeated calls after the incident.
Azam said, "Since I mediated, Tk 5.5-6 crore has been paid with interest. Then Parvez was demanding Tk 7 crore. Morshed also agreed to pay."
Bachchu's name has come up with Sharun in the process of investing with banker Morshed Chowdhury, attacking his house and recovering money. It was learned that Bachchu was involved in several mobile phone conversations and present at reconciliation meetings held at the DC's office.
Azam Khan admitted that Sharun and Bachchu were sitting in a meeting.
MP Didarul Alam said, "I've come to know that this transaction has been going on since 2013-14."
In reply to a query as to why Sharun and former student leader Arshad Bachchu were not made accused in the case, Morshed's wife said although they were present during the attack on their house in 2019, there was no evidence of Morshed's money transaction with them directly.
It will come out later whether there is evidence of audio voice or any other involvement, she said, adding, "I want to make someone accused with evidence. Apart from that, the matter should be investigated by the police."
Contacted, Sharun told the media that he did not go to the residence of Morshed. "The car in which my presence was alleged was not mine. The video that is being spread was recorded in 2020 while the time of the incident is said to be in 2019."
"I met Morshed only once for 10 minutes at the residence of Azam Khan in Panchlaish area. Parvez is known to me as we live in the same Halishahar area. That's' why I went to Azam's residence. At that time I met Morshed at Azam's house," he said.
"There were talks about business transactions with Parvez. Hearing that Bachchu Bhai and I left and never met him again. The allegation was brought against me to tarnish our political and family images," he claimed.
CMP Commissioner Saleh Mohammad Tanvir told the media that there were many contradictory statements. We want to proceed with caution so that no mistakes are made. The investigation is ongoing. We will interrogate everyone in phases. Hopefully the truth will come out when I cross check. And there is no question that anyone will be arrested if there is a case.
The matter was discussed with Nagar Awami League vice-president Ibrahim Hossain Babul. He said no one is above the law. I think if anyone is found guilty through investigation, he should be brought to justice. Whether he is in government or in opposition.
Unauthorized use or reproduction of The Finance Today content for commercial purposes is strictly prohibited.