NGO engaged in illegal banking activities in Rajshahi
---
Abu Taher Bappa
Published:
2019-12-11 17:22:53 BdST
NGO engaged in illegal banking activities in Rajshahi
---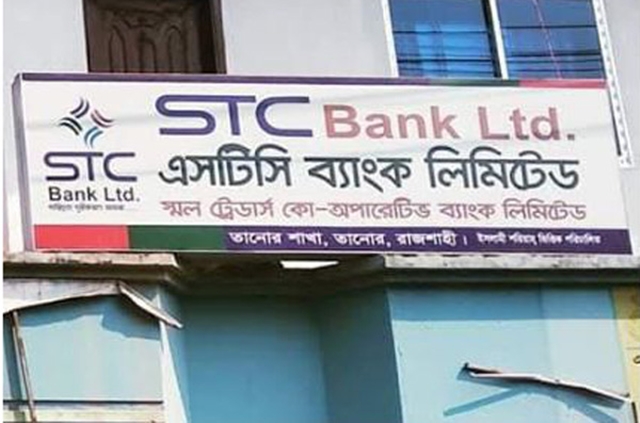 FT ONLINE
A non-government organisation (NGO) named Small Traders Cooperative (STC) Bank Limited has been engaged in illegal banking activities in Rajshahi.
According to sources, the STC procured registration as a cooperative society from the Department of Cooperatives to work in Narayanganj district only. But, the organisation is engaged in banking activities by opening several branches in Rajshahi.
Banking sources here said, STC does not have any approval from Bangladesh Bank (BB) to run banking activities but like other scheduled banks, STC was conducting all banking activities by opening a 'Divisional Branch' and several branches at Upazila levels.
According to the Bank Company Act and Cooperative Act, no institution can operate any banking activity and accept deposit of money from any person without procuring a licence from Bangladesh Bank. But like other banks, STC was collecting deposits, disbursing loans and operating all other banking activities.
Sources said, from May this year, STC set up its Regional Office on the third floor of Marium Ali Tower near Barnali crossing of the city and started to receive deposits in Savings, DPS and Current Accounts in the name of operating the banking activities by following the Islamic Shariah.
However, conscious people of the locality became worried as the bank has no approval from the Bangladesh Bank.
In addition to its Regional Office at Barnali crossing, the STC has set up its Rajshahi branch and Rajshahi Divisional Office at Sagarpara of the city, opened Naohata Branch at Paba Upazila, Baneswar Branch on the second floor of Fatema Haque Plaza at Baneswar of Puthia Upazila, Kehsorhat branch at Keshorhat Bazaar under Mohanpur Upazila, Tanore Branch at the first floor of Chairman Plaza of Tanore Upazila, Bagmara branch at Bhowaniganj Bazar under Bagmara Upazila and various other branches around Rajshahi district.
It is alleged, though the STC Bank Limited procured its registration from the Department of Cooperatives to work as a Cooperative Society only in Narayanganj district but it was allegedly operating full banking activities in various places of the country including in Rajshahi.
According to the revised sub-clause of the Cooperative Act, to operate activities as a cooperative society outside its operating area is against the clauses 12(2) of 2004 of Cooperative Society Regulation.
Moreover, according to Cooperative Society Act 2001 revised in 2002 and section 23(1) of 2013 no cooperative society would be able to open its branch office and according to section 26 No., cooperative society will not be able to receive any deposit or disburse any loan to anyone except its members.
But, in defiance of all rules, STC was conducting full banking activities by adding the word 'Bank' after the words the Cooperative Society.
In this connection, Azim Uddin Pramanik, General Manager of Rajshahi Divisional Office of STC at Sagorpara informed, he has no documents regarding the permission to operate the bank from Bangladesh Bank. But, he has the document of opening the branch at Narayanganj.
He further said, a writ petition has been filed with the higher court on September 22 seeking permission to open countrywide branches of the bank and he hoped the verdict will be delivered in their favour. That is why the STC was operating its activities by opening branches. The bank will never turn 'bankrupt' or a 'Hay Hay' company, he claimed.
Mamunul Haque, General Manager of Bangladesh Bank informed local journalists over the mobile phone that no bank named Small Traders Cooperative (STC) Bank Limited has been given the approval to operate banking activities.
He said he would inquire into the matter as to how STC was operating without any approval.
Unauthorized use or reproduction of The Finance Today content for commercial purposes is strictly prohibited.