ICC prosecutor seeks Rohingya probe
---
Nirmal Barman
Published:
2018-04-10 12:17:35 BdST
ICC prosecutor seeks Rohingya probe
---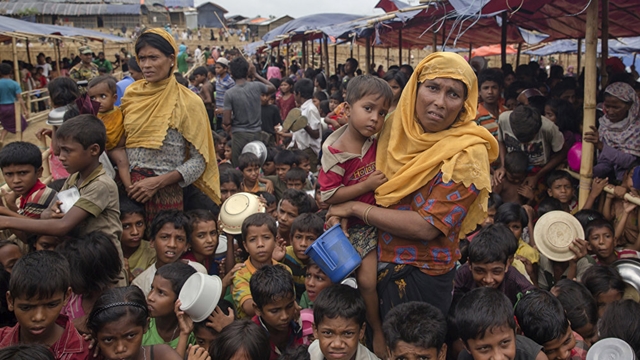 FT ONLINE
A prosecutor from the international criminal court (ICC) has sought jurisdiction over the 'deportation' of Rohingya people from Myanmar to Bangladesh, with the aim of investigating and prosecuting those responsible.
In a filing published on Monday, the court prosecutor, Fatou Bensouda, said, "This is not an abstract question but a concrete one, affecting whether the court may exercise jurisdiction … to investigate and, if necessary, prosecute."
The file reads, "The prosecution requests the President of the Pre-Trial Division to assign this matter promptly to a Pre-Trial Chamber, pursuant to regulation 46(3), and the assigned Pre-Trial Chamber to rule under article 19(3) on the question whether the Court may exercise jurisdiction under article 12(2)(a) over the alleged deportation of the Rohingya people from Myanmar to Bangladesh."
The prosecutor is seeking a ruling to "verify that the Court has territorial jurisdiction when persons are deported from the territory of a State which is not a party to the Statute directly into the territory of a State which is a party to the Statute."
Bensouda argued that, given the cross-border nature of the crime of deportation, a ruling in favour of ICC jurisdiction would be in line with established legal principles.
Bangladesh and Myanmar signed the repatriation agreement on November 23, 2017. On January 16, Bangladesh and Myanmar signed a document on 'Physical Arrangement' which will facilitate the return of Rohingyas to their homeland from Bangladesh.
The 'Physical Arrangement' stipulates that the repatriation will be completed preferably within two years from the start of repatriation.
Bangladesh currently has a Rohingya population, which is far more than Bhutan's entire population.
Bhutan has around 800,000 people whereas Bangladesh had to give shelter to some 1.2 million Rohingyas.
Unauthorized use or reproduction of The Finance Today content for commercial purposes is strictly prohibited.