Tech /
Demand for digital devices increases
---
Siyam Hoque
Published:
2020-05-17 11:29:08 BdST
Demand for digital devices increases
---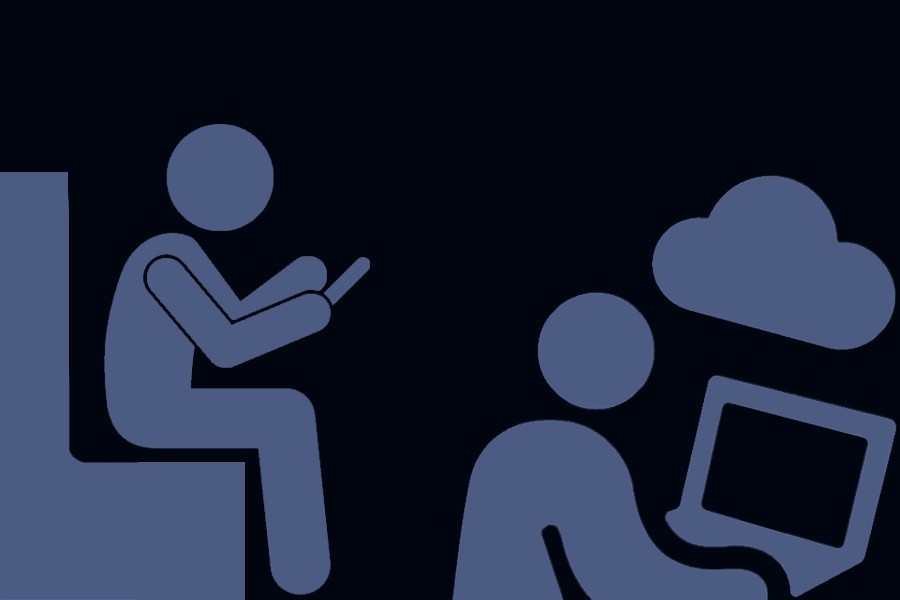 NEWS DESK

The demand for digital needs among people has risen significantly in recent months as the coronavirus pandemic is fast turning society towards technologies to respond to this crisis.
A vast majority of people under lockdown have willingly discarded many of their liberties. In the unusual circumstances, reliance on the internet for information and basic services rises.
From shopping to financial services, entertainment or even healthcare advice, people are largely opting for digital technologies staying at home.
And the result is obvious: companies depending or serving digital technologies are enjoying heyday even in this trying corona time.
The FT finds a sudden change in the behaviour of people as it talks to e-commerce players, digital service providers, financial institutions and users.
Monir Hossain, an executive of Advance Communication Network that provides internet service in Dhaka city, said they have been struggling to cope with the growing demand for WI-FI connections.
"Lockdown remarkably rises the demand for digital needs. Staying from home, people want to buy necessary stuff, do regular official activities and get connected virtually or get entertained on internet."
Founder and chief operating officer of an online grocery platform, Zia Ashraf, spoke of developing four inventories of products in just one month for a bulging demand for virtual shopping.
He said the growing pressure of demand forced them to impose a daily ceiling of orders to ensure smooth supply of products.
"Now, we've fixed a cap of 5,000 orders a day. Earlier, we used to receive 12,000 to 15,000 orders a day and we struggled with an unprecedented rise in orders."
Terming the lockdown situation a boom for e-commerce business, Mr Ashraf said this crisis moment, in fact, shows the people how important the virtual trading is.
The sudden change in consumer behaviour and the hike in the demand of digital needs compelled financial institutions to pay more attention to the innovation of more digital products.
Mutual Trust Bank managing director and CEO Syed Mahbubur Rahman said banks are focusing on automation because of the changing behaviour of clients who prefer service from home for coronavirus.
His bank already introduced greenpin service so a cardholder can generate PIN for his/her new card, change the old PIN and reset it in case they have forgotten.
"Cardholders no longer need to visit any MTB premises to place requests for PIN and they will get their desired PIN instantly from our call centre," he said.
"Now, I'm in a discussion with somebody about how we can use robotics in delivery quick service. We also fully automated our payment system," added Mr Rahman.
"Banks are working on this issue. Alongside crisis, the pandemic is also creating innovations and making them innovative to serve."
The app-based mobile financial service is another area where higher people dependency was observed soon after private and public offices were shut from March 25 to stem coronavirus from spreading.
Shamsuddin Haider Dalim, spokesperson for the country's leading mobile financial service provider bKash, said people rely on mobile financial service (MFS) keeps increasing largely in this lockdown situation.
There are some service areas like mobile recharge and bKash on delivery of products and remittance where customer reliance goes up significantly, he added.
"People don't want to visit shops physically to buy something or recharge mobile," Mr Dalim said, adding that they now understand the benefits of cashless transactions during this critical period.
According to economists, the COVID-19 scourge is hampering traditional methods of business operations, making digital approaches more important.
They termed the situation a wake-up call to organisations that focus on daily operational needs at the expense of investing in digital business and long-term resilience.
Research director of the Centre for Policy Dialogue Dr Khondaker Golam Moazzem said the beneficiaries of digital economy are largely concentrating on a particular group having a certain income level.
In recent days, he said the use of digital devices keeps rising by some marginalised groups, say payment to garment workers and special assistance to the youth and Bangladeshi expatriates.
"This money is being provided through MFS. If we want to spread the service to all strata of society, we need to work more on customisation of products through vertical and horizontal expansion."
Citing the pandemic a prolonged matter, Mr Moazzem suggested policymakers promote digital technologies removing duty or tax-related barriers, if any.
"We should take care of people having expertise to develop digital devices and use them properly to reap the benefits of technological advances," he stated.
Unauthorized use or reproduction of The Finance Today content for commercial purposes is strictly prohibited.