Implementation of Article-6 of PA must be facilitated under UNFCCC Process
---
SAM
Published:
2019-12-07 15:48:36 BdST
Civil Society expects effective government role in CoP 25 global climate summit in MadridImplementation of Article-6 of PA must be facilitated under UNFCCC Process
---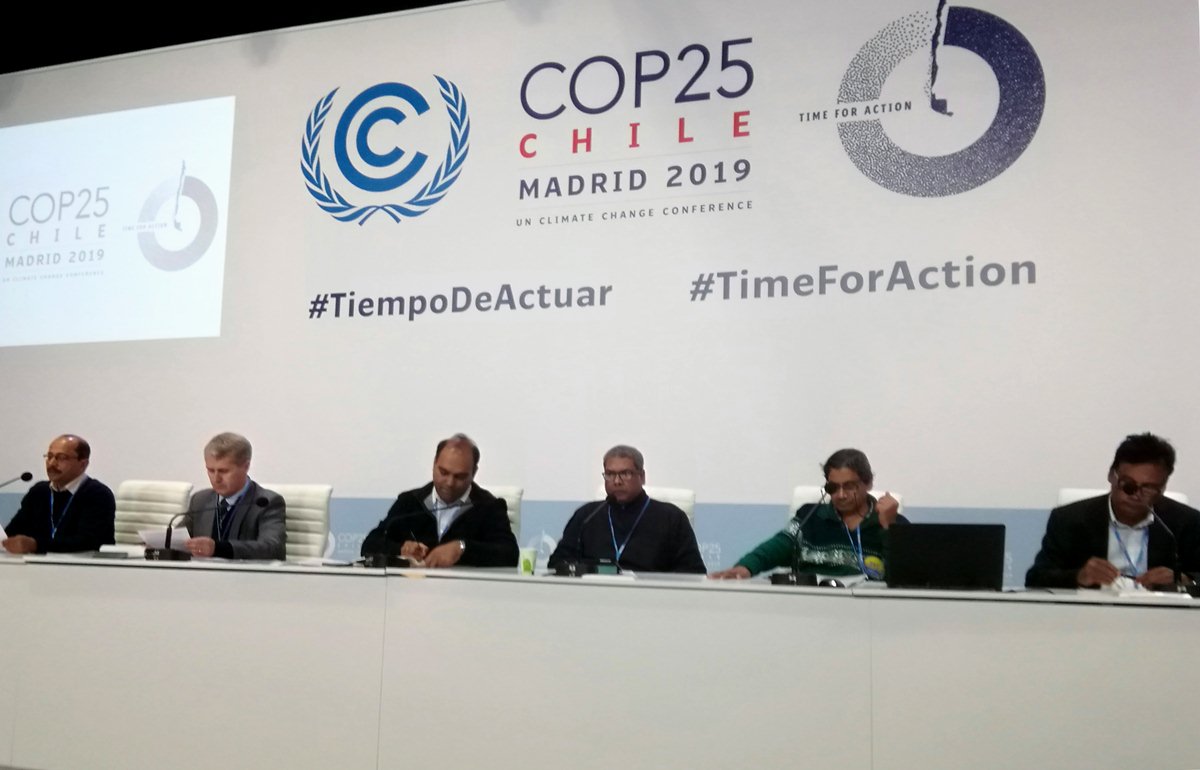 STAFF CORRESPONDENT
Civil Society leaders of MVC (Most Vulnerable Countries) in a press conference demanded an enhanced Nationally Determined Contribution (NDC) target as urgent action by developed countries to reduce the Green House Gases (GHGs) to keep global warming rise below 1.5 degree Celsius.
CSO leaders also opposed any attempt of the false solution and demanded to develop the implementation guideline of Article-6 (Market Mechanism for reducing GHGs) of the Paris Agreement under UNFCCC Process instead of bi-lateral which being offered by developed countries.
The Press conference titled "LDC & MVC Peoples' expectations and CoP 25" held at the meeting room of climate conference center, Madrid where representatives of different CSO leaders Mr. Sanjay Vashist (Coordinator-Climate Action Network- South Asia), Mr. Hemantha Withanage (Executive Director-Center for Climate Justice, Sri Lanka), Mr. Atle Solberg (Head of Coordination- Platform of Disaster Displacement-PDD, Geneva), Ms. Chirrine Lebbaine from France, Mr. Soumya Dutta from India and Md. Ziaul Hoque Mukta CSRL (Center for Sustainable Rural Livelihood) participated and spoke.
The key demand is presented by Syed Aminul Hoque (EquityBD) from Bangladesh.
Presenting the key demand, Aminul Hoque said that the COP-25 is being held at a crucial, historical and in a transitional stage. 2020 is literally around the corner. This is the year in which Parties' pre-2020 actions under the Convention are supposed to conclude and needed to set a solid foundation for future climate actions for all Parties followed the Paris Agreement (PA).
Following the context, he urged developed countries to revise and enhance their NDCs as urgent action in reducing GHGs based on the IPPC 1.5 degree strategy and also followed by the Article 4.4 under Paris Agreement which called take lead to mitigation efforts by developed country parties.
Sanjay Vashist said that the developed countries have been throwing their ill efforts to establish the clause "Article 6.2" of Paris Agreement (so-called Carbon or Emission trading from MVC) which in fact create pressure to the MVC and even for developing countries to adopt mitigation action in place of their adaptation priorities which is not expected.
He demands the necessary arrangements under Article 6.8 of the PA instead of Article 6.2 that goes beyond emissions trading to effective non-market approaches to facilitate scaled-up the cooperation on emissions reductions and enhanced climate resilience.
Atle Solberg expressed his deep concern about displacement that's happening in MVC due to climate change impacts.
He expect WIM (Warsaw International Mechanism of Loss & Damage) become an effective mechanism and duly operational with separate mandate of action plan under the Convention and its PA in addressing the needs of MVCs for enhanced action & support including separate financing with technology transfer mechanism in relation to loss and damage, Displacement & Migration issues.
Hemantha Withanage criticized GCF replenishment pledge amounting to USD 9.7 billion, because of its mismatch with MVCs need for their climate actions".
He expects that the developed countries will significantly address the climate threats of MVCs and LDCs in CoP25 and ensure their clear cut commitment for US$ 100 billion per year financial support as well.
Unauthorized use or reproduction of The Finance Today content for commercial purposes is strictly prohibited.