Vegetable growers in dire straits
---
Siyam Hoque
Published:
2020-04-18 07:34:04 BdST
Vegetable growers in dire straits
---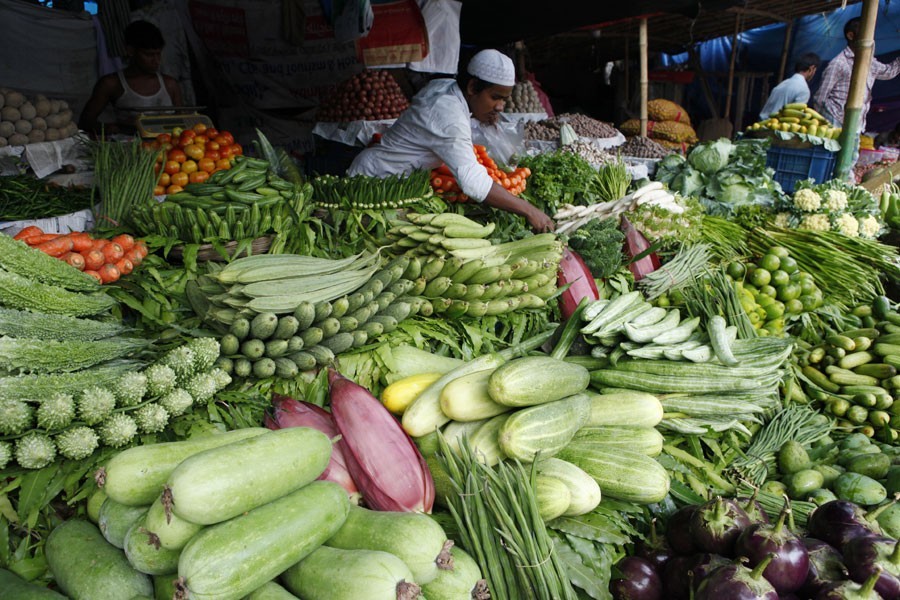 FT ONLINE
Vegetable farmers have been incurring big losses for weeks due to supply chain disruptions and a poor demand following the countrywide lockdown.
The stay-at-home holiday that started on March 26 as a precaution against the deadly coronavirus pandemic might end on April 25.
But the month-long shutdown has forced farmers to sell their produce at throwaway rates due to a low demand amid supply disruptions.
Farmer in Rangpur, Dinajpur, Bogura, Manikganj, Cumilla, Narsingdi, Jashore, Khulna and Chattogram have been selling their summer vegetables even at one fourth of their production costs.
Shahjahan Ali, a Shatibari farmer under Mithapukur sub-district in Rangpur, has been selling brinjal at Tk 3.0-4.0 a kg only.
He grew 'Khatkhatia' variety of brinjal on his two bighas of land at a cost of Tk 47,500 (excluding his self-labour).
Mr Ali started plucking eggplant from his field from the first week of this month.
"I'm expecting 4,500-4,600 kg of the produce within the last week of mid-June," he told the FE.
The farmer said, "I have to sell at Tk 3.0-4.0 a kg against the production costs of Tk 10.5 for the same."
If the situation remains the same before Ramadan, he said, the farmers in his area will lose their capital.
Mr Ali also grew spinach and red amaranth on the same field which have almost no value in the market for now.
Shanok Malo, a fisherman-cum-farmer at Ghior under Manikganj district, produced pumpkin and cucumber on his one bigha of land.
He said as demand from Dhaka has dropped, prices too have fallen to just Tk 8.0-10 a kg in his locality against the production costs of Tk 18.
Mr Malo said a medium-size pumpkin was traded at Tk 30-35 when it was Tk 80-90 apiece before the lockdown.
Sources said many growers have stopped plucking brinjal, tomato and all types of gourd in Rajshahi, Bogura, Narsingdi and Cumilla for low prices.
Pointed gourd sells at Tk 10-12, bitter gourd at Tk 14-16, snake gourd at Tk 10-12 at farm level in districts, said the Department of Agricultural Marketing (DAM).
Tomato is selling at Tk 6.0-8.0 a kg, it added.
DAM asst director (market linkage) Md Mojibor Rahman said farmers are selling veggies at 25-50 per cent of the production costs in different areas for low demand.
There is also a problem of transportation which has further been intensifying the farmers' woes, he added.
Mr Rahman said farmers in 26 districts, who produce vegetables commercially, are witnessing massive losses.
Vegetable prices have also fallen in Dhaka by a good margin but the price gap is still huge, he pointed out.
He said brinjal was bought at Tk 6.0-8.0 a kg by Karwanbazar traders when wholesalers there sold it at Tk 18-22 on Friday.
The same produce was retailed at Tk 30-40 a kg in the metropolis.
According to the Department of Agriculture Extension, farmers have cultivated vegetables on 0.45 million hectares of land this year to produce 7.2 million tonnes of summer vegetables.
The period from April to August is peak time for summer vegetable growers.
According to DAM, 8,000-8,500 tonnes of vegetables enter Dhaka city daily during summer from April to August, but it has dropped to just 200-300 tonnes now.
Agronomist Prof Golam Hafeez Kennedy said veggies, poultry, dairy, maize, wheat, fish and fruit growers have incurred huge losses in the past five weeks.
He said the pandemic-hit farmers should get direct cash subsidy to let them do farming, which is now the most important lifeline for the national economy.
Prof Kennedy said the import of food products might decline in the coming months as all countries are preserving foods fearing crop loss due to the pandemic.
"So, we have to raise reliance on local production to ensure better food security during this pandemic period," he suggested.
"Farmers and farming should get the top priority to tackle any crisis in the coming months," he stated.
Unauthorized use or reproduction of The Finance Today content for commercial purposes is strictly prohibited.