Farm Machinery for Haor: Subsidy hiked as dilemma remains
---
Siyam Hoque
Published:
2020-04-24 06:34:45 BdST
Farm Machinery for Haor: Subsidy hiked as dilemma remains
---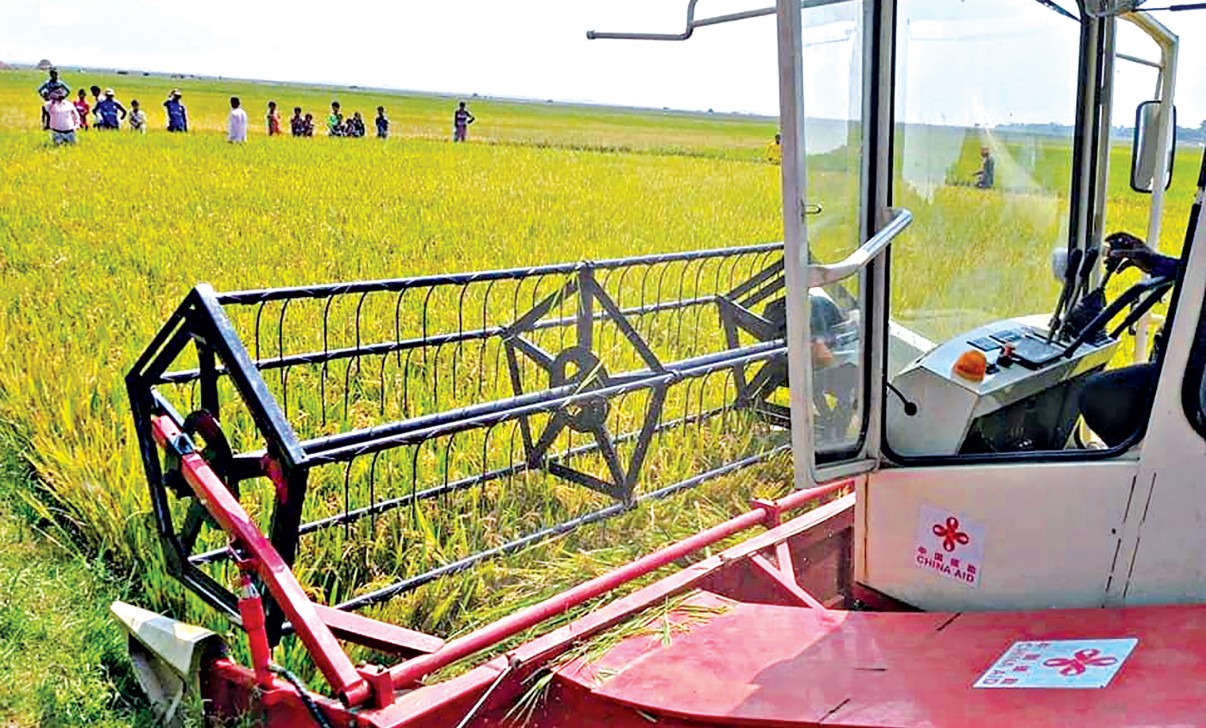 NEWS DESK
The government recently declared 70 percent subsidy for farmers of the haor region, up from the previous 50 percent, for the purchase of agriculture machinery.
But how the decision is affecting the farmers? Specially when they are harvesting Boro braving Covid-19 and facing acute shortage of experienced farm workers?
The agriculture ministry is encouraging the use of combine harvesters and reapers as they are cost effective, but experts say these machines are not so useful in haor land because of the region's topography.
Combine harvester is a versatile machine for reaping, threshing and winnowing while reapers are used only for reaping paddy.
Selim Raza Chowdhury, a well-off farmer of Sukhair Razapur Uttar in Dharmapasha upazila, Sunamganj, bought a combine harvester this year.
"I own 108 acres of paddy land but could harvest only 18 acres due to the crisis of labour. Considering the fact that the labour crisis will be permanent, I purchased a combine harvester this year and will buy another one along with more machines like rice transplanter soon," he said.
Md Nazmul Islam, Dharmapasha upazila agriculture officer, said, "The harvester selling company says the machine can harvest 1 acre per hour, which will be 70 to 80 decimals per hour in the reality of haor. But due to the shortage of farm workers, people are showing interest, and five harvesters were sold in this upazila this year."
Soleman Miah, a farmer of Kakera village of Kulaura upazila, however, said, "I wanted to purchase one for renting out, but farmers are not interested and I dropped the idea."
Farmers and agriculture machinery experts say the harvesters and reapers are not much useful in haor areas due to the partition of farmlands, mud and standing water.
Jashim Uddin Talukder, a farmer of Laksmibaor in Chhatak upazila in Sunamganj, said, "When the field is very soft with mud, standing water is too high or paddy is leaning too much, the combine harvester does not work well."
Prof Muhammad Rashed Al Mamun, chairman of the department of farm power and machinery of Sylhet Agriculture University, said, "Most advanced farm machines, like combine harvesters and reapers, are being imported from Japan, China and Korea, and they are designed according to the dry farmlands of foreign countries. But paddy fields in haor are mainly low land -- with mud with standing water.
"The combine harvesters of latest model, with crawler type wheels, can ply the muddy soil but in haor area, the soil is very soft and the harvester loses huge power to accelerate. It is still helpful, considering the labour crisis."
Iftekhar Hossain, area sales executive for Sylhet of ACI Motors Limited, said, "Due to the labour crisis and government subsidy, farmers are turning to combine harvesters. Moreover, we are also offering sales with six months' instalments and no interest.
"So far, the modern harvesters are performing well enough in haor though it loses power and burns fuel a little more due to the mud. But the buyers are happy and there is no plan to look for more advanced harvesters for haor right now."
With 50 percent subsidy, 63 new harvesters have been sold this season in Sylhet division, according to the Department of Agriculture Extension. Now 242 combine harvesters are being used for harvest in the division.
While the demand for farm machines has slightly increased in Sunamganj, it's not the same in Moulvibazar, Habiganj and Sylhet.
In Barlekha, Kulaura and Juri upazilas of Moulvibazar, the areas of Hakaluki Haor where Boro is the main crop, not a single combine harvester was sold this year, according to the agriculture officials.
YET COST EFFECTIVE
Farmer Selim Raza of Dharmapasha explains how a combine harvester is cost effective and why farmers need to know about it.
"In haor, a machine can harvest one acre for around 1.5 hours, which costs around Tk 5,000. And Tk 1,000 more is required for labour to collect straws left in the field."
"But it takes around Tk 9 to 11 thousand to complete all the process with physical labours. Moreover, labourers waste paddy at least 5 maund out of 100 maund while a machine wastes maximum 1 maund."
He also said, "The combine harvester I bought usually costs around Tk 28 lakh but with 50 percent subsidy, I got it for Tk 14 lakh. It will cost Tk 8.40 lakh with 70 percent subsidy now."
The 70 percent subsidy was declared on April 19.
To encourage the farmers, a five-year project on increasing production using agriculture machines ended last year but it was not so successful, officials say.
Now as the government has increased subsidy, the farmers are getting interested in machines like power tiller, rice transplanter and seader, the added.
Abdul Aziz, a farmer of Dakshin Bangshikunda of Dharmapasha upazila in Sunamganj, said, "Machinery for harvesting is not a good choice here, but considering the subsidy, it might be helpful."
Abdul Kadir, a farmer of Habiganj's Baniachong upazila, said, "Its already late to declare subsidy for farm machinery for harvest this year, but it might come handy next year. This year, the government should support marginal farmers like me, directly."
Boro was cultivated on 447,195 hectares of land in Sylhet division with a production target of 23.71 lakh tonnes this year.
Srinibash Debnath, additional director of the agriculture extension department in Sylhet, said, "A proper plan to make the farmers aware of farm machinery must be prepared and we will be working in this regard soon targeting the next season."
Prof Muhammad Rashed Al Mamun of Sylhet Agriculture University said, "Currently we are working on developing floating-type reaper that might be useful for harvesting submerged paddy and autonomous portable robotic rice transplanter."
But innovation on combine harvester for haor is the most important thing to consider right now, he said.
Unauthorized use or reproduction of The Finance Today content for commercial purposes is strictly prohibited.