Rice, paddy procurement witnesses poor progress
---
Siyam Hoque
Published:
2020-06-18 09:02:10 BdST
Rice, paddy procurement witnesses poor progress
---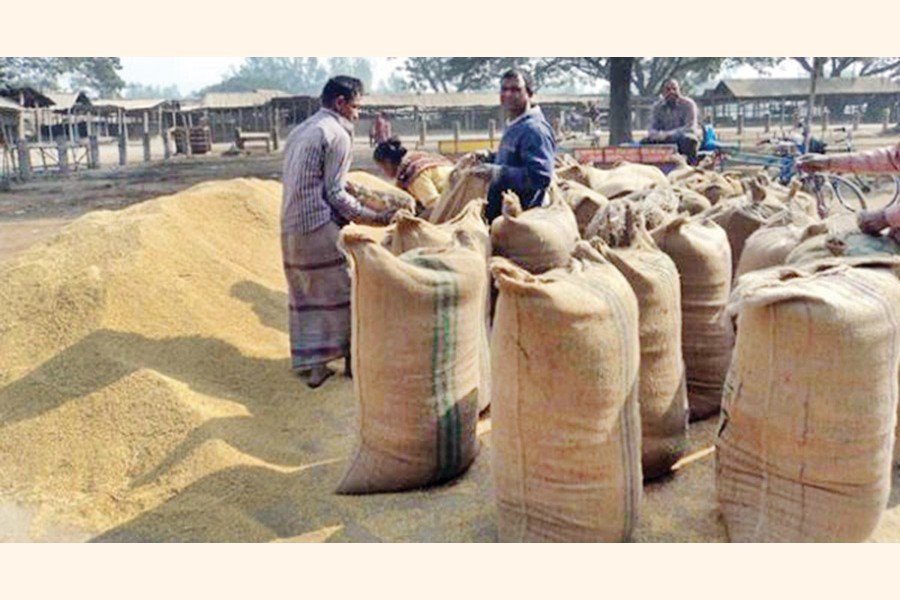 The government's rice and paddy procurement drive has seen poor progress due to satisfactory prices of the grain in the mainstream market, said insiders.
The directorate general of food (DGoF) could meet only 9.17 per cent of their procurement target of 1.95 million tonnes until June 15, officials said.
An official at DGoF told the FT that they had so far procured 0.15 million tonnes of rice out of 1.15 million tonnes targeted.
He said 29,000 tonnes of paddy had been purchased out of 0.8 million tonnes targeted since April 27. He said they set a target to complete the purchase within August.
The satisfactory prices of the grain in the mainstream market and ongoing rainy season were the main reasons for the poor progress, he said.
"But we are optimistic about meeting the target by August 31," he said.
The government has a target to buy 0.8 million tonnes of paddy at Tk 26 a kg directly from the farmers this Boro season.
At the same time, it decided to purchase 1.0 million tonnes of parboiled rice at Tk 36 per kg and 0.15 million tonnes of non-boiled (atap) rice at Tk 35 per kg from the millers.
Asked, food secretary Dr Mosammat Nazmanara Khanum told the FT that there was no chance to raise the procurement prices of rice or paddy.
She said that a syndicate of unscrupulous millers were active to manipulate the rice market despite a good production.
Dr Khanum said she was expecting 20.0 million tonnes of rice output during this Boro season.
She said all millers, registered with DGoF for this Boro season, must have to deliver rice at the government fixed rate.
She said the mill-gate price of coarse rice was still below the government-fixed rate of Tk 35-36 a kg.
The highest paddy price is Tk 22 a kg in the market "when we are offering Tk 26 a kg", she said, adding that the government usually buys paddy to help farmers get fair prices.
"However, we have issued a directive recently so that farmers could deliver a maximum of 6.0 tonnes of paddy each to DGoF warehouses. The limit was earlier 3.0 tonnes," she added.
However, the government warehouses have a stock of 0.85 million tonnes of rice now.
According to the Department of Agricultural Marketing (DAM), paddy prices are now Tk 740-900 a maund in the mainstream market depending on the varieties.The current prices are 25-30 per cent higher than that of the last year.
Coarse rice was selling at Tk 34-35 a kg at the mill gates this Boro season, is 14-15 per cent higher than that a year back, said the DAM.
The Trading Corporation of Bangladesh, or TCB, however, recorded a 4.0-6.0 per cent surge in coarse and medium rice prices in Dhaka city in a week.
Coarse rice swarna, BR-11 and hybrid varieties were selling at Tk 38-46 a kg in the city.
Agri economist Prof Golam Hafeez Kennedy said the government should have a strategic food stock of 5.0 million tonnes amid the pandemic.
He said that the paddy purchase should be encouraged and the grain could be stored at farmers' home if warehouses lack necessary space.
"And the farmers shouldn't be bothered with percentage of moisture on their paddy," he said.
The primary procurement target should be achieved by any means for ensuring food security of the country, he said. Strict market monitoring was needed both at city markets and rice mills to prevent any artificial price hike.
Rice production should also be boosted in the Aus and Aman seasons through giving necessary subsidies and incentives to the farmers.
Unauthorized use or reproduction of The Finance Today content for commercial purposes is strictly prohibited.