Flood condition posing threat to targeted Aus, Aman production
---
SAMI
Published:
2020-07-02 04:54:36 BdST
Flood condition posing threat to targeted Aus, Aman production
---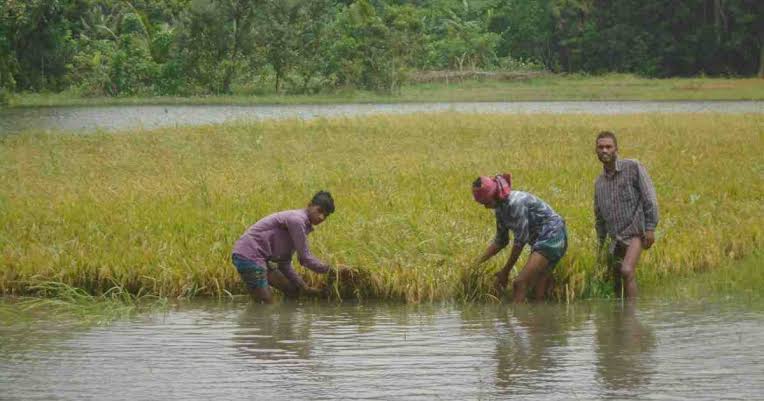 Deteriorating flood condition in several regions, due mainly to the onrush of water from the upstream of neighbouring India, has been posing threat to targeted production of Aus and Aman crop this year.
The flood has been inundating fresh areas almost every day for last seven days as major rivers were flowing over the danger mark in 13 points in the country on Wednesday, according to the Flood Forecasting and Warning Centre (FFWC).
Aman and Aus rice seasons are the two major sources for the staple after Boro season. Aman comprises 37-38 and Aus 7.0-8.0 percent to the total rice output.
After getting a handsome crop in the just concluded Boro season, government has set an ambitious target of 15.6 million tonnes at 5.89 million hectares of land this Aman season (June to December).
Aus has also been targeted at 1.32 million hectares of lands to produce 3.64 million tonnes in April-September period.
Last year Aus output was 3.0 million tonnes at 1.13 million tonnes.
The Department of Agricultural Extension (DAE)'s monitoring unit said farmers brought almost 1.326 million hectares of land under Aus farming till June 28.
But the ongoing flood has been posing threats to government's prospect, said insiders.
They said if the flood continues for next two weeks it would definitely cause severe damage to standing Aus crops and Aman saeed-beds.
The Teesta, Dharala, Ghaghot rivers already crossed the danger mark, damaging more than 18,000 hectares of standing Aus crops, vegetable and Aman seed beds in Nilphamari, Lalmonirhat, Gaibandha, Kurigram and Rangpur districts after India opened Gazoldoba barrage in its part to release excessive water without any warning, an official at Bangladesh Water Development Board in Rangpur said.
Jamuna have been swelling over the danger mark in several districts bringing disaster to crop fields in Bogura, Sirajganj, Jamalpur and Tangail districts.
Water in the Padma started flowing over the danger level at Goalando in Rajbari district on Wednesday, FFWC said.
Water was rising in 53 points out of 101 across the country on Wednesday, said FFWC.
Department of Agricultural Extension (DAE) primary reports said nearly 36,000 hectares of Aus, Aman saeed-beds, vegetable and green chilli fields have been inundated in four districts in the river bank of the Jamuna.
DAE was preparing reports on losses in Manikganj, Rajbari, Sunamganj, Sylhet and Netrakona districts.
DAE field service wing director Dr Alhaz Uddin Ahmed, said the condition might be worrisome for Aus crops if flood stays for next two to three weeks.
But if flood condition improves, water removes from fields in a week, it would be a boon for the crops, he said.
He said there is nothing to worry about Aman for now as plantation will be continued till September.
Chairman of Agrarian Research Foundation, Bangladesh (ARF) Prof Abdul Hameed, said forecasts are showing that monsoon will remain much active this year.
He said Indian states are set to witness heavy rain this monsoon which means onrush of water from the upstream might continue.
The upstream water could make longer floods which could cause damage to crops severely, he said.
He said the government should take measure to talk to Indian authority over realising water through their dams and barrages after giving alerts.
He said Aman is especially most vulnerable to flood considering its sowing periods.
"We have recent experience that how upstream water could cause crop damage which led to an all-time high rice prices in the country in September 2017", he said.
He said any possible hamper in production might affect our food security during this pandemic.
The policy makers should be cautious about it and should make a 5.0 million tonnes of strategic food bank to tackle any possible food shortage, he said.
However, rice prices witnessed a 7.0-14 percent hike in last two weeks in the country during this Boro harvesting and primary trading period.
Coarse rice was selling at Tk 44-48 a kg marking a 14 percent hike in last two weeks, according to the Trading Corporation of Bangladesh (TCB).
Unauthorized use or reproduction of The Finance Today content for commercial purposes is strictly prohibited.