Boro farmers report 40pc deficit between actual and expected profit
---
ALIF
Published:
2020-07-06 18:47:54 BdST
Boro farmers report 40pc deficit between actual and expected profit
---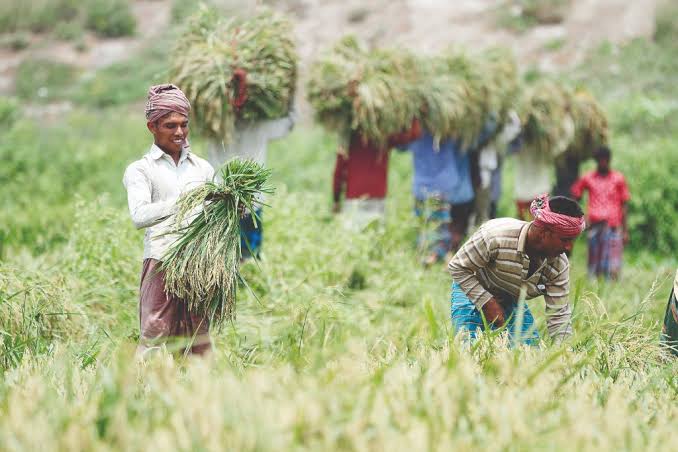 Farmers who cultivated Boro paddy this year reported a 40 percent deficit on average between their actual and projected profit amid COVID-19 pandemic, according to a survey.
The Brac Institute of Governance and Development (BIGD) revealed the information in its recent survey, titled 'Effects of COVID-19 on Boro Rice Farmers'.
The findings of the study were disseminated during an online seminar on Monday.
Almost all the farmers had to sell paddy well below the government-mandated price by over a quarter, rendering it almost meaningless, the BIGD said in its survey report.
Some 2,834 respondents of the survey identified their main challenges during the pandemic as labour shortage, transportation disruptions, and financial constraints.
For this reason, farmers have experienced a seven percent loss in production volume as labour costs increased by 17 percent and production costs surged by 13 percent.
The total production loss calculated by BIGD was 7 percent per acre cultivated, translating to 48.2 million maunds lost in comparison to expected Boro production, which amounts to approximately Tk 36.87 billion in value.
A massive 99 percent of the surveyed farmers had to sell paddy below the government-mandated price of Tk 1,040 per mound.
BIGD Senior Research Fellow Dr Narayan Das, while presenting the results, said the surveyed farmers sold paddy at Tk 765 per mound on average, which is just 73 percent of the govt-mandated price.
He mentioned that just 11 percent of the farmers surveyed managed to sell at Tk 900 or above per maund.
BIGD Executive Director Dr Imran Matin highlighted the importance of database maintenance and data governance in agriculture alongside the areas of health and social protection.
"We should also focus on establishing an efficient delivery mechanism for the government's credit program - this area needs a lot of work, and it needs to be addressed very quickly to tackle last mile delivery challenges for support mechanisms," he added.
Former Vice- Chancellor of Bangladesh Agricultural University Prof Dr MA Sattar Mandal, Advanced Chemical Industries Business Director Sudhir Chandra Nath, Agriculture Secretary Md Nasiruzzaman, and former Cabinet Secretary M Musharraf Hossain Bhuiyan also attended the seminar.
The study was conducted through a nationwide phone survey from May 20-June 3 in order to understand the impact of COVID-19 on production, costs and profits of Boro Rice farmers of Bangladesh, to analyse the challenges they faced and to recommend appropriate measures to support them.
Unauthorized use or reproduction of The Finance Today content for commercial purposes is strictly prohibited.