Magura jute growers happy with fair price
---
Shamiur Rahman Lipu
Published:
2020-08-11 07:29:01 BdST
Magura jute growers happy with fair price
---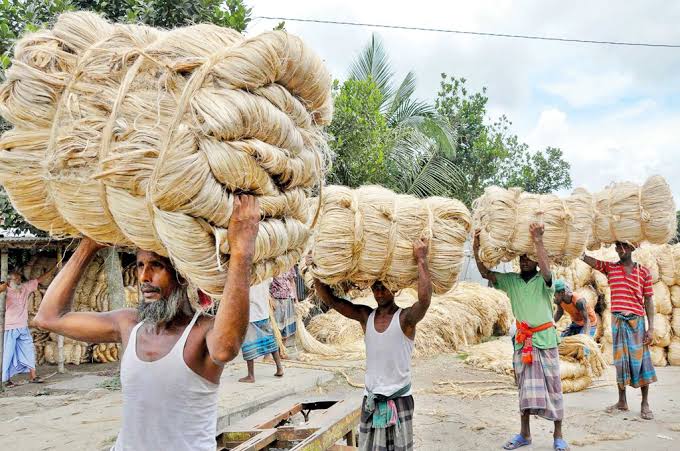 Bumper production and fair price of jute have brought smile on the faces of the jute producers in Magura district this season.
Jute farmers of the district are expecting a good production of the fibre and its fair prices in the local markets this season.
Farmers said recent shut down of BJMC jute mills raised concern among the jute traders as well as the growers. They apprehended sharp fall in jute price. But jute is being sold in the local market at a high price. Traders are offering reasonable price that makes jute growers happy.
Department of Agriculture Extension (DAE) in Magura said farmers cultivated 35,350 hectares of land this season and they expected 35,0420 tonnes of jute production.
Golam Reza, a farmer of Beroil village under Magura sadar upazila said this year he cultivated four bighas of land and will get a bumper production.
Farmers are selling per maund jute at Tk 2000 to Tk 2200. Such price is very satisfactory for farmers.
Another farmer Noim Reza said this year he also cultivated two bighas of land. "I have earned a profit of Tk about 20 thousand.
A jute trader Uday Shaha said, "I am running jute trading for about 40 years. Due to recent shut down of BJMC jute mills I decided not to purchase jute from the growers. But now private jute mills authority is demanding jute from us and offering reasonable price. In this circumstances, I am purchasing jute. Moreover, now we are getting cash payment from private jute mills".
Shafiqur Rahman, executive director of Palli prokriti (an agriculture and environment based NGO), said shut down of BJMC Jute Mills causes no negative impact on jute price. Only 8.8 percent jute of the country was purchased by BJMC, on the other hand private jute mills buy 92 percent.
Different countries like- Pakistan and China expressed the hope to import jute from Bangladesh.
At the same time tax free export facility of Bangladeshi goods to China will come as a boon for our jute industry. However, jute is a part and parcel of our tradition . So government is contemplating to save this glorious tradition.
Unauthorized use or reproduction of The Finance Today content for commercial purposes is strictly prohibited.