Coastal belt needs sustainable cropping pattern for higher productivity
---
Staff Correspondent
Published:
2020-12-15 07:52:14 BdST
Coastal belt needs sustainable cropping pattern for higher productivity
---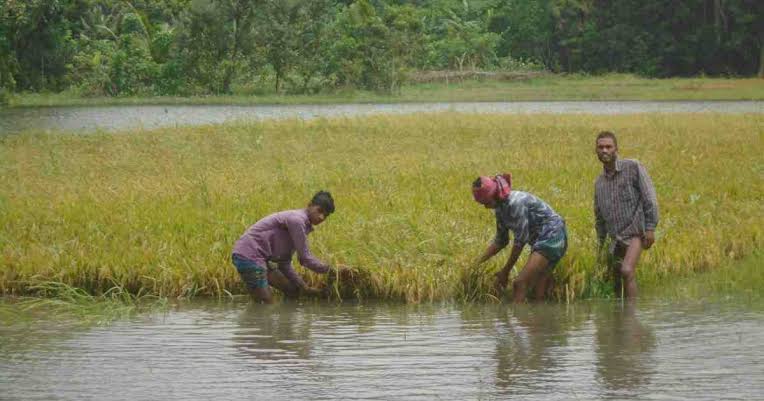 Experts during a webinar on Monday put emphasis on diversified and sustainable farming patterns to raise productivity in coastal regions.
The observations were made at the launch of a second-phase project styled 'Pathways of scaling agricultural innovations for sustainable intensification in the polders of coastal Bangladesh'.
The International Rice Research Institute (IRRI) hosted the event.
The second phase of the USAID-funded IRRI project has been undertaken to promote innovation for sustainable intensification of agriculture in the polders of coastal belt, said IRRI officials.
The overall goal is to improve food security, nutrition, and livelihood of rural communities in the polders through scaling and evaluating pragmatic and feasible farming approaches.
Agriculture secretary Md Mesbahul Islam said the government is focusing both on diversified and sustainable cropping patterns to intensify productivity in coastal areas.
His ministry has been giving utmost priority to raise crop output in the polders in the context of food security of the regions.
"The government has been devising appropriate policies to upscale research findings of the project to meet future food and nutritional security challenges of Bangladesh," Mr Islam said.
Bangladesh Rice Research Institute director general Dr Md Shahjahan Kabir said the BRRI has been working in coastal areas since 1995 and it has developed salinity-tolerant, short-duration, and high-yielding varieties.
"Combined efforts will be required from all actors to increase the overall agricultural productivity of the coastal region," he suggested.
Bangladesh Agricultural University vice-chancellor Prof Dr Lutful Hassan highlighted the need for innovative farming in partnership with the government, academia, and the private sector.
For innovative and sustainable farming, Bangladesh Agricultural Research Council executive chairman Dr SM Bokhtiar said, entrepreneurial options should be made for the peasantry for their socio-economic development.
IRRI country representative Dr Humnath Bhandari said his organisation's support for Bangladesh would continue to attain sustainable food and nutritional security through innovative research, improved crop and water management.
The first phase of the project from 2015 to 2019 focused on unlocking the potential of polder communities in the coastal belt through improved resources using efficiency and diversified cropping systems.
The project was funded by the USAID through the Sustainable Intensification Innovation Lab (SIIL) under the US government's Feed the Future initiative.
For both phases of this project, the IRRI has been collaborating with the Kansas State University of the USA and different national partners in Bangladesh.
Using 'farmer participatory approaches', the second phase of the SIIL-Polder project will focus on developing and scaling watershed-scale, community-led water and crop management practices.
The project will promote, evaluate, and scale-out rice-sunflower and rice-maize cropping systems, strengthen service entrepreneurship around mechanical harvesting, assess synergies and trade-offs.
Unauthorized use or reproduction of The Finance Today content for commercial purposes is strictly prohibited.