Rice market may turn volatile
---
ANM Mohibub Uz Zaman
Published:
2020-12-17 08:33:52 BdST
Lower Paddy ProductionRice market may turn volatile
---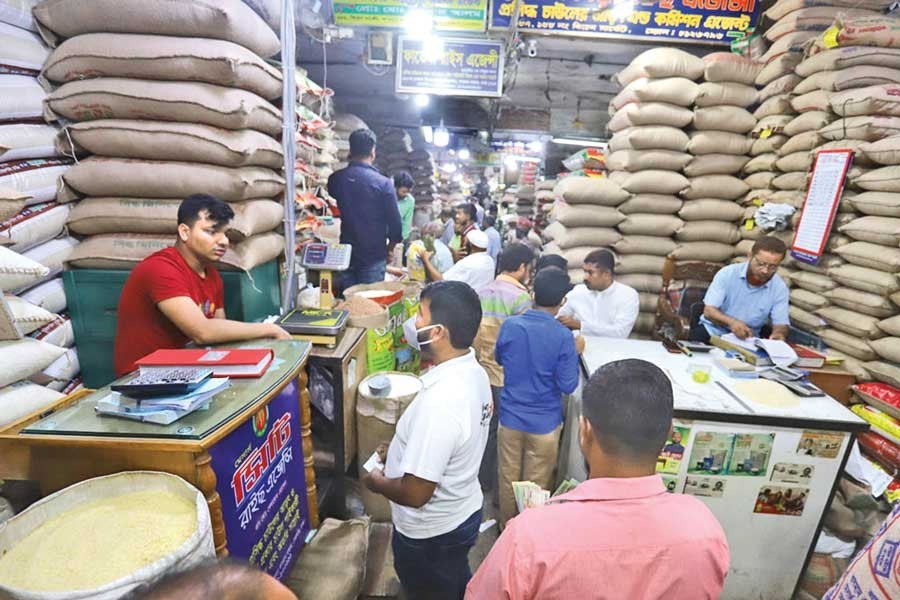 The rice market may turn volatile as natural disasters, including flood, cyclone and heavy monsoon rains, have affected the country's rice production this year.
A staple shortage deepened after multiple natural disasters, also causing a rise in the price of rice in the local market and forcing the government to import rice.
The floods, which started with heavy rainfall on June 17, did not recede until the end of August and have caused Bangladesh's 200-plus rivers to overflow, impacting over 40 per cent of Bangladesh's landmass.
Food Minister Sadhan Chandra Majumder, however, said there is no crisis of rice in the country but some unscrupulous businessmen are trying to manipulate the price to make hefty profits.
"LCs have been opened to import 1 lakh metric tonnes of rice to meet any crisis of rice in the country," he, said adding that the process is underway to import another 1 lakh metric tonnes of rice.
Rice production during the Boro, Aus, and Aman growing seasons was affected while corn production was mildly impacted, according to a recent forecast of the US Department of Agriculture (USDA).
USDA estimates Bangladesh's rice production at 35.3 million metric tonnes (milled basis) in FY 2020-21.
Local rice market showed an upward trend over the last few days, adding to the hardship of low-income people.
Directorate General of Food has procured only 130 metric tonnes of Aman paddy, 66 metric tonnes Atap rice and 7,121 metric tonnes of rice from November 7 to December 14, according to the Food Ministry.
The government has set a target to procure a total of 6 lakh tonnes of boiled rice, 50,000 tonnes non-boiled rice and 2 lakh tonnes of paddy during the current Aman season.
They will buy 2 lakh tonnes of paddy from marginal farmers and local market at Tk 26 per kg, 6 lakh tonnes of boiled rice at Tk 37 per kg and 50 thousand tones non-boiled rice at Tk 36 per kg.
Aman procurement target has been missed by a margin of about 75 percent with the rice millers promising only 139,960 tonnes of rice against the target of 6.5 lakh tonnes.
The deadline for the rice millers to enter into a mandatory contract with the government to fulfil the procurement target expired on Thursday last week with only a few of the total 19,230 millers complying with the law.
Millers are reluctance to sell rice to the government amid a volatile market with each kilogram of coarse rice selling at Tk 48 on Friday, 26 percent higher compared to the same period last year.
The Aman paddy procurement began on November 7, boiled and per-boiled rice procurement began on November 15 and the procurement will continue till February 28.
Farm economist ASM Golam Hafeez said millers stocked rice and do not supply it to the government to gain extra profit.
Rice millers also refused to supply the government with rice during the past-boro procurement season and the government achieve half of its boro procurement target of over 20 lakh tonnes.
Unauthorized use or reproduction of The Finance Today content for commercial purposes is strictly prohibited.