Agriculturists for expanded cultivation of flood-tolerant rice
---
A H Khan
Published:
2018-11-08 06:58:08 BdST
Agriculturists for expanded cultivation of flood-tolerant rice
---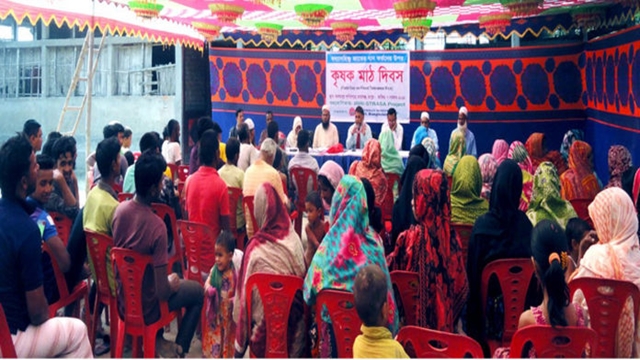 Agriculturists have stressed on expanded cultivation of flood-tolerant rice to increase rice production for attaining sustainable food security amid adverse impacts of climate change.
The Department of Agriculture Extension (DAE) and RDRS Bangladesh
organised a crop cutting function for harvesting flood tolerant BRRI dhan51
rice on exhibition plot of farmer Azizul Islam at village Bhimpur Sarderpara
in Taraganj upazila on Wednesday.
With assistance of International Rice Research Institute under Stress
Tolerant Rice for South Asia and Africa (IRRI-STRASA) project, RDRS
Bangladesh distributed five kg seed of BRRI dhan51 rice among 20 farmers of
the upazila to expand its cultivation.
The event was arranged to exhibit farming technologies and agronomic
managements of flood tolerant rice to popularise its cultivation in the
flood-prone and low-lying areas.
Taraganj Upazila Agriculture Officer Agriculturist Ashok Kumar Roy
attended the function as the chief guest with Field Supervisor of RDRS
Bangladesh Abdul Mazed Mian in the chair.
Sub-assistant Agriculture Officers of the DAE Shyamoli Khatun and Shah
Md Mohsin, Agriculture Officer of RDRS Bangladesh Sirajul Islam addressed as
special guests.
Farmer Azizul Islam got 5.66 tonnes yield rate in terms of dry paddy per
hectare of land after harvesting of BRRI dhan51 rice in presence of
officials, experts and large number of local farmers.
While narrating their farming experience, farmers Azizul Islam and
Sadekul Islam said the flood tolerant BRRI dhan51 rice variety has
submergence tolerant capacities for over two weeks to give better rice yield.
"The BRRI dhan51 rice is more resistant to pest attacks and gives fine
quality rice having more demand with higher market price and its early
harvest allows cultivating subsequent mustard, wheat and maize on the same
land," said farmer Azizul Islam.
The agriculturists said cultivation of flood-tolerant rice is becoming
popular among farmers in flood-prone areas of country after repeated bumper
production in recent years even after submergence under floodwater.
The chief guest called upon the farmers for expanding cultivation of
flood tolerant BRRI dhan51 rice variety to increase rice production by
overcoming crop losses being caused by floods every year in the country to
attain food security.
Unauthorized use or reproduction of The Finance Today content for commercial purposes is strictly prohibited.