Cotton harvest progressing fast in Rajshahi region
---
Habib
Published:
2019-02-03 19:21:23 BdST
Cotton harvest progressing fast in Rajshahi region
---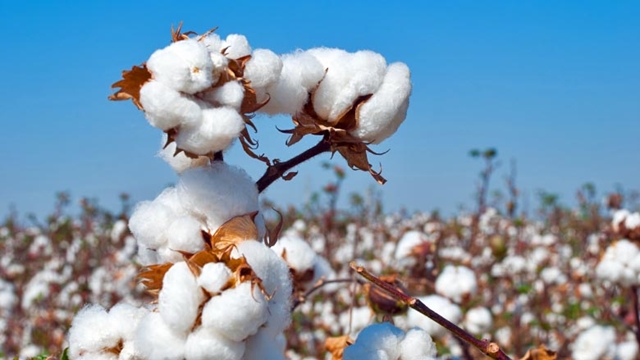 Farmers are now very busy in harvesting cotton in the region amidst the hope of better yield and cherished market price.
Sources said the farmers cultivated different varieties of cotton seeds
this year. Acreage of the crop is gradually increasing in the region
comprising Rajshahi, Naogaon, Chapainawabgonj, Natore and partly in Pabna for
the last couple of years.
Farmers have started replacing the paddy and sugarcane cultivation lands
with cotton farming because it requires less investment and less labour.
Abdus Sattar Mian, a farmer of Khorda Govindapur village under Bagha
upazila, said most of the farmers cultivate varieties like CB-12 and three
hybrid varieties- Rupli-1 and DM 1 and 2.
Prospect of boosting cotton production in the region is bright as its
topography and climatic condition suitable for the cash crop.
Cotton farming has been gaining popularity among farmers as they are
getting more money from the cultivation than any other crop.
Abu Saleh Ahmed, another farmer of village Monigram said, 'Last year I
cultivated cotton in 60 decimal lands and I got 20 mounds cotton and earned
Tk 60 thousand. As I got a good profit, I have brought 4 bighas of land under
cotton cultivation this season'.
He told BSS that the cotton farming is helpful towards enriching organic
matter of the soil.
Monirul Haque, a farmer of village Bazubagha, said that he has brought 4
bighas of land under cotton cultivation and he is expecting Tk 70 thousand
from his output.
He observed that the cotton production could be enhanced to a greater
extent if necessary measures were adopted and due importance was given to the
sector.
Muzaddid Al Shamim, Chief Cotton Development Officer, said, 'We are
helping the cotton farmers in procuring seeds, making land, nurturing of
crop. If the weather remain favourable a bumper production will be achieved
in the current season'.
He said a total of 2,400 hectares of land has been brought under cotton
cultivation in the region this year with an output target of around 13,771
bales. In last 2017-18 fiscal year, 13,918 bales were harvested from 2,337
hectares of arable land.
Considering the demand of the country's textile industries, the local
cotton growers can meet only 3-5% of the annual demand and the rest is met
through import.
He said there is an enormous prospect of boosting cotton production after
the best uses of existing natural resources. Cotton Development Board has
adopted a five-year project titled "Extensive Cotton Cultivation" considering
importance of the sector and its further development.
On successful implementation of the project, cotton production will be
enhanced to around 8 to 10 lakh bales from the existing hardly one lakh bales
annually in the country that will save foreign currency of around Taka 5 to 6
thousand crore per year.
Besides, better quality edible oil and oil cake are manufactured from
cotton seeds and cotton stalk is one of the best domestic fuels.
As oil cake is highly enriched with protein and fat, many people use it
in cow fattening farm and fish farming pond for better outputs. Another
byproduct of the cotton refining process is crude oil that used in soap and
glycerin factory as raw material, he added.
Unauthorized use or reproduction of The Finance Today content for commercial purposes is strictly prohibited.