Cereal crops, vegetation turn Padma char a green landscape
---
FT Online
Published:
2019-03-04 11:36:09 BdST
Cereal crops, vegetation turn Padma char a green landscape
---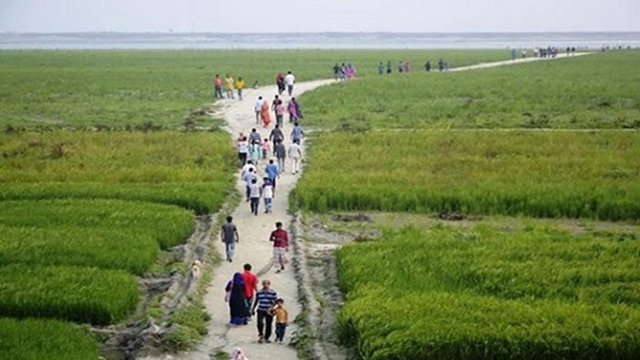 Large scale farming of cereal crops and vegetables in Padma char (riverbed) have turned the vast land into a green field during the current season.
Farmers are happy with bumper production of the crops in char areas under
Godagari, Paba, Charghat and Bagha Upazilas in Rajshahi and Sadar and Shibgonj
Upazilas in Chapainawabgonj districts this year.
The Padma River is located along the south of the two districts including the
Rajshahi city. During the full season, there is much water in the river.
However, this situation does not last long. Most of the time the river remains
almost dries when numerous chars arise.
This year also the water has decreased. So, a vast char area has emerged on
Padma riverbed. In this vast char, various types of crops are cultivated. The
nature lovers are fascinated to see the green beauty of the crops.
Sources at the Department of Agricultural Extension (DAE) said various crops
have been cultivated on more than 5,327 hectares of land in Padma char area.
Local people have been cultivating different crops and vegetables in the area
for the last several years. This cultivation has created employment
opportunities for local people.
While visiting some Char areas like Mazar Diar, Saheb Nagar and Diar
Manikchalk this reporter found that various crops, like lentil, mustard,
wheat, maize and different types of vegetables have been cultivated in the
area.
Nazib Uddin, a farmer of Char Mazar diar, told BSS that he has cultivated pea
on 10-bigha land in Padma char. He said after the water receded, he cleaned
weeds and made the land suitable for cultivation. He had spent Taka 75,000
lakh for the cultivation and hoped that he will make profit after selling the
products.
He says the yield of vegetables is good this year and there is a lot of income
by selling vegetables.
"I have cultivated wheat on five bigha of land. I am very much hopeful of
bumper yield in the upcoming harvesting season," said Mozahar Hossain, a
farmer of Bazubagha Natunpara village under Bagha upazila.
Some other farmers including Abul Hossain and Mozammel Haque of Amadpur
village also revealed the similar dreams with smiling faces.
Principal Scientific Officer of Regional Wheat Research Station Dr Ilias
Hossain said many farmers were seen showing success in wheat and maize farming
in the char lands after the best uses of the modern technologies.
Mustafizur Rahman, Additional Director of DAE, Rajshahi, farmers have been
cultivating various crops in Padma char after taking advantages of suitable
climatic condition and comparatively low farming cost.
Modern technologies are being transferred to the growers level through farmers
training, projection plot, field day and different types of campaign so that
the farmers could make their cultivation more effective and profitable.
Agriculturist Rahman says emphasis is being given to increasing production of
high yielding seeds and saplings through farmers' level extension and
application of the high yielding varieties.
Unauthorized use or reproduction of The Finance Today content for commercial purposes is strictly prohibited.