Bank /
BD sees surge in credit card use
---
SAMI
Published:
2020-10-23 11:48:15 BdST
BD sees surge in credit card use
---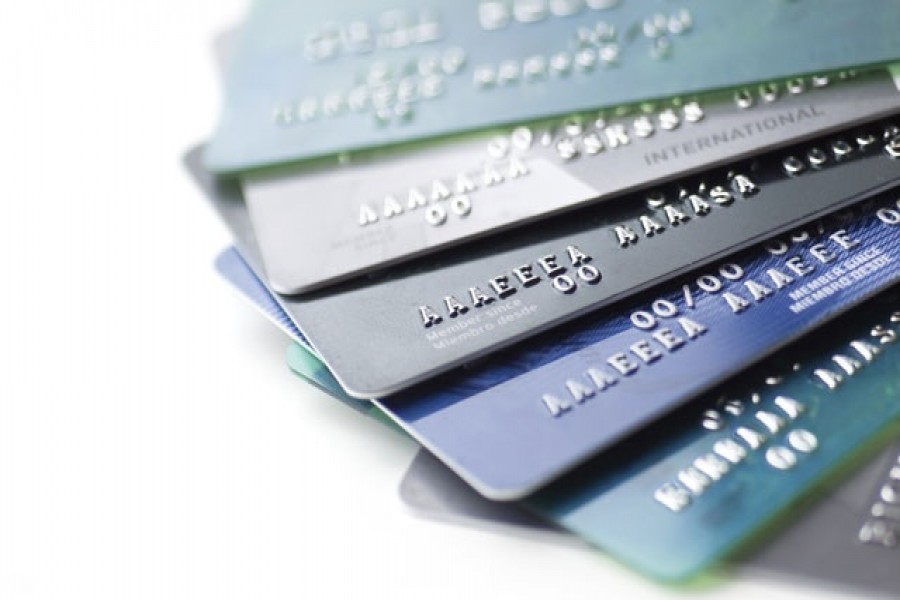 The use of credit cards of the commercial banks and financial institutions (FIs) in Bangladesh has gone up sharply, as their month-on-month transactions boosted by 50 per cent within a year, officials and experts said on Wednesday.
The volume of their transactions increased to Tk 15.52 billion in this August, from that of Tk 10.35 billion in August 2019, the Bangladesh Bank (BB) statistics showed.
The BB data showed that the number of credit card transactions was lower than a year ago, but the total volume of transactions was higher.
After a massive fall in credit card utilisation during the Covid-19 pandemic peak-time from April to June, the paperless transactions rebounded in the following two months - July and August.
Bankers and experts said the volume of transactions through credit cards increased, as people prefer to pay bills and for their purchases through credit cards after reopening of the country's economy.
Meanwhile, month-on-month utilisation of debit card dropped, as the customers made 12 percent lower transactions in this August than the corresponding period a year ago.
According to the central bank, the volume of transactions through debit card was recorded at Tk 132.02 billion in August 2020, which was Tk 150.70 billion in August 2019.
The number of transactions through debit cards also dropped to 1.729 million in August 2020 from that of 1.955 million in August 2019, the BB data showed.
The data also showed that the use of pre-paid cards of the banks and FIs declined in Bangladesh in August 2020 compared to August 2019.
The volume of transactions through pre-paid cards was Tk 1.08 billion in this August, compared to Tk 1.46 billion a year ago.
The BB officials said the use of pre-paid cards of different banks and FIs was recorded the highest at Tk 1.99 billion in this July before slumping to Tk 1.08 billion in August 2020.
In Bangladesh, a total of 1.62 million people use credit cards, 19.99 million debit cards, and 0.59 million pre-paid cards, the BB data showed.
A senior central bank official said that since people completed their shopping and banking transactions without going to bank branches during the pandemic period, the use of credit cards increased significantly.
He said during this time, e-commerce boosted in the country notably, prompting use of credit cards by the customers.
"Income of many customers was affected by the Covid pandemic. But, they needed to buy necessary items during that period. Then, they used credit cards for purchasing those items," the BB official said.
An official at Mercantile Bank Limited said that customers avoided physical presence in the bank branches during the pandemic. Besides, online shopping and e-commerce increased notably in the country.
Both the factors swelled the transactions through credit cards, he added.
Bangladesh's e-commerce has seen a big boost, as its market size has swelled by 30 times over the last five years, insiders said on Sunday.
The willingness of suppliers and customers to use online platforms for conducting business and purchasing products has helped to expand electronic trade in the country, they added.
According to the Bangladesh Competition Commission, the size of e-commerce in Bangladesh soared to Tk 166.16 billion until this August, which is roughly 29.67 times higher than the amount in 2016.
Research Director of the Centre for Policy Dialogue (CPD) Dr Khondaker Golam Moazzem said that social distancing and changed attitude of people towards digital platforms facilitated the use of credit cards.
Besides, since the income of many people squeezed due to impact of the coronavirus pandemic, they opted for purchase and bill payments through debit and credit cards.
Nevertheless, this is a good sign for the economy, as people are consuming more, which would play a role to grow the country's economy and recover from the massive shock, he added.
Unauthorized use or reproduction of The Finance Today content for commercial purposes is strictly prohibited.