Bank /
Fake notes infiltrate banks, ATMs!
---
Mahabub Alam and Jannatul Islam
Published:
2023-01-29 19:39:26 BdST
Fake notes infiltrate banks, ATMs!
---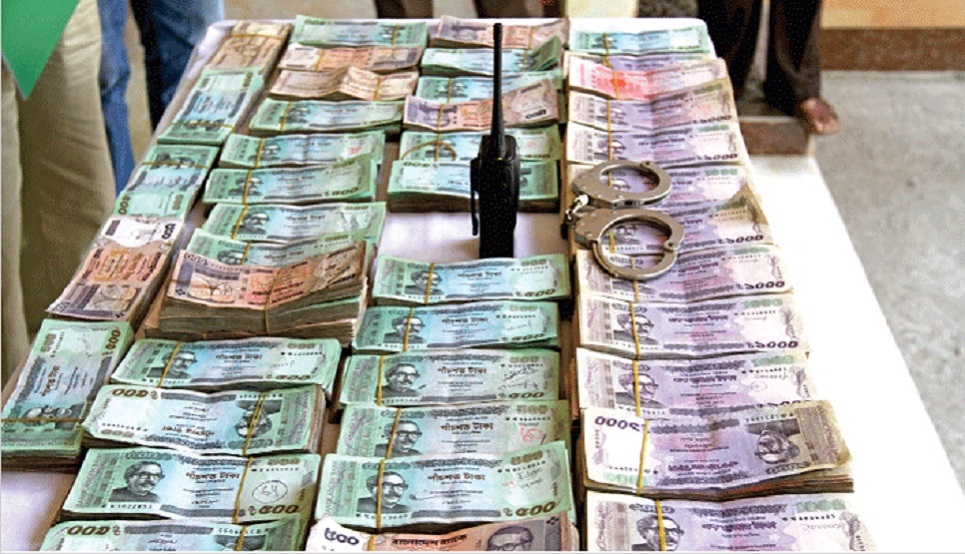 Lack of sophisticated detection devices and sheer negligence of authorities have enabled a quarter to inject fake notes into banks and automated teller machines (ATMs).
Banks say they lack advanced devices to detect counterfeit notes, causing a serious concern for commoners who are often the victims of fake notes.
Bankers and jurists are raising eyebrows about counterfeit notes in banks and booths, saying what clients will do if they get them.
"The banks cannot avoid their responsibility for injecting fake notes into their ATMs and ATM booths," Advocate Manjil Morshed told the Daily Sun.
However, commoners are rarely able to identify fake notes after they collect them from banks or booths, which raises questions about how to hold banks liable.
Detective police say dishonest bankers have injected fake currency into banks, resulting in serious legal troubles for the fake note bearer.
According to Penal Code 1860's section 489 (A) whoever counterfeits, or knowingly performs any part of the process of counterfeiting, any currency-note or bank-note, shall be punished with imprisonment for life or with imprisonment of either description for a term which may extend to 10 years and shall also be liable to a fine.
Many people have raised concerns about how it is fair to hold the fake note bearer responsible after withdrawing the notes from banks or ATM booths.
Shanto Sheikh, a resident of Badda, recently said that a man gave him a cheque of Tk 5 lakh on January 22. He went to Dutch-Bangla Bank Ltd's Pragati Sarani branch near Gulshan-Badda Link Road and submitted the cheque for cash withdrawal.
The next day, when he deposited the money in a branch of Eastern Bank Ltd, an officer detected a fake note of Tk 1000.
When contacted, Shahidul Islam, manager of Dutch-Bangla Bank Ltd's Pragati branch, said that they check money manually and through fake note detectors.
"We have to count lakhs of taka every day. Counting by hand is not effective for detecting fake notes. Furthermore, a fake note detector cannot detect a fake note when a bundle is entered. To determine if the note is genuine or not, it must be entered into it as a single note."
Bangladesh Bank Executive Director Mezbaul Haque said that the commercial banks hardly check fake currency amidst transactions of millions of taka in teller sections and for ATMs each day.
"As the central bank, we continue to raise awareness among the public concerning fake currency. Our cash driven economy is managed by officers who manage millions of taka in teller lines. It is difficult for individuals to detect counterfeit notes within bundles. Additionally, banks inject cash into ATM booths through third parties, increasing the risk of fake currency," Mezbaul Haque noted.
Lawyer Manjil Morshed said that banks would have to take responsibility for the fake notes injected into them.
Another victim, Fozlul Hoque, reported that he recently withdrew Tk 10,000 from an ATM booth of a bank in the capital and discovered two notes of Tk 500 were counterfeit.
He said he immediately showed the notes to the staff at the booth, but they refused to change them and even threatened him with police action if he spoke further about the issue.
Another victim, Masud Parvez, recounted that he withdrew a large amount of money from a bank a few months ago and discovered a fake Tk 500 note within the bundle, but did not report it to the bank as he was unable to check all the notes at the time.
Rokeya Biswas, a resident of Paikgasa Upazila in Khulna, reported that she recently withdrew money from an ATM booth of a bank at Paikgasa and discovered a counterfeit Tk 1000 note.
Mia Babul, a resident of Narayanganj, also reported that he withdrew money from a bank in Narayanganj city and found a fake note among the money.
On July 28 of last year, Additional Commissioner (DB) of Dhaka Metropolitan Police Harun-Or-Rashid held a press briefing in which he revealed that a gang was depositing counterfeit notes in different banks in connivance with some dishonest bankers.
"Before Eid and other festivals, the members of the racket deposited fake notes in the banks when the banks remained overcrowded. Some dishonest officers of the banks helped the cycle members in this regard," Harun stated.
He based this information on the testimony of Humayun Kabir, a ringleader of a fake currency gang, who had been arrested by DB Uttara Division on July 27 of that year.
Bangladesh Bank's former governor, Dr. Mohammed Farashuddin, said that the bankers could mark fake currencies devices. "Machine tracks the serial numbers notes," he said.
Regarding the presence of counterfeit notes in ATM booths, Dr. Farashuddin said that most of the machines had been imported without quality assurance, which poses a risk of fake currency on the market.
He also said that "The issue of fake currency appears on the table when a habit of carrying cash increases among people. Banks should inspire clients to deposit money in banks," he said, opining that the injection of fake currency would not be reduced overnight.
Bangladesh Institute of Bank Management (BIMB) Professor Shah Mohammad Ahsan Habib stated that the transaction of fake currency increases when people transact money outside banks. "It will not be possible to fight fake currency under the law," he said. Manas Kumar Poddar, deputy commissioner (DB, Mirpur) of Dhaka Metropolitan Police, assured the public that they would stand by the commoners so that no innocent individual becomes a victim.
"If any client gets a fake note from a bank or ATM booth, he or she should contact the officer concerned of the bank or staffer of the booth. If they (bank officer and booth staff) refuse to change the counterfeit note, the client can contact the police through 999 or any other way. Police will then investigate the matter to find out the truth," Poddar said.
He also urged both bankers and clients to be aware of counterfeit currency before and after transactions.
Unauthorized use or reproduction of The Finance Today content for commercial purposes is strictly prohibited.