Bank /
'STC Bank' conducts business in Bangladesh without central bank approval
---
SAM
Published:
2020-01-19 01:42:20 BdST
'STC Bank' conducts business in Bangladesh without central bank approval
---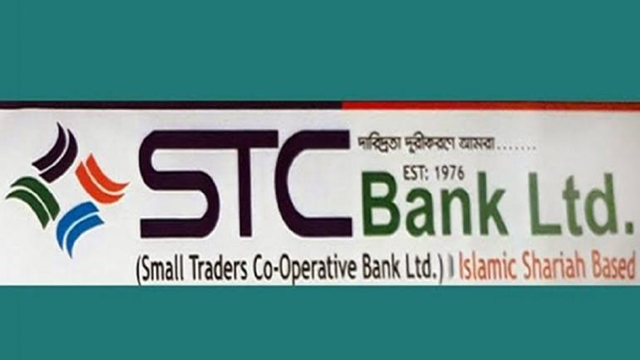 FT ONLINE
A non-government organisation (NGO) named Small Traders Cooperative (STC) Bank Limited has been engaged in illegal banking activities in Bangladesh.
STC Bank's headquarter located on the third floor of Lily Plaza (on the Saad Restaurant) building; east of the Mouchak Market in Dhaka.
STC Bank Limited already opened 75 branches in Bangladesh without having any documents regarding permission to operate the bank from Bangladesh Bank.
Azim Uddin Pramanik, General Manager of Rajshahi Divisional Office of STC at Sagorpara, Rajshahi confirmed this to FT Team adding that he has the only document of opening a branch at Narayanganj.
Now the most important question is which authority gave them permission to open branches and receiving deposits from their clients.
It is alleged, though the STC Bank Limited procured its registration from the Department of Cooperatives to work as a Cooperative Society only in Narayanganj district but it was allegedly operating full banking activities in various places of the country.
Banking sources here said, STC does not have any approval from Bangladesh Bank (BB) to run banking activities but like other scheduled banks, STC was conducting all banking activities by opening a 'Divisional Branch' and several branches at Upazila levels.
According to the Bank Company Act and Cooperative Act, no institution can operate any banking activity and accept deposit of money from any person without procuring a licence from Bangladesh Bank. But like other banks, STC was collecting deposits, disbursing loans and operating all other banking activities.
Sources said, from May this year, STC started to receive deposits in Savings, DPS and Current Accounts in the name of operating the banking activities by following the Islamic Shariah.
However, conscious people of the locality became worried as the bank has no approval from the Bangladesh Bank.
The company's website and prospectus showed that the company has been collecting deposits through 5 branches from different people in different names and terms. On the name of a daily savings scheme, Mudaraba Monthly Savings, Mudaraba Education Savings, Mudaraba Hajj Savings; STC Bank authority is taking deposits from various people.
The company is also selling shares worth Tk 1 lakh. Names of these shares - partners, close, confidence, trust, dear, me and you.
When asked, Deputy General Manager of STC Bank Mahbub Quader Talukder told FT Team by telephone that their license (approval) was not obtained from Bangladesh Bank. They are using the word 'bank' in court. However they took license in the name of Co-operative society from the Department of Cooperatives.
The Director-General of the cooperative department, Aminul Islam, told FT Team that the co-operative department did not give any license to conduct banking activities, nor could they give it. If an organization did such a thing, it is punishable under cooperative law. If someone complains against an organization in particular, action will be taken according to cooperative law.
Meanwhile, Abu Heena Moha, Chief Financial Officer of Bangladesh Financial Intelligence Unit (BFIU), was present at the conference room of Bangladesh Bank on November 27 last year. The eighth meeting of the task force was organized under the chairmanship of Raji Hassan to strengthen the money laundering and terrorist financing and strengthen the suppression activities.
The meeting also said that a cooperative society called 'STC Bank' is illegally conducting their activities using the term bank. The central task force's attention was drawn to the steps taken by local representatives and law enforcement agencies to stop these activities.
During the meeting, the general manager of BFIU said that BFIU had prepared a report on Aziz Co-operative Commerce and Finance Bank and sent it to CID and the report of the Dhaka Mercantile Co-operative Bank was underway. Besides, the Banking Regulations and Policy Department of Bangladesh Bank has appointed Barrister Ajmalul Haque QC to seek legal assistance in these matters.
Abu Heena Moha, chief officer of the BFIU. Raji Hasan told FT Team that no co-operative company can conduct banking activities. The issue of STC Bank has come to our notice. Action will be taken on this issue.
According to the revised sub-clause of the Cooperative Act, to operate activities as a cooperative society outside its operating area is against the clauses 12(2) of 2004 of Cooperative Society Regulation.
Moreover, according to Cooperative Society Act 2001 revised in 2002 and section 23(1) of 2013 no cooperative society would be able to open its branch office and according to section 26 No., cooperative society will not be able to receive any deposit or disburse any loan to anyone except its members.
But, in defiance of all rules, STC was conducting full banking activities by adding the word 'Bank' after the words the Cooperative Society.
Moreover, A mobile court sealed off a STC bank's Thakurgaon branch for running its banking activities illegally on 25th November 2019.
Executive Magistrate Abdullah Al Mamun conducted a drive and sealed off the bank.
The Upazila Nirbahi Officer said the organization is doing banking activities opening branches across the country. A written direction came to the district co-operation office from Dhaka co-operative directorate in this regard.
In this connection, Azim Uddin Pramanik, General Manager of Rajshahi Divisional Office of STC said, a writ petition has been filed with the higher court on September 22 seeking permission to open countrywide branches of the bank and he hoped the verdict will be delivered in their favour. That is why the STC was operating its activities by opening branches. The bank will never turn 'bankrupt' or a 'Hay Hay' company.
However, Mamunul Haque, General Manager of Bangladesh Bank informed FT Team over the mobile phone that no bank named Small Traders Cooperative (STC) Bank Limited has been given the approval to operate banking activities.
He said he would inquire into the matter as to how STC was operating without any approval.
Unauthorized use or reproduction of The Finance Today content for commercial purposes is strictly prohibited.