Business /
Cattle market has gathered online in Chittagong
---
MD SHAHADAT HOSSAIN, CHATTOGRAM
Published:
2020-07-09 13:48:06 BdST
Cattle market has gathered online in Chittagong
---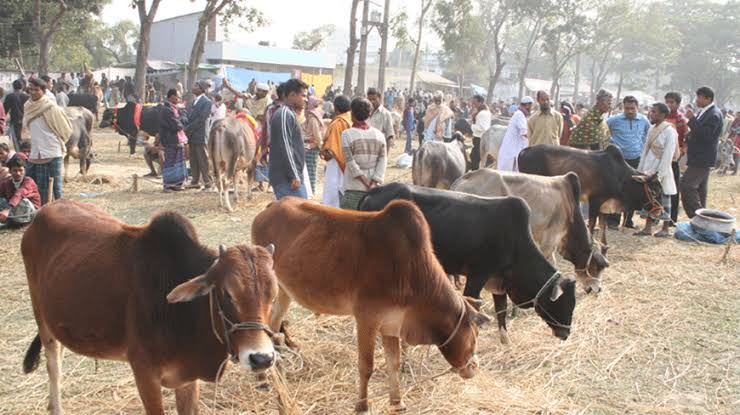 Due to the coronavirus situation, it is almost impossible to follow the social distance and hygiene rules in the animal market. In such a situation, there is uncertainty as to whether buyers will come to buy animals in busy and crowded places.
Therefore, keeping in mind the health and safety of the farmers and buyers, the Department of Information and Communication Technology has set up a digital market for the purchase and sale of sacrificial animals.
Meanwhile, cows of an animal farm located in Shikalbaha area of ​​Chittagong are being sold online.
They said they have been selling animals online for the past three years. Last year, they sold 90 out of 100 animals online. This time we are getting more response. Already 30 cows have been sold online.
Didarul Alam is another online trader of Patiya's Moizjartek area. He posted the cows in different groups of his Facebook ID and online animal market.
He wrote, 'Many hobby cows. Weight one thousand kg. Three lakh prices have already been raised. If someone gives a higher price, I will sell it. Otherwise next year. Because the cow will be bigger.'
He said that he is taking pictures of the cows of his own farm and posting them on his Facebook ID and page. Buyers are buying cows of their choice from there. His farm has cows ranging from Rs 50,000 to Rs 3 lakh.
Md. Shafiul Azam, a resident of Chandgaon residential area of ​​the city, said that he has decided not to go to the market this time because of Corona. He will sacrifice cows even if he does not go to the market. That's why he entered the Facebook-based group 'Chantagaiya Garur Haate' and chose cows.
It has been found that more than a hundred traders in Chittagong are now doing business online.
Traders post animals on various Facebook-based pages and groups, along with weights and prices. Then if the buyers like, they talk on the mobile phone and come directly to the farm to buy the cow of their choice. There is no hassle in this online market.
Korbani's Digital Hat has already been able to gain people's trust.
Concerned people say that the range of this market has increased more than before and the popularity has also increased. Due to Corona, this time along with e-commerce platforms, many farms and firms are publishing information about selling cows by opening pages on Facebook and giving advertisements.
Animals are also being sold on the online marketplace sale.com.
E-commerce company 'Daraj' has also organized a cattle market. Daraj's online market has cows from different districts of Chittagong.
Here buyers will have the opportunity to watch pictures and videos of cows and know the live weight at home. At the same time there will be an opportunity to communicate directly with cattle traders, farmers or traders. You can collect cows from a specific place or on the basis of home delivery.
Meanwhile, cattle traders have expressed dissatisfaction with Sagarika cattle market in Chittagong. They are angry over mismanagement, uncleanliness and stagnant water in the market.
Liaquat Ali, a chattle trader, said "the water was freezing when it rained in the market. As a result, the infestation of mosquitoes and flies has increased. If the market was clean, it would be more convenient to keep cows. I don't even see the buyer because of Corona."
In this regard, State Minister for Information and Communication Junaid Ahmed Palak said the Food for Nation platform is going to be the largest match making digital market in the country for sacrificial animals. This initiative is to save the farmers and farmers from economic loss and to protect the health of all.
He requested farmers from all over the country to come to this platform.
Registration of cattle and goat farmers, farm owners and general animal traders from all over Bangladesh has started for this largest digital market in the country. Free registration is available on the website.
Khorshed Alam Sujan, chief adviser of civic enterprise and vice-president of Nagar Awami League, said, "By the grace of Allmighty Allah, the incidence of corona in Chittagong has started to decrease. We have informed the administration that there is no cattle market in the road. Area based cows will be sold online. We will make such a proposal to the administration very soon."
Unauthorized use or reproduction of The Finance Today content for commercial purposes is strictly prohibited.