Business /
Private millers urge govt to discourage raw jute export to protect industry
---
ALIF
Published:
2020-09-10 16:56:19 BdST
Private millers urge govt to discourage raw jute export to protect industry
---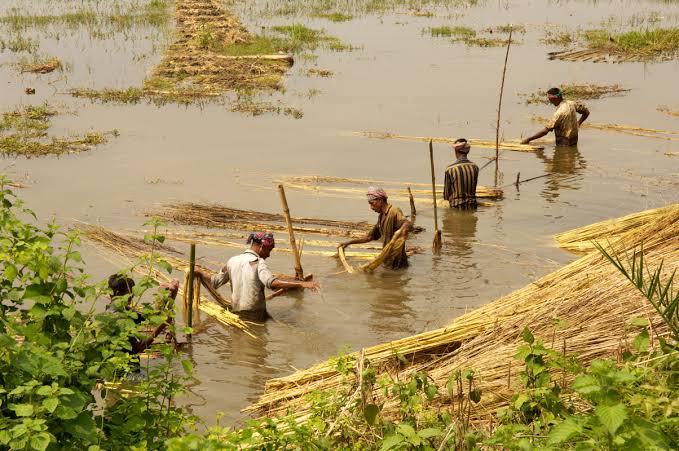 Private jute millers and spinners on Wednesday called upon the government to discourage raw jute export in order to meet local demand first amid lower production this year.
They also urged the authorities to impose a duty of US$ 250 on export of raw jute for one metric tonne with a view to safeguarding the domestic industry.
Besides, they suggested the government impose an export ban on high quality uncut Bangla Tossa Rejection (BTR) and Bangla White Rejection (BWR) categories of raw jute.
The jute millers and spinners placed the demands at a press conference on "Jute industry in the risk of shutdown amid scarcity of raw jute."
The programme was jointly organised by the Bangladesh Jute Mills Association (BJMA) and the Bangladesh Jute Spinners Association (BJSA) at a city hotel, with BJMA Chairman Mohammed Mahbubur Rahman Patwari in the chair.
BJSA Chairman Md Zahid Miah, Bangladesh Jute Goods Exporters' Association (BJGEA) Chairman M Sazzad Hossain, BJSA Vice-Chairman Farian Yusuf, director Moniruzzaman, BJMA director Nazmul Haque, and Creations Private Ltd. managing director Md Rashidul Karim Munna spoke at the event.
Speaking at the programme, Mr Patwari said, "We are not demanding a complete ban on raw jute export, we are just urging the government to discourage its export by imposing a $250 export duty."
However, he said, export of uncut jute shouldn't be allowed because of its lower price.
"If the raw jute is processed a bit before export, it will add more value to the local industry by employing more people," he said.
He noted that an exporter may earn $500 by exporting a metric tonne of raw jute, but it is possible to earn over $5,000 by exporting environment-friendly diversified jute goods made from same amount of raw jute.
Citing Indian media reports, the BJMA chairman said India may face a shortage of raw jute and they plan to import from Bangladesh.
"They are safeguarding their industry by imposing anti-dumping duty on our jute products but we are not trying much to protect our own industry," he opined.
If raw jute export continues, the country's raw jute stock will run out by January-February, he mentioned.
Meanwhile, Mr Zahid Miah informed that there is a demand for 6.5 million bales of raw jute in the country, of which 6.0 million bales in industries and 0.5 million bales for household use.
"As per our guesstimation, this year, overall raw jute production may come down to 5.5 million bales, which means there would be a deficit of 1.0 million bales of raw jute in the domestic market," he said.
The BJSA chairman said prices of raw jute in local market stood at Tk 2,700 to 2,800 per maund, which is the highest ever in the country even during the peak season.
"At that level, it would not be possible for local industries to keep the production line running for long," he said.
Usually, raw jute prices hover around Tk 2,350 to Tk 2,500 per maund, he said
BJGEA Chairman Sazzad Hossain said that last year, raw jute production reached about 8.4 million bales, which may come down to only 5.5 million bales mainly due to natural causes.
"This year, farmers reduced their jute sowing by 10 percent, compared to previous year, while floods in two phases damaged jute production by 30 percent," he said.
Adding to Mr Hossain's statement, Mr Patwari said, "Due to the lockdown during the first few months of the pandemic, farmers couldn't get enough seeds in time as import from India remained halted."
Besides, cyclone Amphan and prolonged floods also hampered the growth of jute plants, he added.
According to the BJMA, there are total of 259 jute mills in the country where at least 200,000 people are working.
While exporters of major items were struggling to survive during the pandemic, export of jute and jute goods registered an 8.10 per cent growth and fetched $882.35 million in 2019-20 fiscal year.
Unauthorized use or reproduction of The Finance Today content for commercial purposes is strictly prohibited.