Business /
Apparel makers looking to grab global PPE market share
---
ALIF
Published:
2020-10-01 10:59:15 BdST
Apparel makers looking to grab global PPE market share
---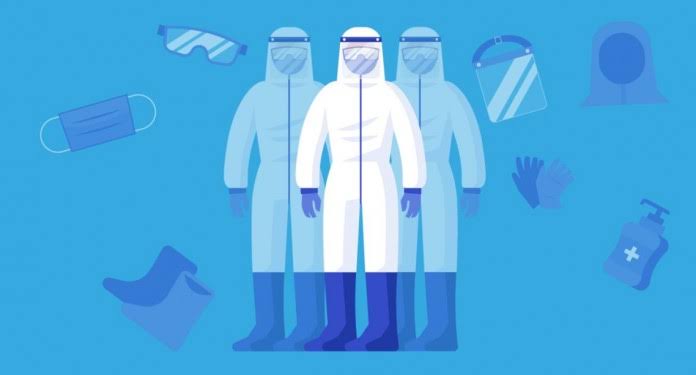 With the demand for personal protective equipment (PPE) rising amid the Covid-19 pandemic, a good number of apparel makers have expanded production capacity while some other companies are investing afresh to gain the market share, sources said.
As the coronavirus continues its deadly spread across the globe, there is a desperate need for PPE, medical gowns and face masks to keep health professionals as well as general people safe, which has boosted the export prospects, they added.
Taking the surging global demand into account, the Pran-RFL Group has recently made a move to invest US$ 18 million to produce PPEs at the Adamjee EPZ (Export Processing Zone).
M/S Banga Plastic International Ltd., a sister concern of Pran-RFL group, will churn out 850 metric tonnes of PPEs, including surgical face masks, KN 95 masks, N 95 masks, surgical hand gloves, shoe cover, mop cap, medical gown, sanitary napkin, diaper and hand sanitisers, a year.
To this end, the company signed a MoU with the Bangladesh Export Processing Zones Authority (BEPZA) on September 16.
The new venture, which will also produce toys, will create employments for 1900 people, said the company at the MoU signing ceremony.
Recently, Beximco has supplied 6.5 million pieces of PPEs to US clothing giant Hanes within less than two months' time.
Lauding the quick delivery, JoAnne Wagner, Deputy Chief of Mission (DCM) at the United States Embassy in Dhaka, at a virtual press briefing this month, said, "And now Bangladesh is part of a very small group of world-class, large-scale PPE manufacturing nations, and Bangladesh is quickly becoming a major global player in that sector."
The 'Mapped in Bangladesh', a digital mapping technology that tracks development of garments factories in the country, conducted a rapid survey on its listed 3,342 export-oriented readymade garments (RMG) factories in Dhaka, Gazipur, Narayanganj and Chattogram to know the status of factories during the pandemic.
It found that a total of 143 factories have been producing face masks and/or PPEs along with their regular products while 69 factories were producing PPEs for the global market and 66 factories for the domestic market.
Some seven factories said that the face masks and PPEs were being produced for both the domestic as well as export markets, according to the survey.
Last month, Snowtex completed a work order by supplying 2.6 million face masks to a French buyer, its managing director SM Khaled said on Saturday.
Currently, his company is producing face masks only for the local market under the brand name of Sara, he said, adding that these masks can provide 72 per cent protection from the infection while surgical masks are 70 to 95 per cent protective.
However, his factories are now busy producing regular items as all his customers who suspended orders due to coronavirus outbreak have again come back, he said.
Contacted, Bangladesh Garment Manufacturers and Exporters Association (BGMEA) president Dr Rubana Huq said that for Bangladesh, there is a great prospect to diversify into PPEs.
Citing the Export Promotion Bureau data, she said the PPE export has grown from US$252 million to US$501 million (FY2019-20) in just about five years.
And the world's total PPE import was worth US$91.6 billion in 2019, according to the ITC (International Trade Centre) data.
"So considering the global demand and the rise in demand for PPEs in post-Covid reality, we have a clear potential to tap into it," she said.
However, this would require capacity building in the industry together with the policy supports, Ms Huq said, adding that since making PPEs of different grades, specially the medical grade ones, requires the factories to follow stringent technical and quality compliance, Bangladesh needs special preparation to cater to this market, particularly it needs to develop special skill sets, technical knowhow, and make the right investments in backward linkages.
Availability of raw materials is also crucial for PPEs, she said, stressing the need for strategic tie-ups and foreign direct investments.
"Till the time it takes to develop our own capacity in backward linkages, we need to work on sourcing raw materials in most feasible terms and price," the BGMEA chief noted.
She also pointed out that since this is not a traditional item for the country, special incentive may be helpful to attract investors and exporters to go for aggressive marketing.
At the same time, Ms Huq emphasised the need for further policy supports with regard to duty-free import of raw materials and sales at the local market, and to set up such factories and obtain licences from the authorities of importing countries for medical grade PPEs.
Unauthorized use or reproduction of The Finance Today content for commercial purposes is strictly prohibited.