Business /
Q1 exports up by 2.58pc, cross target by 2.45pc
---
ALIF
Published:
2020-10-05 11:53:44 BdST
Q1 exports up by 2.58pc, cross target by 2.45pc
---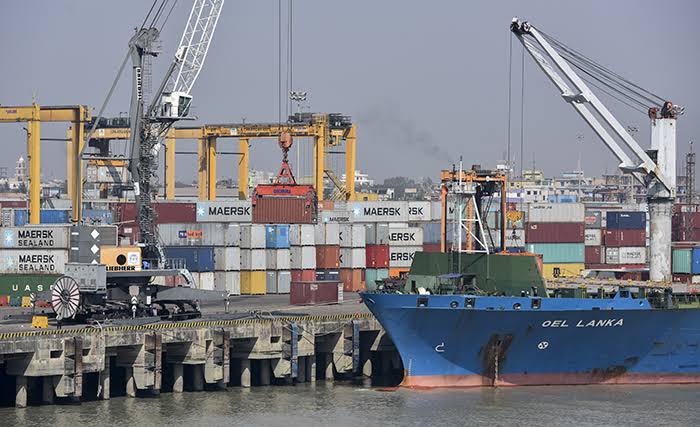 The country's merchandise shipments during the first quarter (Q1) of current fiscal year (FY), 2020-21, grew by 2.58 per cent to US$ 9.89 billion over that of the same period of last fiscal.
The July-September export earnings also surpassed the target set for the period by 2.45 percent, according to provisional data of the Export Promotion Bureau (EPB).
Bangladesh fetched $9.64 billion in July-September period of FY 2019-20.
The single month income in September 2020 grew by 3.53 percent to $3.01 billion, which was $2.91 billion in September 2019. The September, 2020 earnings also surpassed the target by 5.92 percent, the provisional data showed.
The export recovery has started in June and continued in September also.
The July earnings grew by 0.59 percent year-on-year to $3.91 billion after a continuous fall in shipments in the previous months of the current calendar year amid the coronavirus outbreak. The August 2020 earnings grew by 4.32 percent to $2.96 billion.
Exporters opined that gradual reopening of western markets and placing of new orders coupled with revival of majority of the previously suspended or cancelled ready-made garment (RMG) work-orders contributed to the turnaround.
The RMG sector that contributed over 83 per cent to the total exports fetched $8.12 billion export income during the first quarter of FY 21.
The RMG earnings also witnessed a nominal 0.85 percent growth. The earnings exceeded the strategic target set for the months by 2.09 percent.
The country earned $4.46 billion from knitwear exports in Q1 of FY 21, registering a growth of 7.04 percent. Knitwear exports fetched $4.17 billion in July-September of last fiscal.
Earnings from export of woven garments, however, declined by 5.78 percent to $3.66 billion during the first three months of this fiscal, from $3.88 billion in the correspondent period of last fiscal, according to data.
Knitwear export earnings surpassed the target set for the months by 13.44 percent, but woven export missed the target by 9.01 percent.
Besides, earnings from home textile exports grew by 40.74 percent to $252.35 million. The achievement exceeded the target by 11.75 percent.
When asked, Bangladesh Garment Manufacturers and Exporters Association (BGMEA) President Rubana Huq said, "Retail sales in our major markets have gained some momentum in past two months."
So, there are some surges in orders, although price-wise it is a havoc, she noted.
Fazlee Shamim Ehsan, director of Bangladesh Knitwear Manufacturers and Exporters Association (BKMEA), termed the growth positive, taking the ongoing coronavirus pandemic into consideration.
He attributed the positive growth of knitwear sub-sector to the new orders, placed mostly from July for winter season.
Winter items are mostly knitted products, he said, adding that buyers have shortened lead time due to the Covid-19 pandemic.
Mr Ehsan, also owner of Fatullah Apparels, noted that the overall export growth turned around, also following revival of most of the suspended or cancelled orders since the virus outbreak in March and April.
Meanwhile, the jute sector that demonstrated a positive growth throughout last fiscal also maintained the uptrend.
Jute and jute goods export earnings increased by 39.26 percent to $307.55 million during Q1 of this FY, up from $220.85 million over the corresponding period of last fiscal.
Agricultural products' earnings grew by 3.4 percent to $271.49 million during the first three months of FY 21, the provisional data showed.
Export earnings of frozen and live fish also increased by 5.11 percent to $131.6 million.
Pharmaceuticals earnings stood at $42.17 million, marking a 20.90 percent growth.
On the other hand, the country earned $225.15 million by exporting leather and leather goods during the first quarter of current fiscal, registering an 11.94 percent decline compared to the same period of last fiscal.
The sector's exports, however, surpassed the target set for the period by 3.87 percent.
Furniture earnings fell by 4.72 percent to $16.36 million in Q1 of FY 21.
Plastic products witnessed a negative growth of 16.95 percent to $26.17 million during this July-September period, according to the EPB data.
Unauthorized use or reproduction of The Finance Today content for commercial purposes is strictly prohibited.