Business /
BD's export volatility high during pandemic: UNCTAD
---
ALIF
Published:
2020-10-30 19:52:06 BdST
BD's export volatility high during pandemic: UNCTAD
---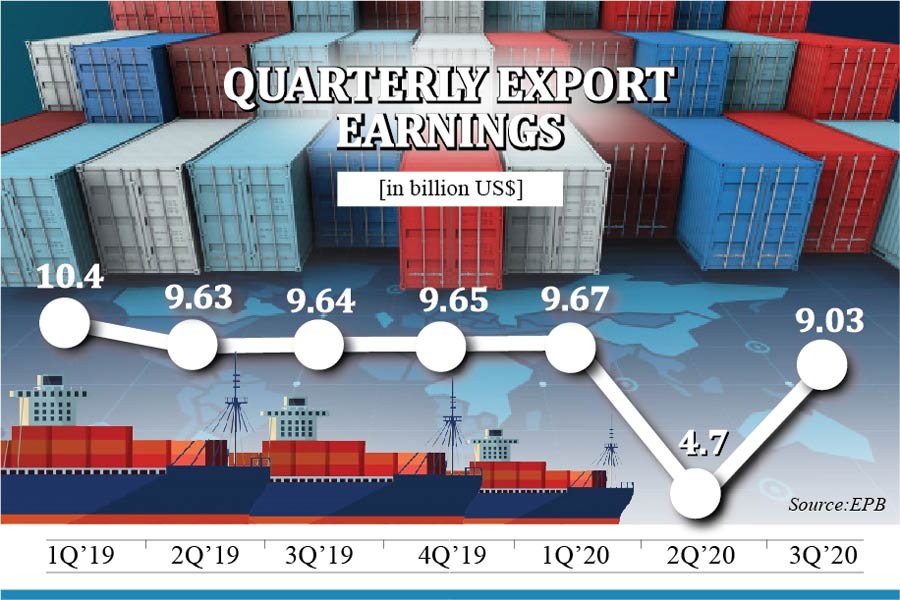 Bangladesh is one of the high volatile countries in terms of export, especially during the pandemic, according to an estimate of the United Nations Conference on Trade and Development (UNCTAD).
The export volatility of the country in the second quarter (April-June) of the current year is estimated at 0.92, which actually 'tracks export performance across the last four quarters.'
A greater score of export volatility implies higher vulnerability of export.
Total merchandise export of Bangladesh in the second quarter of the current year declined by 51 percent due to Covid-19.
Receipts from export came down to $4.70 billion in April-June period from $9.67 billion in January-March period of the current year, according to statistics unveiled by Export Promotion Bureau (EPB).
Exports, however, bounced back and jumped by 92 percent in the third quarter (July-September) of 2020 and stood at $9.02 billion.
In South Asia, exports of both India (0.79) and Pakistan (0.66) showed a lower volatility compared to Bangladesh. Only Nepal is more volatile (1.06) in export than Bangladesh.
UNCTAD's Global Trade Update, released in the last week, also showed that export performance of Bangladesh is very low as it scored only 0.12 during the period under review.
"Export performance is a composite indicator which includes growth rates, performance vs peers, and competitiveness in major and dynamic markets," said the UNCTAD report.
"A greater score implies higher export performance," it added.
"No region has been spared from the decline in international trade in Q2 2020. However, trade in East Asia appears to have fared relatively better than in other regions," said the report. "This trend is even more evident for the month of July."
It added that the sharpest decline has been for the West and South Asia region, where imports have dropped by 35 per cent and exports by 41 per cent.
As of July, the fall in trade remains significant in most regions, according to the UN agency report.
"The economic and social disruptions brought about by COVID-19 have resulted in a substantial reduction in global trade," observed UNCTAD.
It said that already on a downward trend, global trade took a sharp downturn in the second quarter of 2020 with a drop of about 19 per cent compared to the second quarter of 2019.
"Preliminary data for Q3 suggest that, while rebounding from Q2, global trade growth has remained negative in Q3 with a decline of about 4.5 per cent on a year-over-year basis," the UN agency added.
Unauthorized use or reproduction of The Finance Today content for commercial purposes is strictly prohibited.