Business /
Matarbari LPG terminal construction being delayed further
---
Staff Correspondent
Published:
2020-12-02 15:27:07 BdST
Matarbari LPG terminal construction being delayed further
---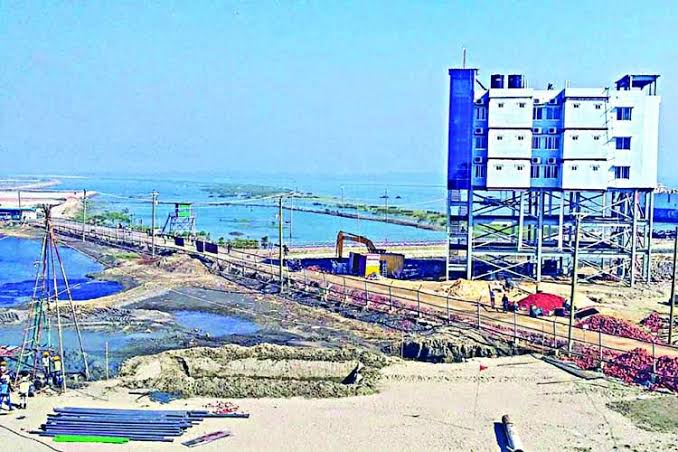 Construction of the proposed LPG (liquefied petroleum gas) terminal at Matarbari deep-sea port hits a snag due to dilly-dallying in selecting a partner for executing the project efficiently.
The delay in implementing the project has held up the long-awaited bulk import of the fuel to cut retail price drastically and ensure it reaching commoners, market insiders said.
Lack of qualification criteria and imposition of terms haphazardly at times are rather eroding confidence of potential foreign investors, they added.
As per a state plan, officials said, Matarbari island will have three separate terminals to explore full potential of the country's maiden deep-sea projects.
These are coal terminal for a coal-fired power plant, a land-based LNG terminal and an LPG terminal.
As the prime agency responsible for petroleum import, the Bangladesh Petroleum Corporation (BPC) was to execute the LPG terminal under public-private partnership as desired by Bangladesh and Japan.
But the BPC could not make much headway due to inconsistent policy support despite talks with potential investors, it has been alleged.
Officials said the BPC first sat with the consortium of Japanese Mitsui, Korean SK Gas, that owns very large gas carriers, and local East Coast Group in May 2019.
The terminal will have the capacity to handle an estimated 1.0-1.2 million tonnes of LPG every year.
The Mitsui consortium showed interest to invest over $330 million in executing the proposed refrigerated LPG terminal, which is a high-tech project.
It has experience of managing, owning and operating experience of deep-sea port.
After rounds of negotiations on Mitsui's proposal, the BPC agreed to go forward with the Mitsui-led consortium ensuring 15-per cent equity to the BPC in late May.
But the proposal got stalled and East Coast withdrew from the consortium. Subsequently, two more Japanese consortiums, led by Marubeni Corporation and Sumitomo, joined the foray to bag the work.
Marubeni tied up with the LPG trading company Vitol, which has been engaged in supplying bulk LPG to Bangladesh over the past several years.
Sumitomo joined with Japanese firm Gyxis.
Energy experts, however, opposed the BPC's significant stake in the terminal and investing equity as the LPG sector is mostly controlled by the private sector.
"I don't see any reason for BPC's involvement in the LPG terminal project investing equity and doing business," said Prof M Tamim of Bangladesh University of Engineering and Technology.
The BPC should be given equity against the value of terminal land at Matarbari, said Mr Tamim, who was a special assistant to a former caretaker government.
It can monitor and ensure efficient operation of the terminal like state-owned Petrobangla, which oversees operations of two operational FSRUs (floating, storage, and regasification units) at Matarbari, he cited.
When contacted, a senior BPC official said a firm government decision is required to boost the building of the LPG terminal.
Bangladesh Energy Regulatory Commission (BERC) member Md Maqbul-E-Elahi Chowdhury, who led a committee to prepare a report, said inflated transport cost is the main barrier to lowering LPG price locally.
The BERC report pointed out that LPG price in West Bengal of India is cheaper by $50-60 per tonne than Bangladesh's due to difference of transport costs.
India now imports LPG through bulk carriers, but the private sector in Bangladesh imports through small cargoes having the capacity of 2,500-5,000 tonnes. Sources said Japan assured to provide $3.2 billion for Matarbari deep-sea project in addition to $4.5 billion for Matarbari coal-fired power plant during Sheikh Hasina's Tokyo visit in May 2019.
Unauthorized use or reproduction of The Finance Today content for commercial purposes is strictly prohibited.