Business /
Excess work orders give RMG makers price edge
---
Ibrahim Hossain Ovi
Published:
2021-09-19 02:45:39 BdST
Excess work orders give RMG makers price edge
---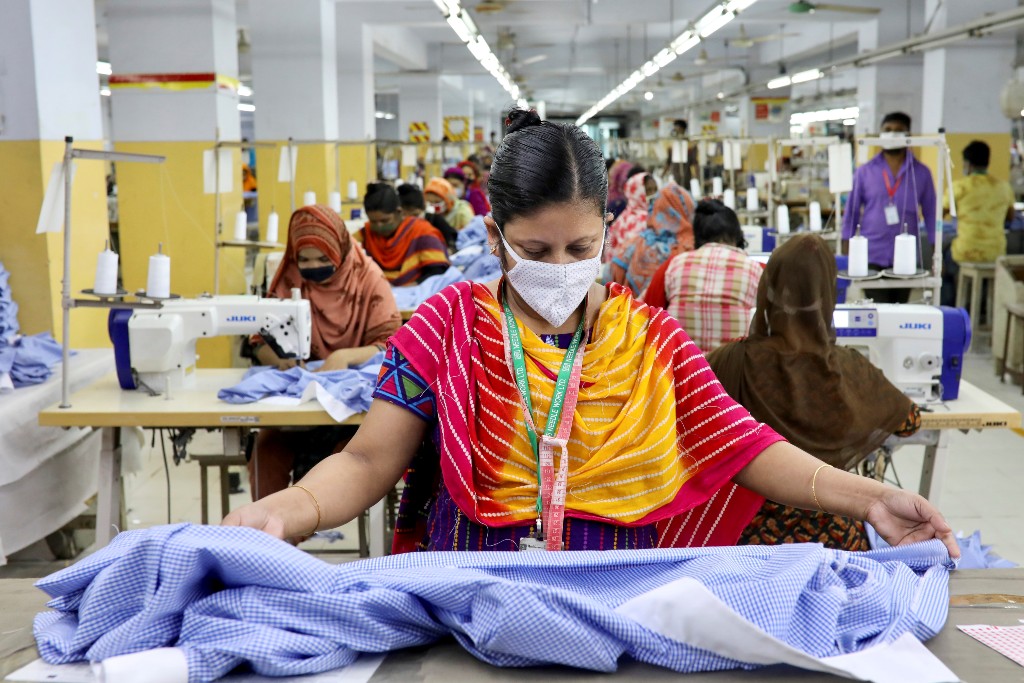 With a strong sign of recovery in exports, Bangladeshi apparel makers are now flooded with work orders, which has created opportunities for them to negotiate better prices.
The trend of work order inflows is defined by the number of Utilisation Declaration (UD) permissions given by the associations concerned.
UD is permission given to an exporter to import raw materials to execute work orders placed by an importer.
According to the Bangladesh Garment Manufacturers and Exporters Association (BGMEA) data, the number of UD permissions taken from the trade body rose by 30.48 per cent to 17,999 during the January-August period of 2021 from 13,794 in the same period last year.
After the outbreak of the Covid-19 pandemic in March 2020, the number of UD permissions came down drastically to 520 in April from 2,090 in the previous month.
In August 2020, the number of UD permissions was 1,703, which rose by 58.9 per cent to 2,706 in August this year.
"Till August, work orders surpassed the pre-Covid-19 level and exceeded manufacturers' capacities. This is because of a rise in demand for goods in the US and European markets," BGMEA Vice-President Shahidullah Azim said.
After economies reopened, brands and buyers are placing more orders to cater to the rising demand, he said.
In addition, work orders shifted from India and Vietnam as Covid-19 hit production there in the last couple of months while that in Bangladesh continued in full swing, he said.
"We will be able to execute the orders if the service providing agencies cooperate and provide support to ensure smoother imports of raw materials and exports of finished goods," said the business leader.
Excess work orders have given an extra advantage to exporters to negotiate better prices as the market is now supplier-driven.
"Apparel retailers' warehouses are empty as with the reopening of economies, people bought more clothing items. The rise in demand prompted fashion brands and retailers to place more orders," Kutubuddin Ahmed, chairman of Envoy Textiles, said.
"Higher inflows of work orders created opportunities for exporters to negotiate better prices. When a manufacturer can say no to a retailer while taking an order, there is an opportunity to ask for better prices," said Ahmed, also a former BGMEA president.
In the given context, experts and stakeholders have called for a cautious move while taking orders as non-execution can create problems.
"Lots of orders are coming, which is beyond our capacity. It should be taken into consideration whether or not we will be able to execute them on time," KI Hossain, president of Bangladesh Garment Buying House Association, said.
He said sales were driven by online platforms before the reopening of economies.
"But now sales have risen at physical stores. So, the rising trend will continue," he said.
Manufacturers now have to take orders considering their capacities as the failure to execute will earn the county bad reputations, he added.
According to the Export Promotion Bureau data, Bangladesh apparel exports in the last fiscal year rose by 12.55 per cent to $31.45 billion, which was $27.95 billion in the previous year.
Unauthorized use or reproduction of The Finance Today content for commercial purposes is strictly prohibited.