Business /
Biman expects to reach Vancouver, LA through code sharing by Jan
---
Staff Correspondent
Published:
2023-11-19 22:55:36 BdST
Biman expects to reach Vancouver, LA through code sharing by Jan
---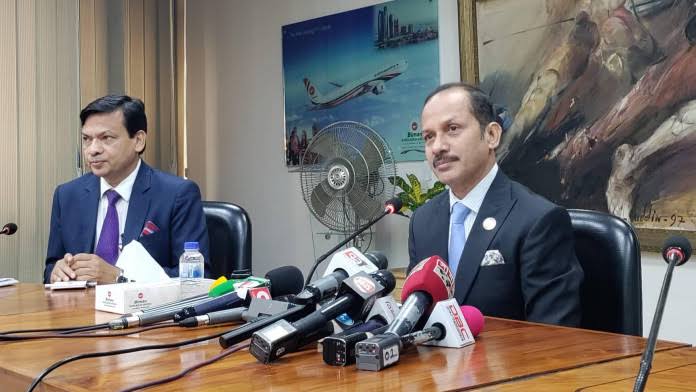 Biman Managing Director Shafiul Azim
Biman Bangladesh Airlines is expecting to carry its passengers to Canadian west coastal major city Vancouver and the US's city of Los Angeles collaborating with Air Canada through code sharing via Narita of Japan by January next.
"We have already received positive reply from Air Canada regarding code sharing agreement ... and we are expecting to make it effective by third week of January," Biman Managing Director and Chief Executive Officer (CEO) Shafiul Azim said on Saturday.
Code sharing is a marketing arrangement in which an airline places its designator code on a flight operated by another airline, and sells tickets for that flight.
After the code sharing agreement, a Canada or US bound passenger will fly to Narita by on boarding Biman's aircraft and after taking a stopover there, he or she can reach Vancouver or Los Angles from Narita by Air Canada plane with a single ticket, boarding passes and baggage tags issued by the Biman Bangladesh airlines.
Biman's CEO expected that the code sharing would help the national flag carrier get huge traffic to its Narita flight with Canada or US intending travelers as a large number of Bangladeshi expatriates are residing in Vancouver and Los Angeles.
The passengers could save nearly five hours by availing 15 hours total flight time including Biman's six hours Narita route and around nine hours flight to reach Vancouver or Los Angeles from Narita by crossing the Pacific Sea.
Currently, the North American west coast bound passengers from Dhaka use Singapore or Malaysian airlines taking layover in Singapore or Kuala Lampur to reach Vancouver or Los Angeles with a total more than 20 hours flight time.
Bangladeshi huge Canadian expatriate community has already made Biman's Dhaka-Toronto-Dhaka flight very popular, but the national flag carrier is yet to have any option to offer for Canadian or US west coast travelers.
"Keep it in mind, we would like to offer more route connections to our passengers as like as other airlines throughout the world continue to form code-share arrangements to expand their market presence and competitive ability," Azam said.
The Biman's chief hoped that the code sharing with Air Canada would make the Biman's Dhaka-Narita flight, resumed on last September after 17 years, more popular among the Bangladeshi expatriates.
"We have already received positive response on our Dhaka-Narita route ... so far we are satisfied with the load factor of the route," Azam said.
Apart from Bangladeshi and Japanese passengers, a large number of Nepalese nationals and a number of Indian citizens are also using Biman's three weekly Dhaka-Narita-Dhaka flights. "We have started Dhaka-Narita-Dhaka flight with 50 percent of Passengers load factor ... but, currently we are having nearly 80 percent load factor in both end," said Biman's Director Marketing and Sales Mohammed Salahuddin.
He hoped that the Dhaka-Narita-Dhaka flight's load factor would be nearly 100 percent after code sharing with Air Canada.
Salauddin said Biman can offer lower fare to Canada and US west coast bound passengers comparing to the airlines those are currently operating route to Vancouver and California.
Biman is also exploring with other airlines interlinking or code sharing so that the flag carrier can offer its passengers different other routes including Sydney beyond Japan like a 360 degree airline, he added.
Under the Air Service Agreement between Bangladesh and Japan, Tokyo allowed Biman Bangladesh Airlines to enjoy a fifth freedom facility in operating flights in that country.
Unauthorized use or reproduction of The Finance Today content for commercial purposes is strictly prohibited.