Business /
Prepare youths for Fourth Industrial Revolution
---
FT online
Published:
2019-03-13 11:38:33 BdST
Prepare youths for Fourth Industrial Revolution
---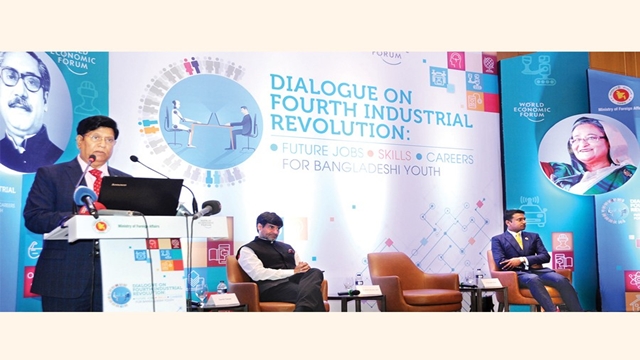 Foreign Minister AK Abdul Momen has said Bangladesh doesn't have any alternative but to get prepared for the Fourth Industrial Revolution by focusing on skills, training, education and knowledge.
"For Bangladesh, there is no option but to make right choice and take adequate preparation so that our youth can fully exploit the advantage of technologies," he said at a dialogue on Tuesday.
The Ministry of Foreign Affairs in association with the World Economic Forum organised the dialogue titled 'Fourth Industrial Revolution: Future jobs - skills - careers for Bangladeshi youth' at a city hotel.
The minister said nearly 49 per cent of the country's youth population is below 25 years and one third of the youths are aged between 18 and 34 years.
"We need to provide them with quality education, improved skills training and gainful employment to reap demographic dividend," he added.
But the government alone cannot fulfil all the requirements, he said and called on the private sectors, development partners, NGOs and academic leadership to come forward to provide skills training for the youths.
The minister also said the country's various work systems are still weak. Doing business in Bangladesh takes 176 days, not 176 minutes, he added.
"Let us work together and focus on improving our decision-making process so that we can really deliver services to people on the ground," he said.
Abdul Momen said unprecedented technological advances are opening up new opportunities and potentials for economies to improve productivity at a rate faster than imagination.
However, he said, the bad news is that with the introduction of new and emerging technologies, many labour-intensive jobs will be replaced by them. And the new jobs will require new skills and training.
Quoting Professor Klaus Schwab, he said more than five million jobs will be displaced by automation by 2020 and most of them are low- and middle-skills jobs.
He said it is predicted that nearly two billion youths in the world will not have adequate skills for the new jobs by 2023.
"We have two extreme scenarios in the future. Millions of jobs will be disappeared and millions of jobs will remain vacant because there will not be enough qualified people."
Replying to a question at the event, State Minister for Foreign Affairs Md Shahrial Alam said there is nothing to be worried about the presence of Rohiynga in the country. There will not be any negative effect on the job market.
He also said many teachers and the education curriculum are not up to the mark to face the new challenges.
"But students have to be prepared on their own," he added.
President of the Overseas Research Foundation (ORF) of India Samir Saran said the line between workplaces and working hours will disappear in Fourth Industrial Revolution era.
He also said many people will have more than one jobs at the same time even not having a workplace. On the other hand, many people will not have any job due to not having required skills in the new realities.
Dhaka University Theoretical Physics Professor Arshad Momen said universities are rigid. They will not be changed until industries come up and say what they need for their industries from the universities.
Pacific Jeans Director SM Tanvir said there is a gap between the country's academia and industry.
"If students and job aspirants do not come up with their skills and solutions for the industry, we will go outside of the country to find the right kind of people," he said.
Managing Director of Mohammadi Group Rubana Huq, bKash CEO Kamal Qadir, General Secretary of Bangladesh National Mathematical Olympiad Committee Munir Hasan and Vice President of Pathao Ahmed Fahad also spoke.
Foreign Secretary Md Shahidul Haque, South Asia Lead of WEF S Tanjeb Islam and High Commissioner of Bangladesh to Sri Lanka Riaz Hamidullah were also present.
Unauthorized use or reproduction of The Finance Today content for commercial purposes is strictly prohibited.