Business /
BD losing Tk 192m a year for lack of policy on battery-run vehicles: Report
---
FT online
Published:
2019-03-14 11:14:21 BdST
BD losing Tk 192m a year for lack of policy on battery-run vehicles: Report
---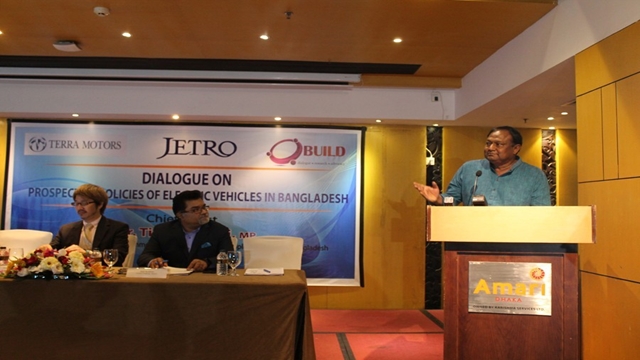 Bangladesh has been losing Tk 192.5 million a year by not bringing the battery-run three-wheelers under registration and licensing, according to an observation report.
Presently, around one million such vehicles are currently plying in the country.
Also, over one million employments have been created in this sector, including 58,000 jobs in five districts where 52,000 battery-driven three-wheelers run, said the report.
These vehicles consume around 450 MW electricity a day, it added.
But due to absence of monitoring, regulations and charging stations, this sector witnesses unauthorised consumption of power, said the report.
It also said Bangladesh can save US$ 200 million to $ 400 million a year by reducing air pollution in four cities of the country.
The study report was placed at a dialogue on 'Prospects and Policies of Electric Vehicles in Bangladesh' where the speakers stressed the need for formulating a comprehensive policy to streamline the sector.
JETRO and BUILD organised the event at a city hotel on Wednesday, with Commerce Minister Tipu Munshi as the chief guest. The BUILD carried out the study supported by JETRO.
Speaking on the occasion, the minister laid emphasis on the need for a clear policy framework for regulating such three-wheelers.
Relevant rules should be framed at the earliest, he said, adding that charging stations for electric vehicles is another aspect which needs to be developed.
"As greenhouse gases are spoiling our environment, I feel it is right time to introduce the policies for electric vehicles," said Mr Tipu.
Referring to the potential of foreign investment in this sector, he said Bangladesh Investment Development Authority (BIDA) can work in this regard.
Abul Kalam Azad, Principal Coordinator (SDG) of Prime Minister's office (PMO), said that electric vehicles (EV) are the future of transport, as decarbonising transport is a must to achieve SDG goals.
Acknowledging that he was once against this kind of vehicles that consume so much electricity, he said that he now talks in favour of them.
He said that good policies are needed to harness the benefits of development of electric three-wheelers.
He also emphasised the need for research and development activities on battery manufacturing, focusing on lithium-ion (LI) battery, recycling of battery and attraction of FDI in manufacturing electric vehicles in the country.
"The private sector and donor organisations have come forward. We need to develop our capacity to address the Fourth Industrial Revolution issues," he added.
Speaking as a special guest, Hiroyasu Isumi, ambassador of Japan to Bangladesh, said that although there is a huge demand for battery-run three-wheelers in Bangladesh, there is lack of government initiative for the formalisation of the sector.
He also put emphasis on SDG-11 on Sustainable Cities and Communities for which a sustainable transport system is an imperative.
The battery-driven three-wheelers can be an alternative which has already been proved to be a very useful means of transport in Bangladesh like in India, Vietnam and China, he said.
Osama Taseer, president, Dhaka Chamber of Commerce and Industry (DCCI), who was also present as a special guest, highlighted the regulatory aspects of the electric vehicles (EV).
The transport sector in Bangladesh will be dominated by 40 per cent of the EVs in the next 20 years, he added.
He also suggested providing subsidies for the EV consumers, which can be a way to promote the use of EV in the country.
Daisuke Arai, Country Representative, JETRO Dhaka Office, underscored the need for framing policies to attract more investment in this sector. Asif Ibrahim, former chairman, BUILD, highlighted the organisation's continued mission to address regulatory barriers by evidence-based research and policy advocacy.
Tahmid Zami, additional research director of BUILD, presented the findings of the study on 'Battery-Run Three Wheelers in Bangladesh' while Akihiro Ueda, Director of Asia EV Business & MD of Terra Motors, India, presented the private sector perspectives on the existing scenario of the battery-run three wheelers.
Siddique Zobair, Member (Additional Secretary), SREDA, reflected on the charging infrastructure policy being prepared by SREDA.
He said that most of the charging systems are not efficient. Regarding a different type of tariff rate for easy bikes, he said the government is ready to lower it, if the users charge the vehicles at off-peak hours.
He also said that SREDA has almost completed the draft policy for charging stations.
Unauthorized use or reproduction of The Finance Today content for commercial purposes is strictly prohibited.