Business /
NBR to request BB for devising mechanism
---
FT Online
Published:
2019-04-08 10:49:06 BdST
NBR to request BB for devising mechanism
---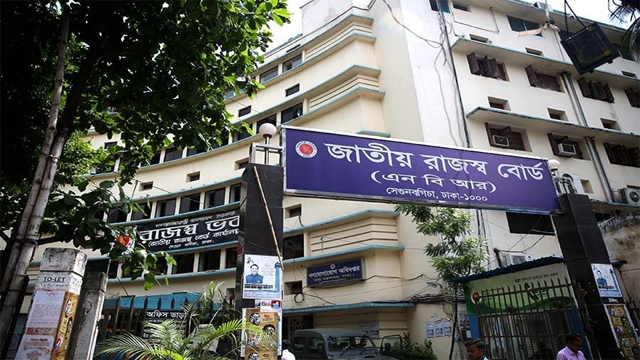 National Board of Revenue (NBR) Chairman Mosharraf Hossain Bhuiyan has assured the women entrepreneurs of taking up their concerns over the need for increased access to bank loans with the Bangladesh Bank (BB) so that the central bank could develop some mechanism in this regard.
The government is very positive in facilitating women entrepreneurs in the next budget due to their relatively lower loan default rate, he told a pre-budget meeting at the NBR headquarters in the city on Sunday, in response to women entrepreneurs' concern.
"The revenue authority is holding talks with the central bank to find a way of providing collateral-free loans up to Tk 2.5 million to the women entrepreneurs," he added.
The NBR held the meeting with the India-Bangladesh Chamber of Commerce and Industry (IBCCI), Bangladesh-China Chamber of Commerce and Industry (BCCCI), Bangladesh Women Chamber of Commerce and Industry (BWCCI), Women Entrepreneurs Network for Development Association (WEND) and Anti Tobacco Media Alliance (ATMA).
Regarding the hardship of women entrepreneurs in getting loans, Mr. Bhuiyan said, "It was observed that many women have become entrepreneurs under compulsion due to many reasons like divorce, widowhood etc."
Before giving loans, the lenders ask them about their husband's identity for collateral purpose, which the revenue authority wants to resolve, he added.
Mentioning that the rate of loan default is minimal among the women borrowers, the NBR chairman said, "We have been thinking about facilitating the women entrepreneurs through providing collateral-free loans up to Tk 2.5 million."
The BWCCI proposed raising the tax-free ceiling for women taxpayers to Tk 400,000 from existing Tk 300,000 in the next fiscal 2019-2020.
The tax holiday facility should be provided for three years to the women entrepreneurs who just started business, said BWCCI Senior Vice President Sangita Ahmed, adding: the government should continue allocating Tk 1.0 billion fund like the previous budget to create new women entrepreneurs.
She also demanded exemption from value added tax (VAT) and tax on training programmes, seminars, workshops and trade fairs for the women entrepreneurs.
WEND President Dr Nadia Binte Amin demanded tax-free ceiling for women taxpayers at Tk 500,000 with a view to increase the number of female taxpayers.
She also proposed VAT exemption on the women-led businesses having yearly turnover of Tk 10 million, which is currently 3.0 per cent for the businesses having turnover of Tk 0.1 million to Tk 8.0 million.
The IBCCI proposed bringing down the corporate tax on publicly traded companies to 22.50 per cent from existing 25 per cent.
Besides, the chamber proposed that the publicly traded companies should be given 10 per cent tax rebate on their earnings if they pay dividend over 30 per cent.
The IBCCI leaders also said the VAT on biscuits should be lowered to 5.0 per cent from existing 15 per cent.
The ATMA proposed to continue with the current 15 per cent VAT and 45 per cent corporate tax on tobacco producing companies.
The anti-tobacco campaigners also urged the government to raise surcharge on all tobacco products for health development to 2.0 per cent from existing 1.0 per cent.
It also demanded banning production, import and marketing of e-cigarette and heated tobacco products, and bringing all types of smoke-less tobacco products under tax-net.
The BCCCI Joint Secretary General Al Mamun Mridha urged the revenue authority to prevent misuse of bonded warehouse facility by unscrupulous quarters.
The chamber also proposed to lower the current corporate tax rates and resolving problems related to double taxation.
IBCCI Secretary & CEO Jahangir Bin Alam, ATMA Co-Convenor Nadira Kiron, and NBR high officials were also present at the programme.
Unauthorized use or reproduction of The Finance Today content for commercial purposes is strictly prohibited.