Business /
Online sales jump on panic buying
---
SAMI
Published:
2020-03-20 21:44:56 BdST
CoronavirusOnline sales jump on panic buying
---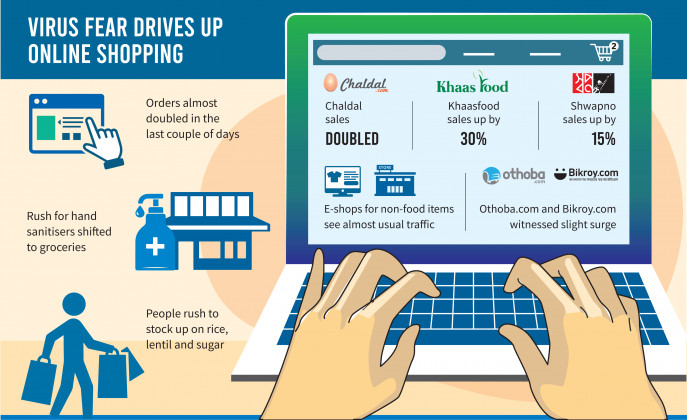 FT ONLINE
Most online shops in Bangladesh have seen sales of grocery items nearly double in the past couple of days amid coronavirus scare.
Panicked buyers are scrambling to the e-commerce sites to stock up on rice, lentil and sugar.
Road Transport and Bridges Minister Obaidul Quader on Wednesday hinted that the government might put some areas under lockdown to protect people from any outbreak.
"It is a challenge for our 250-member delivery team to deliver the large number of orders of grocery items to the customers," said Waseem Alim, co-founder and managing director of Chaldal.com.
The e-commerce site promises delivery of groceries in Dhaka within an hour.
Waseem said they had received a lot of orders for hand sanitisers and hand wash liquids a few days ago, but now that has calmed down.
"We have been receiving very unusual amount of orders for food items in the past couple of days, which has nearly doubled our sales," said Waseem.
"A family ordered for 200 kilograms of rice," he said. He thinks the spike in such orders is due to the panic the latest coronavirus situation has created.
Waseem said they had issued safety instructions to their delivery team, advising them to maintain safe distance from people while outside.
Like Chaldal, panic buying has also boosted sales of Khaasfood by 30 percent in the last few days. The e-commerce site operates in Dhaka and Chattogram.
Most of the customers are purchasing grocery items in bulk quantities, said Sajol Hossain, customer care's senior manager of the online shop.
In the meantime, the ACI Limited's retail chain Shwapno said it had been witnessing 10 to 15 percent more customers both online and at its outlets.
Officials of Othoba.com, an e-commerce platform mostly for Pran-RFL products, also said their sales saw a rise with more traffic to the site.
"Traffic to our site soared by 30 to 40 percent in the last couple of days," said Othoba's Assistant General Manager Zeaul Haque.
He said they had witnessed increased demand for hand wash liquids, sanitisers and other cleaners.
Meanwhile, Bikroy.com, a website mostly for buying and selling of properties and electronics, said its sales were usual.
Co-Managing Director of the online platform Eshita Sharmin said, "There is a slight growth in our sales, but it is neither significant nor unusual."
Recently, the international online e-commerce giant Amazon said it was adding 100,000 new full-time and part-time positions at its fulfilment centres and its delivery network across the United States as the coronavirus outbreak has caused a surge in online shopping.
Unauthorized use or reproduction of The Finance Today content for commercial purposes is strictly prohibited.