Special incentive package demanded to overcome the Corona crisis in the tourism sector
---
Rezaul Karim Chowdhury
Published:
2020-07-11 12:41:05 BdST
Special incentive package demanded to overcome the Corona crisis in the tourism sector
---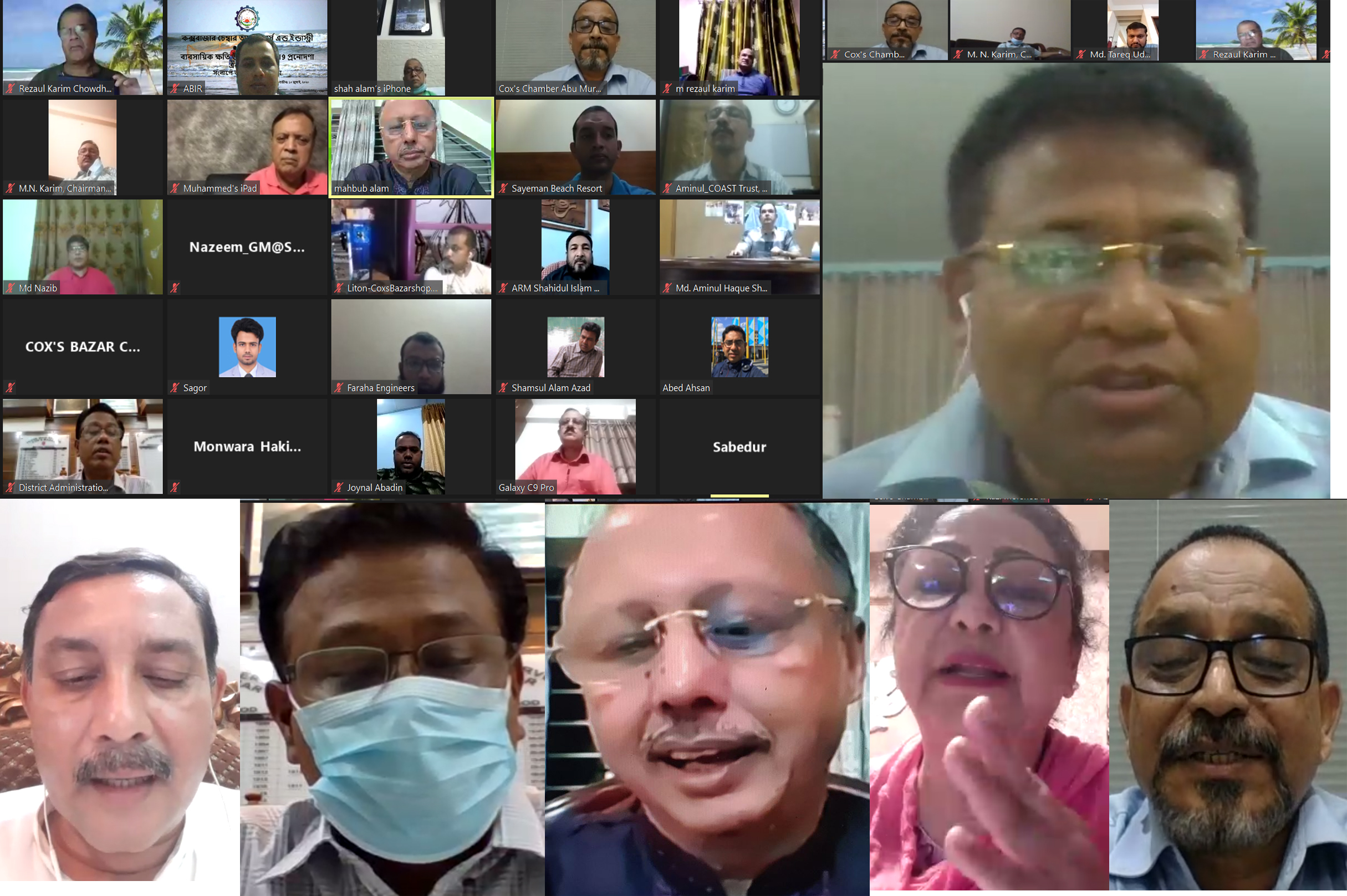 Cox's Bazar Chamber of Commerce and local business organizations, especially the Cox's Bazar Hotel Owners 'Association, District Restaurant Owners' Association, Dry Fish Producers' Association, Salt Farmers, Small and Medium Entrepreneur's Foundation and other business organizations took part in a virtual discussion and demanded a special incentive package from the government to overcome the current crisis in the tourism sector in Cox's Bazar district during the COVID-19 crisis.
For effective implementation of this incentive package announced by the government, banks must increase their cooperative role so that local small entrepreneurs can take advantage of this package, they further said.
Mr. Md. Abu Murshed Chowdhury, President of Cox's Bazar Chamber of Commerce, moderated the discussion, while Mr. Ashekullah Rafiq, Member of the Parliament for Kutubdia Moheskhali, Mr. Helal Uddin, Senior Secretary, Local Government Ministry, Mr. Md. Kamal Hossain-Deputy Commissioner, Cox's Bazar, Mr. Md. Mahbub Alam -President Chittagong Chamber of Commerce, Mrs. Monowara Hakim-Women Entrepreneur, Mr. Rezaul Karim Chowdhury-Executive Director of COAST Trust, Mr. MN Karim-President Hotel Ocean Paradise, Aminul Haque Shamim - Manager, Hotel Royal Tulip, Mohammad Sabed Ur Rahman - Director, Simon Beach Resort, Nazibul Islam - Member Secretary, Shrimp Fry Hatchery Owners Association, Naimul Haque Chowdhury - President, District Restaurant Owners Association, Shamsul Alam Azad - President, Salt Mills Owners Association, Kazi Morshed Ahmed Babu on behalf of Dairy farmers, Abid Ahsan Sagar on behalf of Dry Fish Producers, Ishtiaq Ahmed Joy on behalf of Crab Traders and M Rezaul Karim on behalf of Tourism. also took part in the virtual discussion.
Mr. Abu Murshed Chowdhury discussed the details of the incentive package of the government, based on the discussion participants made seven specific demands for implementing the government's package and overcoming the COVID19 crisis;
1. Announcing a special incentive package for the tourism sector in Cox's Bazar to overcome the coronal crisis, 2. Local banks in the district should have a "help desk" so they can get all the necessary information on the government's incentive package, 3. To protect the salt farmers, a "salt development board" should be formed under Cox's Bazar district and 4. The lock-down should be lifted and an official announcement should be made so that everyone can start their economic activities and businesses especially opening hotel restaurant, airline (Dhaka Coxsbazar flight) etc. in compliance with the government's health rules. 5. Payment of VAT and Utility bill need to withhold for a substantial period, so that business holders will get relief to survive with their business, 6. Chilling centre should be established for dairy farmers and 7, government should explore international market to strengthen shrimp export, so that shrimp hatcheries will run sustainably.
Mr. Ashekullah Rafique said that our Prime Minister has taken all the initiatives to promote tourism in Cox's Bazar district, but the COVID19 crisis has created a stalemate. Here, effective implementation of the incentive package announced by the government is needed and if the banks ensure their cooperation, then the tourism sector of Cox's Bazar, local entrepreneurs will all benefit and will overcome the crisis.
Mr. Helal Uddin said that Cox's Bazar has a tourism-based economy and all economic activities are involved with it. These economics are closed now as because of the COVID19 crisis, so we can resume all business activities following health hygiene rules. We can talk to everyone about it.
Deputy Commissioner Md. Kamal Hossain said that about three lakh people are involved in the tourism sector unemployed at the moment. We are thinking about their livelihood, we can talk to the banks so that they can collaborate with small entrepreneurs and they can start a business. We can work together with the Chamber of Commerce.
Mr. Rezaul Karim Chowdhury said that many small entrepreneurs are involved with NGOs and they are getting financial assistance from 30,000 to 20 lakh taka. NGOs could work well with small entrepreneurs if support ensured by banks. The local administration should also have cooperation toward the NGOs.
Mr. Mahabub Alam said that small and medium entrepreneurs are the lifeblood of the economy and the driving force behind employment. The government must take care that the sector is not harmed in any way, the banks must extend a helping hand in implementing the incentives, and then the government's objective will be successful.
Md. Nazeem Hasan said that around 85% small and medium entrepreneurs are needed to bring under banking services as they are deprived now.
Mr. Mohammad Ali opine to work with collaborative way by both bank and business community to revive the SME sector and overcoming losses as created by corona crisis.
Mr. Naynul Hoque said the due to corona crisis hotel and restaurant workers become unemployed and living with hardship. They need special support package including relief and bank support following upcoming Eid ul Adha.
Unauthorized use or reproduction of The Finance Today content for commercial purposes is strictly prohibited.