Nepalese praises Walton appliances at Bangladesh Expo in Kathmandu
---
SAM
Published:
2018-03-01 15:02:29 BdST
Nepalese praises Walton appliances at Bangladesh Expo in Kathmandu
---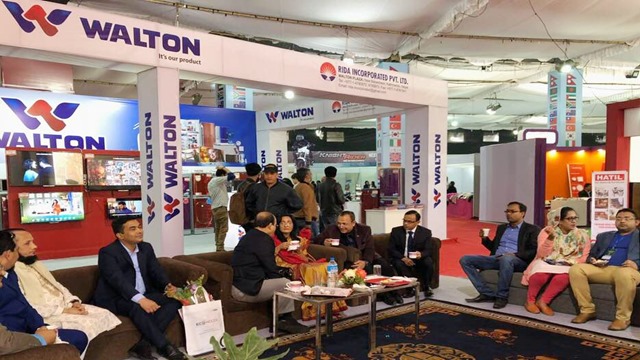 Prime Minister's Information Affairs Adviser Iqbal Sobhan Chowdhury, Bangladesh Ambassador to Nepal Mashfee Binte Shams and Rida Incorporated Private Limited's Managing Director Sarfraj Ansari are seen in the picture
ECONOMIC REPORTER
Users of electronics and electrical appliances of Nepal has praised the 'Made in Bangladesh' labeled Walton appliances for the unique quality and design at the five-day long '4th Bangladesh Expo-2018' in Kathmandu, Nepal.
Under the Walton brand, mobile phones and laptops that are produced in Bangladesh were showcased and sold for the first time in this expo.
The Bangladesh Embassy in Nepal organised the fourth-round of Bangladesh Expo held at Brikutimandap Exhibition Hall in Kat in Kathmandu from February 23 to 27.
Along with Walton, more than 50 renowned business houses from Bangladesh including building and construction materials, furniture, diversified jute products, readymade garments, sarees, ladies dress, plastic products, cosmetics, ceramics/titles, jute and jute products, leather products, textiles, footwear, TV/freeze/fan with other electronics items, handicrafts, generators/machineries, processed food, IT solutions, education institutions, consumer products, batteries, bathroom fittings, motor cycle, home appliances, jewellery etc. took part in the expo to showcase their respective products.
Walton was the co-sponsor of this expo. Bangladesh Prime Minister's Information Affairs Adviser Iqbal Sobhan Chowdhury inaugurated the fair while Bangladesh Ambassador to Nepal Mashfee Binte Shams was present as special guest.
After the inauguration of the expo, they visited stalls of the different houses.
At the expo, Bangladeshi envoy in Nepal Mashfee Binte Shams said, the Nepalese buyers are well aware about the high quality of 'Made in Bangladesh' labeled products and thus the uses of Bangladeshi products in Nepal are going up year in year.
This fair will not only further familiarize the Bangladeshi products to the Nepalese but also help the Bangladeshi entrepreneurs to grab the potential markets in Nepal, she noted.
According to Walton officials, they have been taking part from the first round of this expo. In this year's fair, a large number of Nepalese customers were thronged the Walton pavilion to pick-up its wide ranges of products like huge power efficient inverter technology's refrigerators, freezers, LED televisions, inverter air-conditioners, rechargeable fans, ceiling fans, rice cookers, blenders, gas stoves, electric switch-sockets, induction cookers, acid led rechargeable batteries and other home and kitchen appliances. Besides, Walton also showcased and sold compressors, mobile phones and computers that are produced with state-of-the art technologies and advanced machineries at its own factory at Chandra in Gazipur.
Mentionable, Walton made a strong foot on the Nepalese market in 2014. Since then, the local brand has been exporting its wide ranges of appliances through its sole distributor 'Rida Incorporated Private Limited' in Nepal.
Rida's Managing Director Sarfraj Ansari said that they highlighted uniqueness of the Walton appliances at the expo through different ways like video documentary on production processes of different products, advertisement etc.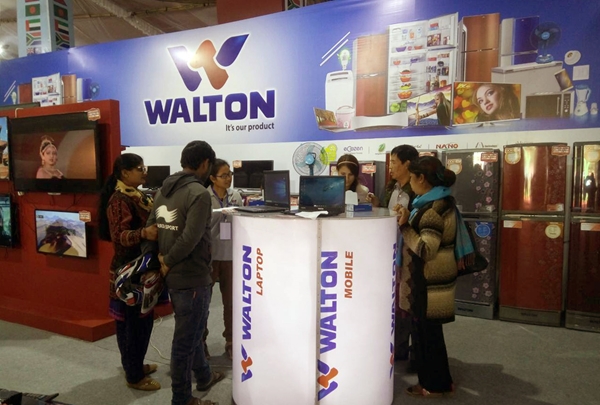 The fair's visitors were overwhelmed witnessing the production processes of Walton appliances, he added.
They are marketing Walton products across Nepal through more than 200 sub-dealers, he noted.
Federation of Nepal Chamber of Commerce and Industry's Vice Chairman Chandra Prasad Dhakal said, Bangladeshi brand Walton has been doing business in Nepal for the last couple of years. The brand were turned into a popular brand in Nepal for supplying international standard products at affordable rates, he said and hoped that this brand will further move ahead in future.
Nepalese businessmen Tararatna Sthatit said, Walton is now a very popular brand in Nepal. The brand has earned the customers' reliance for supplying highest standard products, he said adding: "In this fair, I found that Walton are showcasing and selling lots of new models of appliances, which were turned into the customers' prime attraction.
Roqibul Islam, head of international marketing of Walton, said, Walton has already grabbed a remarkable share in the Nepalese electronics and electrical market.
He added that the present objective of Walton is to be the premier brand of the Nepal.
Uday Hakim, senior operative director of Walton Group, said, they are taking part in various international trade fairs with their highest standard products.
"Walton is now challenging any global brands," he said.
There has been already created a potential market for Walton in Nepal, he said adding, 'Made in Bangladesh' labeled Walton products has already won the Nepalese faith, which has ultimately increase the positive image of Bangladeshi products to the buyers of Nepal.
Unauthorized use or reproduction of The Finance Today content for commercial purposes is strictly prohibited.