COVID-19 /
Vaccination with Sinopharm jab begins today
---
Staff Correspondent
Published:
2021-06-19 08:30:39 BdST
Vaccination with Sinopharm jab begins today
---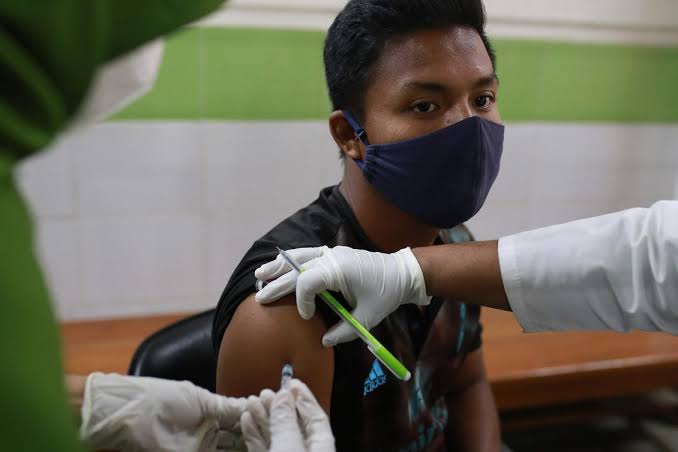 The nationwide Covid-19 vaccination campaign, which stalled due to a lack of vaccine supply in April, resumes on Saturday.
For now, those who have already registered will be inoculated with the Sinopharm doses gifted by China.
The vaccine recipients will be informed through SMS while some will get the vaccines on the priority basis.
The vaccine will be given at all government medical college hospitals, government general hospitals, district headquarters hospitals and 250-bed hospitals in the country.
The Pfizer-BioNTech COVID-19 mRNA vaccine will be administered later.
In this phase, five lakh Sinopharm vaccines will be administered as the first dose and the rest of the total 11 lakh will be kept reserved for second dose.
The information was revealed in a letter signed by Dr Mohammad Shamsul Haque, line director and member secretary of the health department, Covid Vaccine Management Committee, on Thursday.
Earlier on Monday, Director General Dr ABM Khurshid Alam of Directorate General of Health Services (DGHS) said: "People who have already registered for Covid-19 vaccines will receive the vaccines, and they will receive texts from the health authorities informing them when to get vaccinated."
One vaccination center will be set up in each district, excluding Dhaka district and two booths in each center while each of the four medical college hospitals in Dhaka district will have one vaccination center and two booths in each center. Vaccination booths will be arranged as per number of vaccine recipients.
The vaccination center will remain open daily from 8 am to 3 pm except on Friday and public holidays.
People who have already registered at Covid-19 vaccine but didn't receive the vaccine yet will get the vaccines. At the same time, government health workers, police personnel, students of government-private medical and dental colleges, government nursing and midwifery institutes, government MATS and assistant IST students, expatriate Bangladeshi resident workers, students of residential halls of government universities will get the vaccine on the priority basis.
Officials and employees involved in development projects of the government, cleaners of Dhaka North and South City Corporation areas, ward municipality workers engaged in cremation of Covid-19 patients across the country and Chinese nationals living in Bangladesh will also get the vaccine this time.
The government has already received 11 lakh Sinopharm vaccine doses as a gift from the Chinese government. Of those, 6 lakh shots arrived in the country from China on June 13. Earlier, on May 12, Bangladesh received a gift of 5 lakh Sinopharm vaccine doses from China.
However, the government in last month administered the Sinopharm vaccine to some medical college students as pilot project.
On May 25, about 500 students from four medical colleges were administered the vaccine on an experimental basis. Later, Dhaka Medical College Hospital (DMCH) administered the Sinopharm Covid-19 vaccine to more than 450 Chinese citizens.
The Directorate General of Drug Administration (DGDA) on April 29 gave emergency use authorisation to the Sinopharm vaccine in Bangladesh.
According to World Health Organisation (WHO), the Sinopharm vaccine is not recommended for persons younger than 18 years of age, pending the results of further studies in that age group.
"Individuals with a history of anaphylaxis to any component of the vaccine should not take it. Anyone with a body temperature over 38.5ºC should postpone vaccination until they no longer have a fever," it said.
SAGE recommends the use of Sinopharm vaccine as 2 doses (0.5 ml) given intramuscularly. An interval of 3–4 weeks between the first and second dose is recommended.
Bangladesh started its nationwide Covid-19 vaccination program on February 7 by administering Covishield, the Oxford-AstraZeneca vaccine manufactured by the Serum Institute of India (SII).
The country has so far received seven million Covishield doses through its contract. Besides, India gave Bangladesh 3.3 million doses as a gift.
However, on April 25, the government suspended administering the first doses with Covishield, just a day after India said no more vaccine doses would be shipped to Bangladesh anytime soon as the Covid-19 situation worsened there.
As the SII has been unable to provide the number of doses they promised, many people are waiting for second jabs after receiving their first.
As the country reached out to several allies for Covid-19 vaccines, The Directorate General of Drug Administration (DGDA) approved emergency use of US's Pfizer-BioNtech, China's Sinopharm, and Russia's Sputnik V vaccines.
On May 12, China sent 500,000 doses of Sinopharm vaccine to Bangladesh as a gift.
The health authorities administered the Sinopharm vaccine to 500 medical college students on May 25.
The Dhaka Medical College Hospital (DMCH) administered the Sinopharm vaccine to over 450 Chinese citizens as well.
On May 31, the country also received 100,620 doses of the Pfizer-BioNTech vaccine under the Covax facility run by the World Health Organization and Gavi, the vaccine alliance.
On Sunday, Bangladesh received another 600,000 doses of Sinopharm vaccine from China, also as a gift.
To tackle the vaccine shortage, Bangladesh also sought two million doses of the Oxford-AstraZeneca vaccine from the US, once the latter announced on April 26 that it would share the vaccine with the world.
Bangladesh will receive over a million doses of AstraZeneca vaccine from Covax soon.
Unauthorized use or reproduction of The Finance Today content for commercial purposes is strictly prohibited.