Judge starts delivering August 21 grenade attack case verdict
---
SAM
Published:
2018-10-10 13:12:20 BdST
Judge starts delivering August 21 grenade attack case verdict
---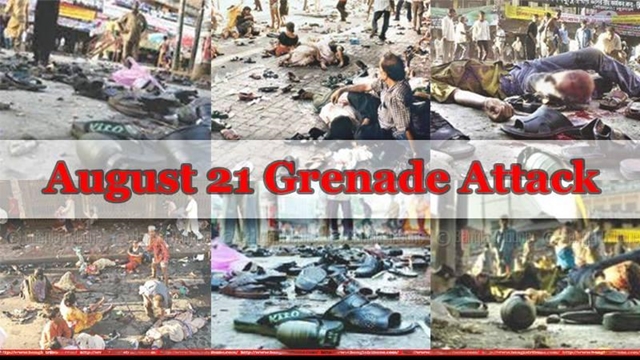 FT ONLINE
A Dhaka Special Tribunal has started delivering its verdict in two cases filed over the August 21 grenade attack on an Awami League rally in the capital in 2004.
Judge Shahed Nuruddin of the Speedy Trial Tribunal-1 at Old Dhaka's Nazimuddin Road started announcing the verdict on Wednesday morning.
Earlier on September 18, the tribunal fixed October 10 to pronounce its verdict in two cases-- one for murder and the other for grenade blast-- after both the prosecution and the defence completed their arguments.
Closing their arguments, the prosecution sought the highest punishment to all the accused, including Tarique, saying they were able to prove all the charges beyond reasonable doubt.
They also said Tarique masterminded the attack and helped militants in order to kill Sheikh Hasina by throwing the grenades to make Awami League leaderless.
But the defence lawyers sought acquittal of their clients as they said the prosecution failed to present substantial evidence to prove the charges.
They also claimed that Tarique, who has been staying in London since 2008, was implicated in the cases with a political motive.
Earlier, the court set September 17 and 18 for hearing the closing arguments after hearing the prosecution's rebuttal arguments against defence arguments on September 12.
On October 23 last, the prosecution started placing arguments before the tribunal in connection with the two cases filed over the August 21 grenade attack on an Awami League rally in the capital in 2004.
Security has been beefed up across the country and in and around the makeshift courtroom near the old Dhaka Central Jail.
Dhaka Metropolitan Police and Rapid Action Battalion have already taken special security measures and deployed additional forces at key points in the capital to fend off any kind of untoward incident. People's movement in the tribunal area was also restricted.
Alongside the regular forces, the members of DB police, SWAT teams and APC would be on duty.
Unauthorized use or reproduction of The Finance Today content for commercial purposes is strictly prohibited.